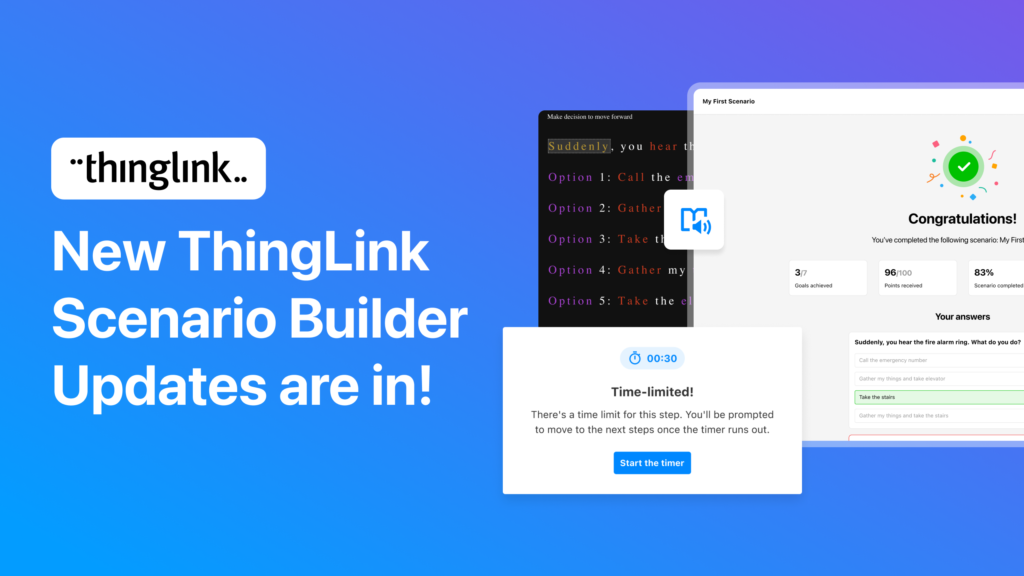 New ThingLink Scenario Builder Updates are in!
Adding time pressure to create realistic scenario based learning and two other great features
We've just added three key updates to the ThingLink Scenario builder. Now you can:
Improve accessibility via an extended Microsoft Immersive Reader integration;
Reflect the pressure of real life time critical situations with new Timer functionality;
Allow end users to track and celebrate success with the ability to add a results summary and congratulations screen.
At the end of 2021 ThingLink launched their new solution for creating branching scenario based learning. This easy to use builder allows you to create branching scenarios with all the immersive elements and interactivity ThingLink provides. It's a ground-breaking new way to create scenario based learning that also has data metrics built in. These allow course creators to see the journey that each participant took through the course.
A quick recap – the ThingLink Scenario Builder
The ThingLink Scenario Builder is a tool to create scenario based learning (SBL) experiences with all of the immersive and interactive multimedia elements that ThingLink provides. Your series of connected 'scenes' are simply your ThingLink content arranged with strategically placed multiple choice blocks, enabling you to plan multiple branching paths. Compulsory questions with correct answers and discrete feedback can be added for all important knowledge or compliance checks. Read more information here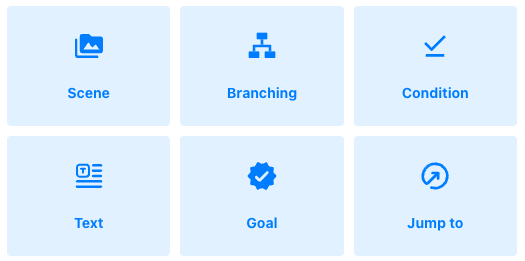 The ThingLink Scenario Builder has 6 'blocks' which enable you to connect your ThingLink scenes however you choose.
1. Accessibility By Design and Default – Immersive Reader in Branching, Condition and Text Blocks
New! Now any text in your scenario can be read aloud or translated using Microsoft's Immersive Reader. Simply click the book and speaker icon where you see it: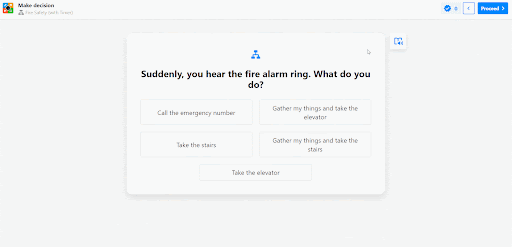 2. Adding Pressure with New Timer Functionality
Have you thought about adding in a realistic time pressure to your challenge questions? This is a great feature for gamified experiences or Escape rooms. When adding a branching question, simply click the 3 dots which lead to an additional options menu. This now gives you the opportunity to add a timer. Add the desired time and the clock will start when the participant clicks on the question screen. If the time runs out, the viewer will proceed to the first choice of the options by default.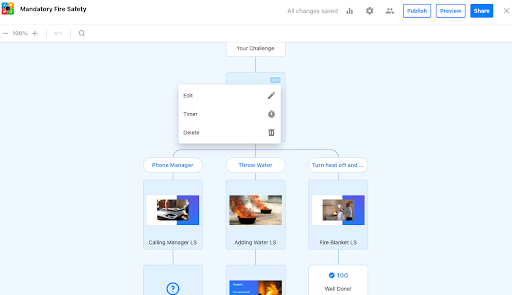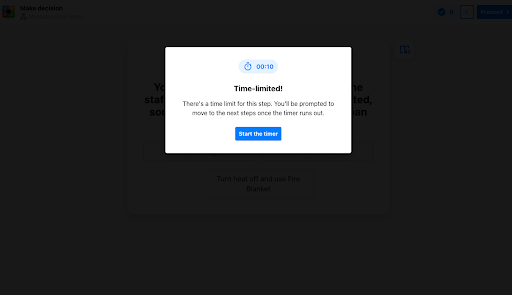 3. Congratulations Screen and Results Summary!
We recognize that ends are as important as beginnings! So we've now provided a way for you to celebrate with the participants as they successfully complete your course or module.
The results screen shows the number of achieved goals, score, scenario completion rate and the number of correct answers at the end of the scenario
Toggle the option to enable Show results screen in the Scenario settings.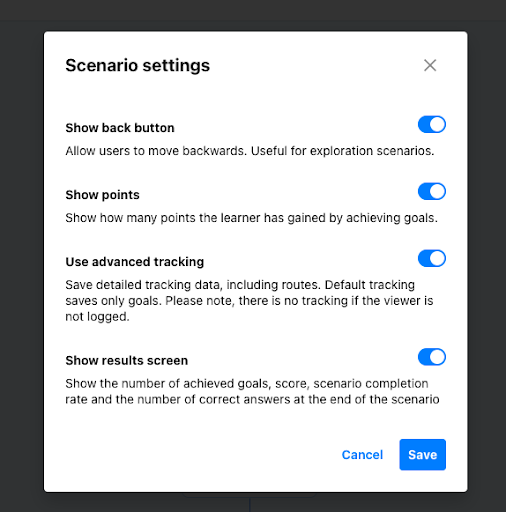 At the end of the course module the learner will see this screen with the summary. The screen also includes the Immersive Reader functionality, so any text can be translated.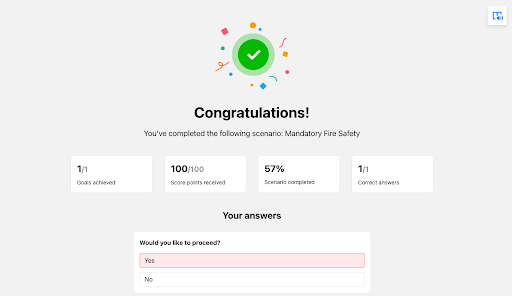 Explore the ThingLink Scenario Builder Course Module as part of the new ThingLink Certified Creator Course: more details here.
Thinking of upgrading to an Organization ThingLink account for your school, university or workplace? Find out more about our various plans for education, eLearning or Marketing here.
You can contact the team at the ThingLink learning center – the place for inspiration, support, project ideas, tutorials and so much more! Explore live examples and use cases from current users, watch featured tutorials, learn about our newest features and pro tips. You can also access the 360 image library from here.
We would also recommend joining the ThingLink community on social media. You can find us on Twitter, Facebook, LinkedIn – they are great places to chat about tips, tricks and share great examples in action.