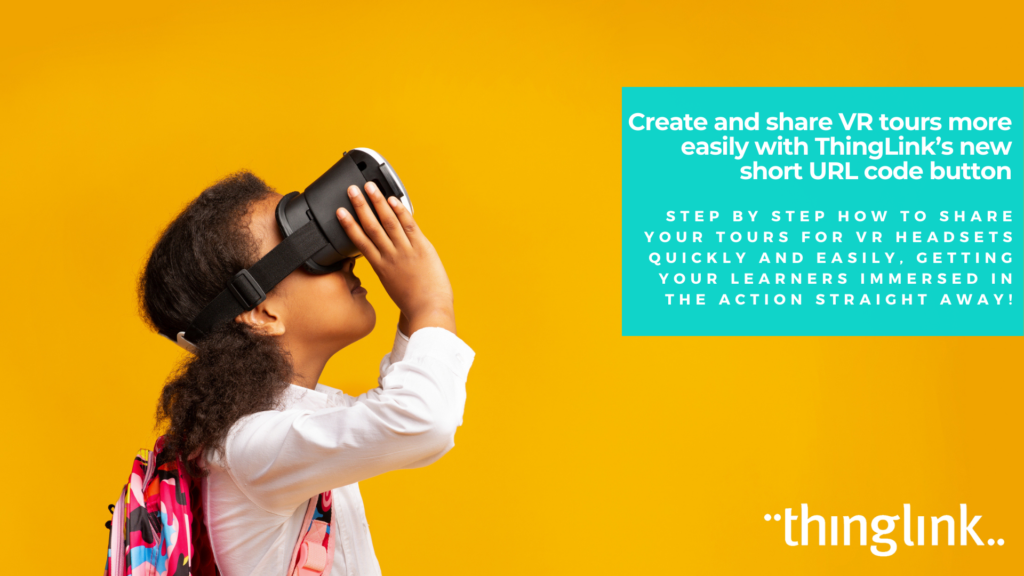 Create and share VR tours more easily with ThingLink's new short URL code button
This short post explains step by step how to share your tours for VR headsets quickly and easily, getting your learners immersed in the action straight away!
One real growth area over the past year has been virtual visits, tours and learning experiences.  More and more people are using ThingLink to create immersive 360° experiences to make learning more lifelike and engaging. We know teachers love to share VR introductions and expeditions with their classes on LMS, Microsoft Teams or Google Classroom and many are investing in VR headsets to provide authentic, in-context viewing. To make the  process even slicker and faster, we've got news for you: you can now grab a short code to start viewing your VR experience  straight away in your VR headset!
Try ThingLink today!
To explore the interactive content you can create with ThingLink, try a free trial today!
How to: Open ThingLink in VR using the new short code:
Open your scene and click the 'Share' button then the 'Share link' tab.

Click the 'Short URL for VR' button and generate the URL.

Copy the shareable VR short code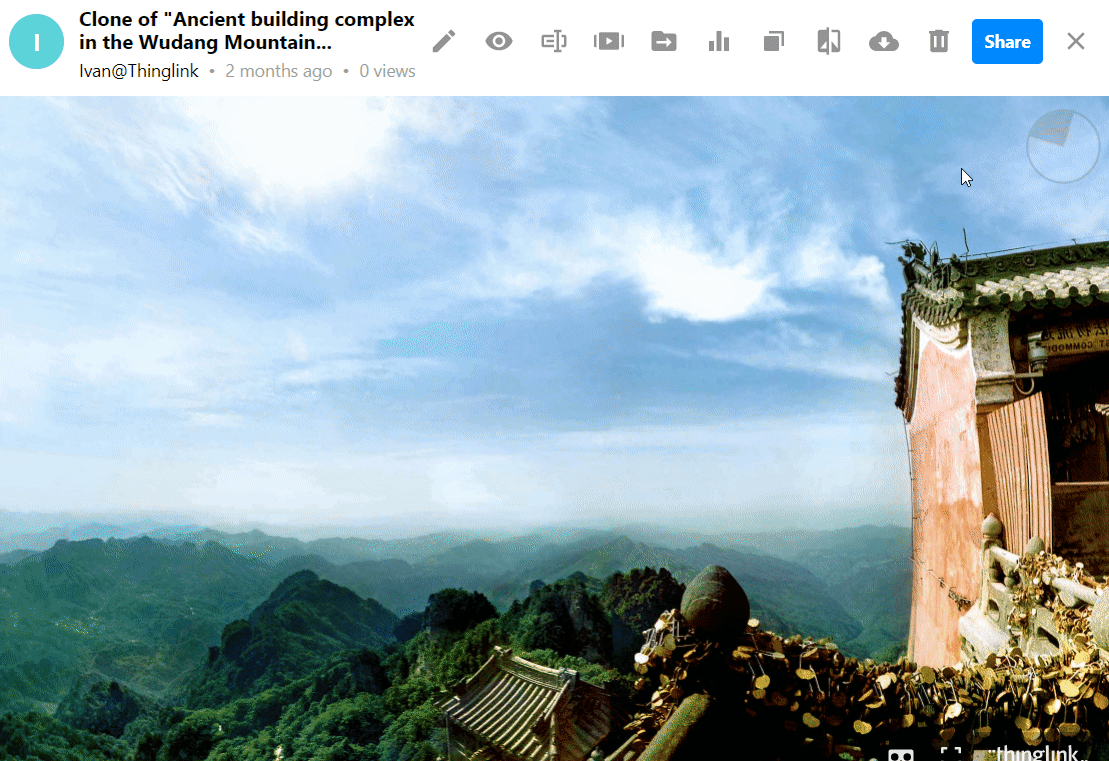 Open the default browser on your headset (e.g. Oculus browser, Mixed Reality browser)

Go to thinglink.com/vr

Enter your shortcode and use the 'Open' button.
Widely compatible
ThingLink is compatible with the following VR headsets:
Oculus Go

Oculus Quest

Oculus Rift

Samsung Gear VR

HMD Odyssey (Windows Mixed Reality Headset)

Google Cardboard with any modern Android or iOS smartphone

ClassVR
ThingLink VR mode uses WebVR technology which means it works in VR headsets that are also WebVR compatible. You can check whether your headset is included at https://webvr.info or on the manufacturer's website.
Create and collaborate in VR!
Remember – learners can also be creators! Secure and incredibly simple to learn, edit and share, ThingLink can be used as a collaborative tool for your learners. Students can create their own ThingLink 360° scenes and content to use in VR, or use the clone function to edit your example. And now with the new feature, it is easy to grab the short code to share it with the classroom and start viewing the tour straight away in your VR headset!
Take a look at this example from the State of Maine, who created a tour of famous landmarks in VR.
ThingLink's virtual 360° Tour Creator is just getting better!
The ThingLink team is continuously striving to improve functionality and ease of use for all creators and learners.
Here is a quick summary of what you can do with ThingLink's VR tour creator today:
Enrich your 360 media with a wide variety of content types: images, audio, text labels and videos.
Ask viewers to answer a question before they can move to the next scene (conditional transition)
Share your work for students to explore or to edit!
Use 360° images from our ready-to-use professional image library.
Add your own custom icons for more personalised tours.
View ThingLink VR tours on desktop, mobile, immersive rooms, and VR headsets!
Share VR tours to LMS and Microsoft Teams
Generate a short code for easy VR viewing
Using 360 images in ThingLink to create VR scenes and tours
We have an ever-expanding library of beautiful 360 images from all over the world, but you can also take your own using either a 360 camera or the new 360 to Pano converter!
NEW! The easy way to create 360 images: Pano to 360
Creating virtual tours, exhibitions, escape rooms and other immersive content just got even easier! ThingLink has now launched Pano to 360 by ThingLink: an easy way to create a 360 photosphere from a panoramic image using any smartphone. For more information, including step-by-step instructions see this helpful support article. 
Try the free Pano to 360 converter
The Pano to 360 photosphere converter is free to use for anyone, no ThingLink account required! Upload a panoramic image to see it in action.
For more information on using ThingLink in VR and the new short code please see this article.
Contact our education team or support! Email education@thinglink.com or support@thinglink.com