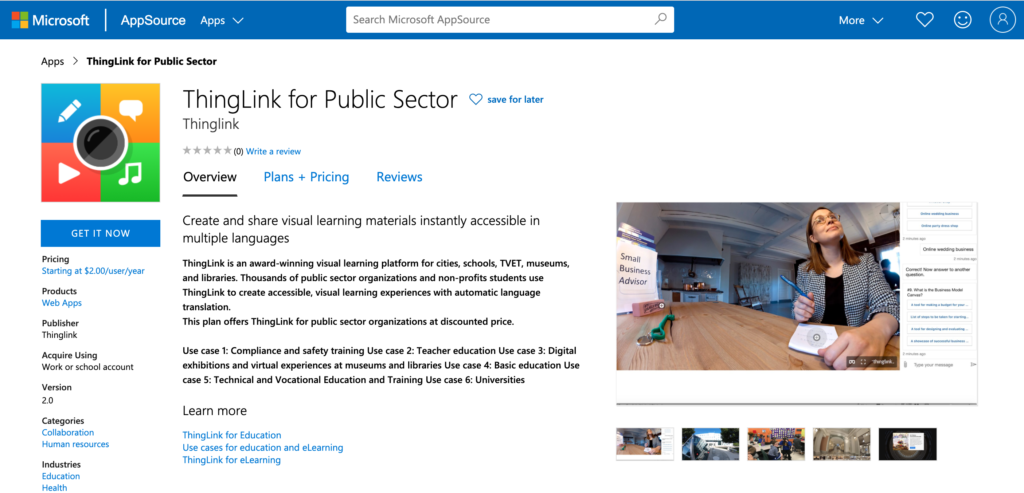 ThingLink licenses for eLearning and education are now globally available via Microsoft Cloud Solution Providers (CSP)
ThingLink eLearning and education licenses have this week become available via Azure Marketplace, Azure Portal, and AppSource. This means Microsoft Cloud Solution Providers can now sell ThingLink to their customers and create bundled solutions.  ThingLink will provide Microsoft resellers and their customers support with training so that partners in the CSP program are equipped to handle ThingLink related requests from customers.
From the end customer point-of-view buying ThingLink via Azure Marketplace or AppSource reduces bureaucracy. For example, if a city, district or university already has a software license purchase agreement with Microsoft, ThingLink licenses can now be bundled with other Microsoft products. 
ThingLink supports Microsoft logins and Azure tenant ID for user authentication. Content creation and sharing is supported in Microsoft Teams, and Office 365 users' data is stored in the Azure Cloud. Other integrations with Microsoft products include OneNote for content sharing and Immersive Reader for accessibility and automatic language translation. The new marketplace integration makes it also possible to manage ThingLink accounts via Azure Marketplace.
ThingLink eLearning and education licenses available via Azure Marketplace and AppSource include:
Prices for eLearning business accounts start from $3/user/year and for public sector customers from $2/user/year.
Becoming a co-sell partner with Microsoft is a major milestone for ThingLink as it means we can now reach millions of qualified Microsoft customers served by partners in the Cloud Solution Provider (CSP) program. 
Interested in learning more about ThingLink or becoming a reseller? Just send us this reseller application form or contact us at info@thinglink.com.