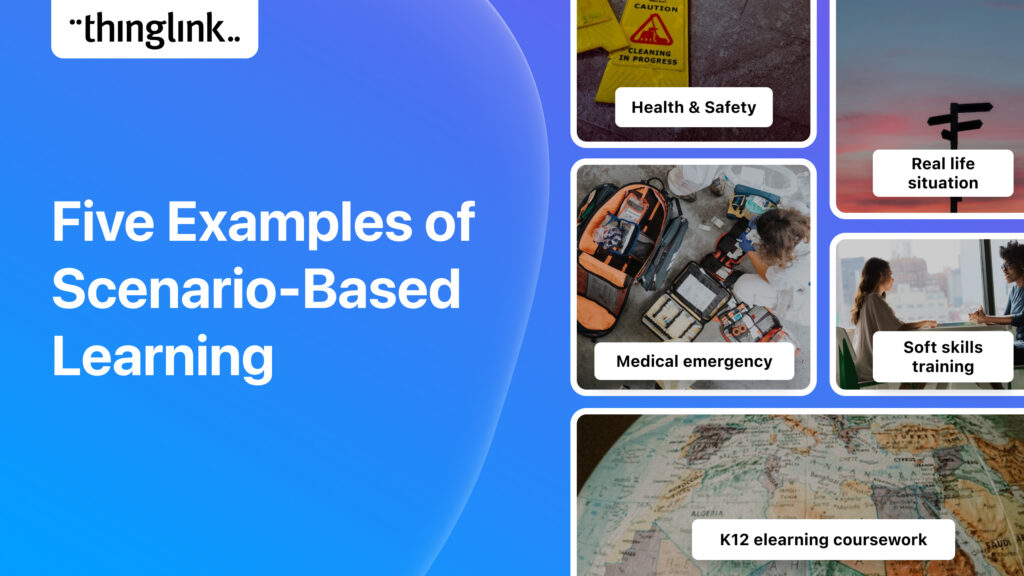 Five Great Examples of Scenario-based Learning 
Impactful uses of Scenario Based Learning experiences for your learners
Here are five great examples of where SBL would work really well – use this to give you some ideas for how you would use it in your learning and development / training programs!
Health & Safety compliance training where you need to see that learners understand a procedure before giving them access to a site or equipment. They may have the knowledge but are they able to use critical thinking skills to apply them in the right way?
Deciphering a dialogue and anticipating where soft skills and language can alter the outcomes. Each choice becomes a microlearning opportunity. Perhaps there is no right or wrong answer to a situation. But by seeing the consequences of each choice, learners can see where those decisions might lead.
A medical emergency simulation. Using SBL means that critical decisions can be made in a safe environment without any real risk to learners or to others – or in some cases to valuable equipment. Your learners are learning a really valuable lesson here: how to fail – safely.
K12 Humanities elearning coursework: choose a character in a role-play scenario and see what different choices are or were open to them. This could be used for history, religious studies, social studies or even literature. SBL is a great opportunity to put a learner in someone else's shoes and see how different decisions could lead to different outcomes.
Where decision making has to be done under pressure in the real life situation. Allowing the learner to apply their skills in a safe online learning environment.
Check out this great example focussed on 'Customer Skills Training'
Can anyone use Scenario Based Learning (SBL)?
Yes! SBL should be part of your instructional strategy whatever skills you teach. Apps and authoring tools such as ThingLink's Scenario Builder are extremely easy to use, with no coding or experience required.  As Scenario Builder is hosted in the cloud, it can easily be incorporated into your online training courses, whatever platform or provider you use. ThingLink Scenario Builder also benefits from all ThingLink's built-in accessibility features, which assists in making the materials accessible and inclusive for a wide variety of learners of differing abilities.
Meet a product expert
If you'd like to learn more about what ThingLink can offer to your company, you can schedule an online meeting with one of our product experts below.
What is scenario-based learning (SBL)?
Scenario-based learning (SBL), or branching scenarios, are learning experiences where learners choose their own route based on the decisions they make. They are often described as a modern, elearning version of the "choose your own adventure stories" from a few decades ago! They reflect the increasing gamification of learning and instructional design – whether that's in Higher or Further Education, corporate training or compliance training.
Learners are placed in interactive scenarios, based on relevant real world contexts and real life situations. The opportunity to practice often complex decision-making and problem solving using their skills and knowledge makes it a highly effective learning strategy for a wide variety of learners. It is most effective when a learner is being asked to put a new skill into practice, or to apply their skills training in a new environment.
What are the benefits of scenario-based learning for your learners?
SBL learning theory provides an experiential learning process for soft skills that traditional learning materials can't match. It shows the direct results of learners making particular choices and can easily demonstrate cause and effect.
Because learners have to make active and conscious choices, SBL naturally leads to higher learner engagement which then results in better retention. Learning outcomes in SBL can be reached via a number of different possible routes which makes them ideal for those with diverse learning needs.
Having the data of your learner's decisions in choices provides you with evidence of completion and effectiveness, mandatory training can be a breeze.
What is ThingLink Scenario Builder?
ThingLink is the only SBL solution that allows you to combine various media types including videos, audio, 360° media, 3D and images into a complete learning experience. This makes it easy to create engaging online simulations for online learning, training courses & development, with built in data collection.
Read more about the ThingLink Scenario Builder in this helpful blog post.
How do you create a learning scenario? Our free guide to the 5Cs of Successful Scenario Building? Download here.
For more tips and inspiration on creating content for e-learning and training, visit our dedicated E-learning page.
Meet a product expert
If you'd like to learn more about what ThingLink can offer to your company, you can schedule an online meeting with one of our product experts below.