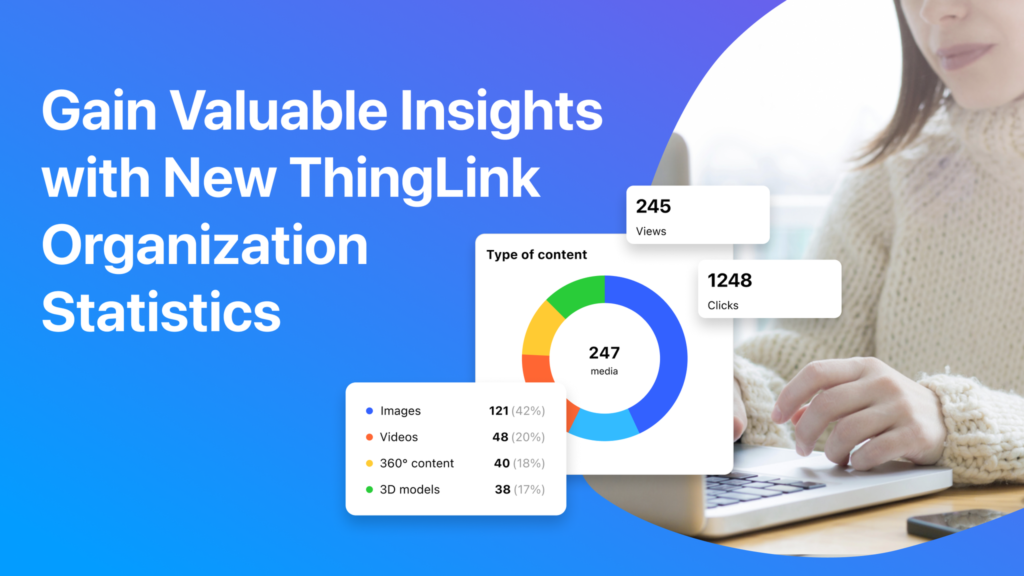 Gain Valuable Insights with New ThingLink Organization Statistics
We know that understanding how to create engaging content for learning or marketing is critically important to you and your organization. For this reason ThingLink has always taken a data-driven approach to help you understand what resonates with your audience. So each ThingLink scene includes invaluable metrics. We are delighted to announce that we are going further with our approach to data – with new organization-wide statistics.
As an Administrator, you can now delve into your data and view collective statistics that provide you with valuable insights. You'll now be able to instantly answer questions such as 'which types of media are proving popular with viewers?', and 'how many scenes have been created in total?'.
What kinds of data can you view?
Look out for updates in the future! At the moment you can access the following data sets:
Total number of items created by your users, by content type. Note that this does not include content that was deleted.
Aggregate content statistics for all content created by your users. This includes views (the total number of times someone has viewed content from your organization), hovers (the number of times someone has opened hotspots in your content), and clicks (the total number of times users have clicked on links inside your hotspots). Please see this article for more info about these metrics.
Total number of users and the number of user seats available to you.
If you have any recommendations, feedback or simply stunning ideas to share with us please do get in touch or join our communities. Our Twitter, Facebook, LinkedIn groups are great places to chat about tips, tricks and share great examples in action.
Thinking of upgrading to an Organization ThingLink account for your school, university or workplace? Find out more about our various plans for education, eLearning or Marketing here.