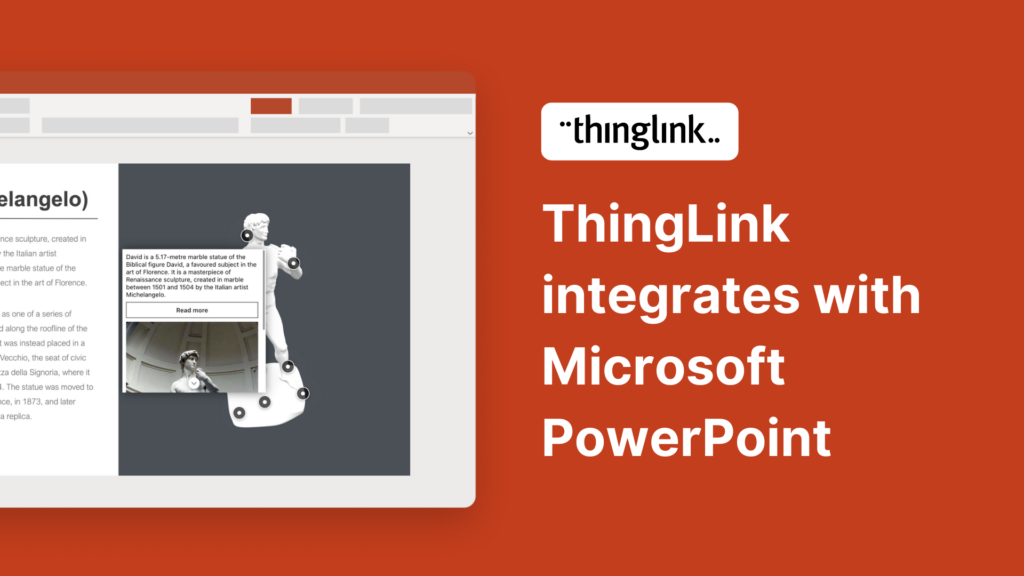 ThingLink integrates with Microsoft PowerPoint: Add a new dimension to your presentations with interactive media embeds, virtual tours, and real-life simulations
ThingLink, a leading interactive media solution for immersive learning and development, announces a new integration with the web version of Microsoft PowerPoint. Interactive assets created with ThingLink – virtual tours, simulations, interactive images, videos and 3D – can now be directly embedded into PowerPoint presentations using a new ThingLink for PowerPoint add-in application available through Microsoft AppSource.
PowerPoint is used by businesses for employee training, product marketing and customer engagement. During the pandemic, an increasing number of employees are viewing presentations from their home, without a close proximity to the local work environment.
Improve access to local work environments
ThingLink's new PowerPoint add-in makes it easy for PowerPoint users to make real-life learning scenarios and 360/3D environments accessible from their presentations. The integration includes support for branched learning scenarios where learners choose their own path and develop important new skills in a risk-free virtual environment. For example, a PowerPoint presentation on best customer engagement practices can engage a real-life video simulation on the shop floor.
"With the emergence of the new spatial internet, we will see immersive 3D and 360 learning experiences supported on most learning and collaboration platforms. The fact that PowerPoint users can now add interactive media to their presentations and get new viewing data through our platform is a huge milestone for us. A big thank you goes to the Microsoft PowerPoint team that helped us along the way," says ThingLink founder and CEO Ulla-Maaria Koivula.
New insights to help improve presentations
For ThingLink users who create interactive graphs, virtual tours and simulations for students and employees, the new PowerPoint integration offers a major new opportunity for sharing and collecting data on their learning materials. All interactions on embedded ThingLink scenes on PowerPoint will show in the engagement statistics on ThingLink. This offers a great way for organizations to get new data and insights on if their slideshows have been viewed and how viewers have received them.
"ThingLink's new integration for embedding interactive 360° and 3D environments to presentations literally adds a new dimension to PowerPoint and helps bridge the gap between digital and physical realities," says Mike Mast, Principal Program Manager, Microsoft Education Partner Ecosystem.
How does it work?
The ThingLink for PowerPoint add-in enables you to embed any ThingLink scenes by simply using the usual 'Share' URL. All tags will work as expected! Whilst in the slide you wish to use, click 'Insert' then from the menu bar select the three dots for more 'insert options'. From the Add-Ins store search for ThingLink and click the ThingLink icon, this inserts a resizable box where you paste the URL of your ThingLink. If you wish to customize this further by removing the ThingLink icons for zoom or full size, you can do this in the Settings option in the ThingLink editor.
For more information about how to use ThingLink in PowerPoint, go to this support article.
Empowering learning content creators in the metaverse
About ThingLink
ThingLink makes it easy to create immersive experiences including real-life simulations for learning and development by enhancing images, videos, 3D or 360 degree assets with interactive hotspots. Used by thousands of organizations globally, ThingLink is a scalable content development solution for learning and communication in the metaverse. Office365 users can use ThingLink with Microsoft logins, create interactive content with the ThingLink app in Microsoft Teams, and share assets on Microsoft Teams or PowerPoint. ThingLink interactive assets can also be shared to Google Classroom, Moodle, Canvas or any other LMS.