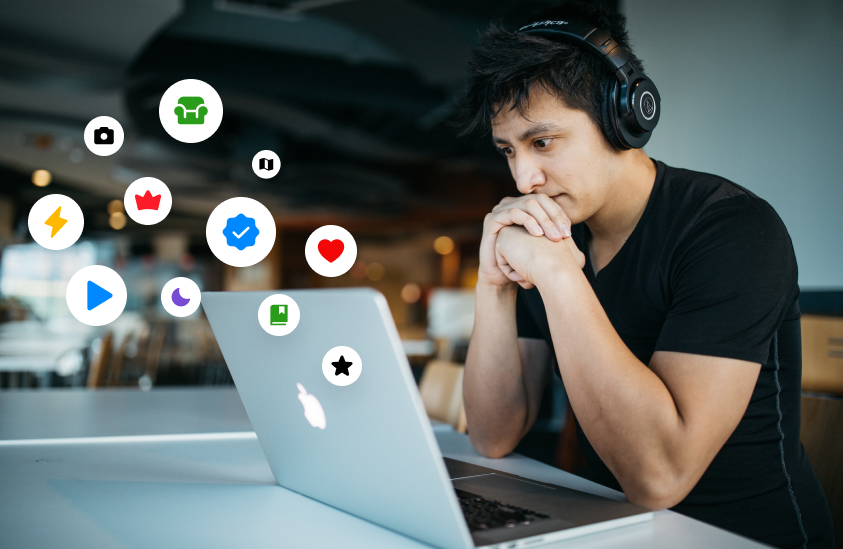 10 New Product Updates from ThingLink
ThingLink keeps getting better every month, and over the last 20 months, our product team has released an impressive number of new features and upgrades – almost all in response to feedback and requests from our community of creators. Click the interactive ThingLink (and links) below to see some of them in action! This blog post summarizes the latest since our last roundup post of 2019.
Here's what's new:
Custom Icons: As well as the 300 stock icons provided, you can now create and upload your own custom icons for fully branded and more professional-looking ThingLinks. Here's the

how-to

and a

video

walkthrough.
Conditional transitions: Use this tool to check a learner's knowledge before moving to the next scene, or create password-protected locations or escape rooms! Create quizzes, tests and surveys in your interactive designs. Check out this

blog

with ideas or our

How to article

from the support pages.
VR Short URL Code: We introduced the Short URL code for VR in early 2021, meaning you can

share your tours for VR headsets quickly and easily, getting your learners immersed in the action straight away

. Watch this

video

, read our

blog

or the

support article

.
Unsplash integration: We integrated with the image library Unsplash to give you

instant easy access to over a million searchable, free images for use in all your ThingLinks!

Watch this short video or read our article on best practices.
Canva integration: One of our biggest partner updates in 2021 was the Canva integration – now all ThingLink users can

quickly create professional-looking interactive materials for online education, training, marketing, and communications.

Take a look at our blog which also links to our dynamic webinar and contains links to free downloadable Canva templates.
New Saimaa interface: We premiered a new interface Saimaa in 2020 which gave ThingLink users access to a wide range of exciting new features, including bulk uploads, improved folders and QR code sharing.  Here's a quick video tour of the Saimaa editor – or why not read our blog? 
Drive uploads: One of Saimaa's best features is the ability to choose files directly from your Google Drive or OneDrive. Ideal for when you don't store content on your hard drive. You can see just how easy it is from this short clip.   
360 image library: In early 2021 ThingLink added the brilliant 360 Image library, a

curated collection of professional 360° images from culturally relevant natural and historic sites. You can use the images to build immersive learning experiences and to travel virtually across the world

. Watch this short

video

or read the blog to learn more. 
Localization to additional languages: In 2020 the ThingLink Editor was made more accessible to more of the world when it was available in Spanish, Russian, Arabic, French – read our support article on how to change the interface language.
Big pop-up tag: Following user feedback, we added the option to increase the size of your text and media tag. The bigger tags are now 50% bigger – increasing accessibility and legibility. 
---
But that's not all! As well as these ten big features, we launched plenty of other small upgrades, improvements, and optimizations in response to your feedback. These include:
Folders for education accounts in late 2019
Azure custom storage: users are now able to store ThingLink content on their own MS Azure cloud storage
Previews for tour tags when clicking on the hot spot
Improved single-sign-on for G Suite and Azure Active Directory
Coming soon: Soon you will be able to use 3D models as your base media and add tags in the same way as images, videos and 360 media! This feature is currently in beta stage and will be released to all users in summer 2021!
Have you tried these new features yet? Get started for free here and start creating today!