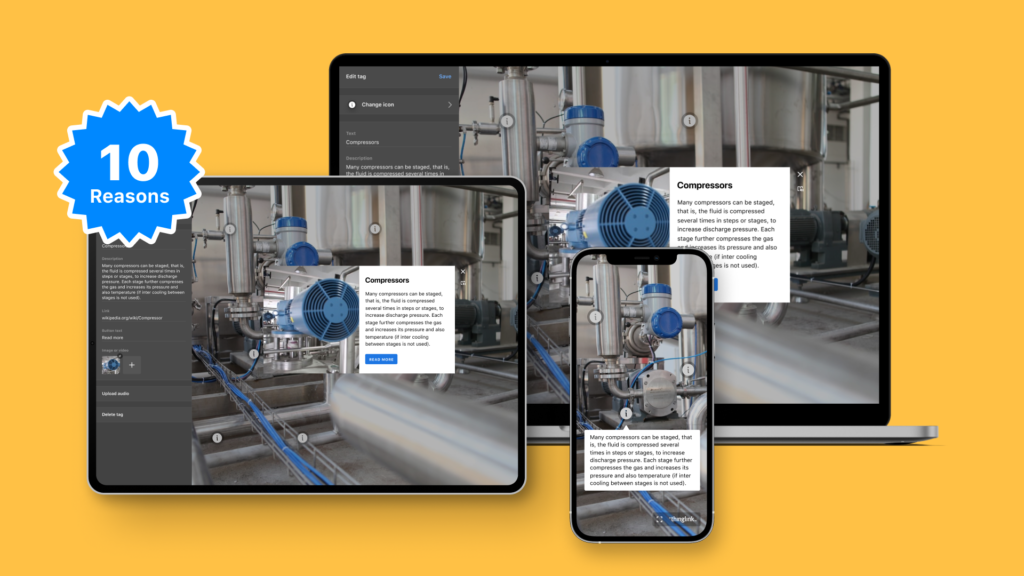 10 Reasons to Get ThingLink's New eLearning Solution
Are you looking for solutions to boost your employees' online training experience? Are virtual tours and workplace simulations next on the list of productivity tools you want to try out?
If yes, we have a handy eLearning solution to help your company achieve optimal learning results and motivate your employees more. Immersive, easy-to-create workplace simulations will make your employees more job-ready and save you precious time and money in logistics, translation, and content production.
Simulation tools help companies boost their productivity in many ways, but they also motivate employees to practice new skills and capabilities in a risk-free environment. Let's take a closer look at why now is the time to invest in a better online learning experience.
Workplace Simulation – The Need of the Hour
Since the pandemic, traditional training programs have become untenable for employees. If anything hasn't changed, though, it's the ever-growing need for developing new skills for operating in increasingly complex, multicultural environments. In addition to practice, context-specific knowledge, employees need to constantly train soft skills, including leadership, teamwork, and conflict resolution.
However, since in-person education is now a not-so-accessible option, what other alternatives do firms have? Immersive learning technologies are found to be the next best option for corporate training, but so far companies are hesitant to invest hundreds of thousands in VR headsets when the creation of training content is expensive and slow.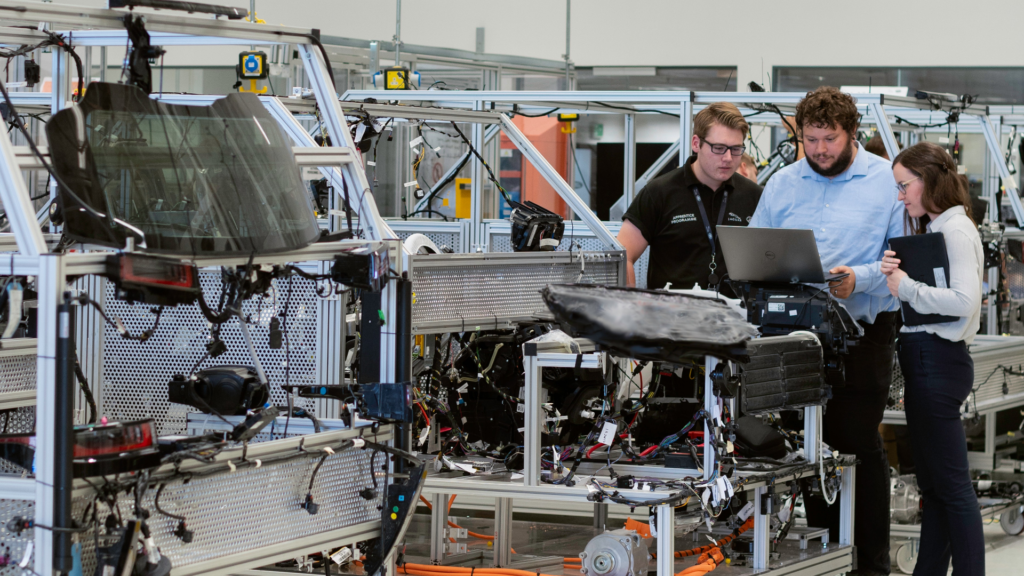 ThingLink's new eLearning solution is designed to change this. Focusing on easy content creation and content sharing to any LMS, it is a must-have for your corporate training purposes. Below are the top 10 reasons why any organization with more than 100 employees should get it.
1. Improved Work Relationships
Even in your local work environment, the atmosphere inside your organization depends significantly upon the flow of communication. An investment into a better digital learning experience leads to greater team unity and understanding between the employees. When there are no language barriers, there will be better communication and coordination between your employees.
ThingLink's eLearning solution features an integrated Immersive Reader with an automated language translator that makes your training materials accessible in more than eighty languages. These features guarantee more accessibility, better message delivery, and lesser misunderstandings at the workplace.
2. Faster Knowledge Sharing
For technical and maintenance training, companies previously had to rely on manuals and technical drawings that can be sometimes cryptic and hard to understand. Employees with more experience knew the tricks of how things work, but transferring that knowledge to new recruits is hard.
ThingLink's eLearning solution comes equipped with an easy-to-use mobile app that lets employees snap a photo of any device and record a short instruction with video or audio to share with their colleagues. In addition to improving knowledge sharing and coordination at your workplace and subcontractors, it also helps save money significantly. Interactive manuals that are instantly accessible on tablets lead to faster learning, fewer errors, support requests, and maintenance breaks.
3. Self-Paced Learning in Real-Life Environment
When employees are learning remotely, it can be tricky to find ways to inspire and motivate them. ThingLink's new eLearning solution with Scenario Builder takes care of that and ensures exciting and captivating learning experiences that draw the learner's interest and attention.
Immersive simulations that use interactive media help employees learn practical and decision-making skills by simulating them in a real-life work environment. Nothing boosts learning better than a personal experience. It is the most effective way to learn, as we're sure you will agree. With our tool, you can bid goodbye to remote learning sessions that fatigue your employees out in several ways. Our solution helps your employees learn things that are truly relevant and substantial to their job. It also helps maximize their commitment and involvement more actively towards your organization.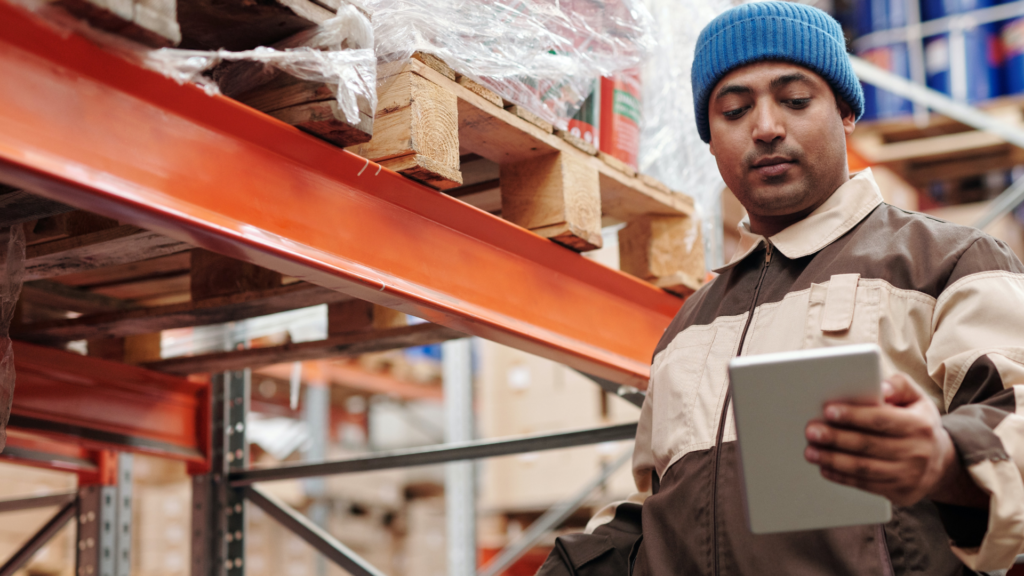 4. New Insights with Advanced Learning Analytics
The responsibility of companies towards their employees does not end at merely providing them with learning resources. As employers, it is your prerogative to constantly improve training materials and ensure maximum facilitation in your employees' learning journey. For this, you need better data on how your employees learn in context.
Our eLearning solution is highly useful in this regard too. It features an in-built data collection that provides new insights on your employees' learning process throughout a virtual walk-through or workplace simulation, which helps optimize your training programs. With ThingLink's new Scenario Builder, you can easily add options, questions, and checkpoints to build linear or non-linear learning scenarios. You can be sure that a learner has seen all relevant information points before they can move to explore the next scene. Employees can see their own progress as their reach check-points that increase their progress score.
With learner-specific data, you can take swift action and step in where necessary, thus optimizing the learning progress and results.
5. Improved Knowledge Retention
Immersive workplace simulations are an instructional method that helps employees apply new skills and knowledge to real-life situations. Text-based tools do not offer this advantage, and learning is not as rapid and realistic as it is in contexts.
Personal experiences in real-life work environments help support learning better than recall techniques. When employees get to make choices and apply their knowledge in a simulation, they retain knowledge more effectively.
Better knowledge retention is another cost-saving benefit for the company. When employees do not need to retake corporate training programs, the company saves up on costs in many ways. Our tool makes it easy to update content and synchronize with other learning tools.
6. Faster Learning Content Creation
For the time and money you spend in creating one computer-generated simulation, your training team can create multiple image-based simulations that are easy to view on any device, easy to share, and easy to update when needed. Why pay more for less when our solution gives you the chance to supercharge your own trainers and learning experts?
ThingLink's new Scenario Builder features an easy interface for building branching scenarios and simulations using various types of visual media: images, video, 3D models, and 360 media. Anyone with basic digital skills can use it, which decreases your team's dependency on external agencies. To get started, our team can offer assistance in training your experts on scenario building and learning design.
We ensure fast creation of dynamic learning experiences, including the possibility of making changes even after publishing. This eliminates the need for hiring external agencies to take care of the editing and saves the added costs.
7. Opens Gateways for Advanced Training
ThingLink's new eLearning solution helps employees set their learning speed and make progress faster than in traditional learning programs. With self-paced training resources, learners can take lessons when and as is convenient for them. This helps them complete their basic level training faster.
Virtual tours and walk-throughs are ideal for learning key concepts, what things are and how they work. Immersive scenarios help employees apply and practice their knowledge in real-life contexts and situations. When learners rapidly make headway using virtual tours, scenarios, and simulations, this can free up their time for more advanced coaching and training programs alongside.
8. Improves Customer Communication
Visual and interactive learning materials and simulations not only boost learning for your employees but also for your clients and partners. With more accessibility to access and experience your products and facilities in interactive 3D and 360-degree environments, you now get to host more clients from all over the world. ThingLink is a great tool for sales support and helps your sales team close more deals faster. What more could you ask from a digital content creation tool?
9. Makes Existing Tools Work Better
ThingLink's new eLearning solution is compatible with your existing eLearning infrastructure. You can embed interactive training materials and simulations easily to any Learning Management System (LMS) or Microsoft Teams. In other words, ThingLink helps bring immersive learning experiences to any of the other platforms you are currently using and makes them more engaging.
Smooth interoperability with other tools makes everything easier. Employees can log in to ThingLink materials seamlessly using Office 365, G Suite, or via your LMS using LTI 1.3. Setting up and learning our solution does not take your resources and can be done with our expert team within hours. All eLearning accounts come with dedicated same-day training.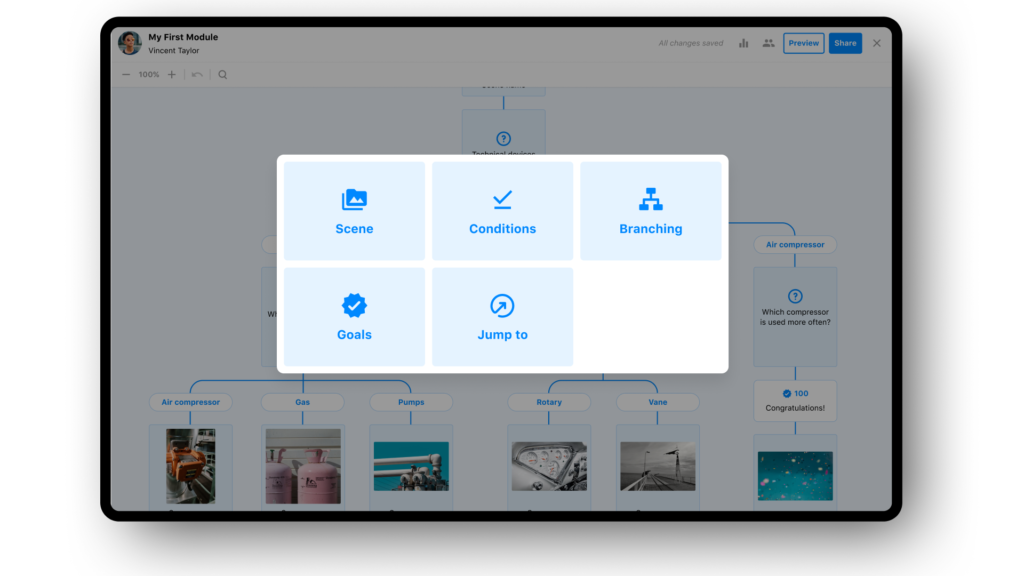 10. Bigger Digital Leap, Faster Results
If your goal is to quickly improve your company's online learning experience and take the much-needed digital leap, there is no better solution than ThingLink's new Scenario Builder to help you with that. You can create impactful visual learning experiences and rest assured of instantaneous results at fraction of the cost that you would normally spend on employee training. With ThingLink, you can take a giant digital leap confidently and cost-effectively. Isn't that an incredible advantage?
Take a quick tour of ThingLink's Scenario Builder
See how it works
---
Interested in piloting ThingLink Scenario Builder in your organization? Contact our team to get a demo and see how you can use it, or join our live demo on Wednesday, November 17th at 12PM EST/7PM EEST!