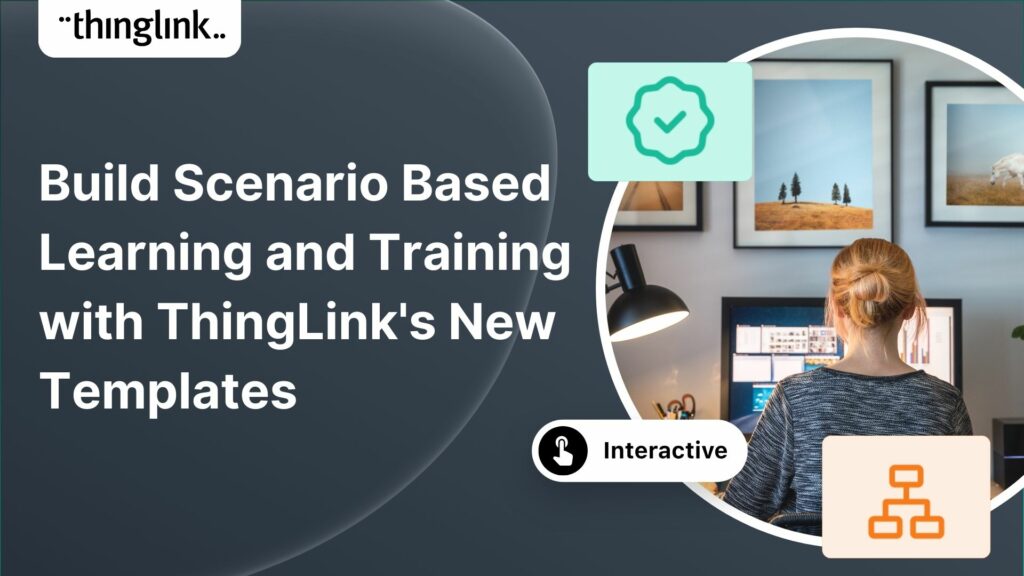 Build Scenario Based Learning and Training with ThingLink's New Templates
Start creating your interactive online courses and modules with ThingLink's Scenario Builder templates
In the age of eLearning, many educators and corporate trainers are searching for innovative tools and strategies to create effective and interactive online courses. ThingLink's Scenario Builder templates have been developed as the easiest to use tool in this arena. Designed for both novice and veteran instructional design experts, this tool allows you to easily construct completely bespoke, real-life learning experiences that promote learner engagement, decision-making and critical thinking.
Why Scenario-Based Learning (SBL) Works
Scenario-based learning (SBL) is an active learning strategy that places learners in a real-life or realistic scenario that simulates their own work environment or situation, requiring them to use decision-making and problem-solving skills. This type of eLearning course offers an effective learning experience by mimicking real-world situations, allowing learners to practice new skills or understand concepts in a safe environment. It's a powerful tool, especially in corporate training settings, where soft skills and decision-making are essential.
Meet a product expert
If you'd like to learn more about what ThingLink can offer to your company, you can schedule an online meeting with one of our product experts below.
Benefits of Scenario-Based Learning
Retention: By participating in real-world scenarios, learners tend to remember the concepts better and for longer periods.
Interactivity: Interactive scenarios can incorporate gamification, realistic videos and easy to understand animations, time-pressures and decision points, fostering active participation and engagement. With ThingLink, you can easily incorporate multimedia into your training. Add mages, videos, 360 images and videos, animations and 3D objects, to make your scenarios more engaging.
Real-World Context: It helps in bridging the gap between theory and practice, offering a real-world context to potentially abstract concepts.
Safe Environment: Learners can make mistakes without any real-life consequences, making it perfect for compliance training or any training where errors can be costly.
Watch and learn
Some short videos at our dedicated YouTube playlist shows just how easy it is to build interactive scenario based learning with ThingLink! Hear from ThingLink Founder and CEO Ulla-Maaria Koivula on the top features of the tool, and watch a webinar where we create an entire learning scenario from scratch in under 20 minutes.
Explore: Example course in ThingLink's Scenario Builder
Using ThingLink's Scenario Builder Templates
Creating an online course or training program becomes substantially easier with tools like ThingLink's Scenario Builder. And now our easy-to-adapt and edit templates make it even simpler and quicker! Here's how to start planning your scenario-based learning content from scratch:
Identify Learning Needs: Understand your learners' needs and set clear learning objectives. Do you need them to learn a new process or skill? Do you need them to understand a concept? Are you trying to enhance their problem-solving abilities? Or focus on soft skills? Perhaps you want staff to work on a module together to enhance and improve their teamwork?
Choose the Right Template: ThingLink currently offers four types of scenario templates for you to use and adapt (see more below). From branching scenarios that simulate decision-making pathways to microlearning modules ideal for SMEs (Subject Matter Experts) on the go, there's a template that you can use and adapt for every learning strategy.
Design Scenarios: Using ThingLink, integrate real-life situations and design scenarios that promote critical thinking. Incorporate decision points, challenges, and possible outcomes based on the storyline you want to convey. Pro Tip: Solid planning in the best foundation for building your course! You can use pencil and paper, flipcharts, online tools – or why not use our handy Canva Whiteboard template – see link below!
Test & Revise: Before launching your eLearning course, test it among a small group. Gather feedback and revise the scenarios accordingly to ensure effective learning.
The Self-Exploratory Scenario Template
The scenario featured above was based on the Self-Exploratory Scenario template, where learners can choose the path or branch they would like to go down first, depending on their own individual needs. Once they have finished that branch, they can then either finish the scenario, or go back and choose another branch to explore. Summative and formative assessment can be added if required, but this isn't necessary.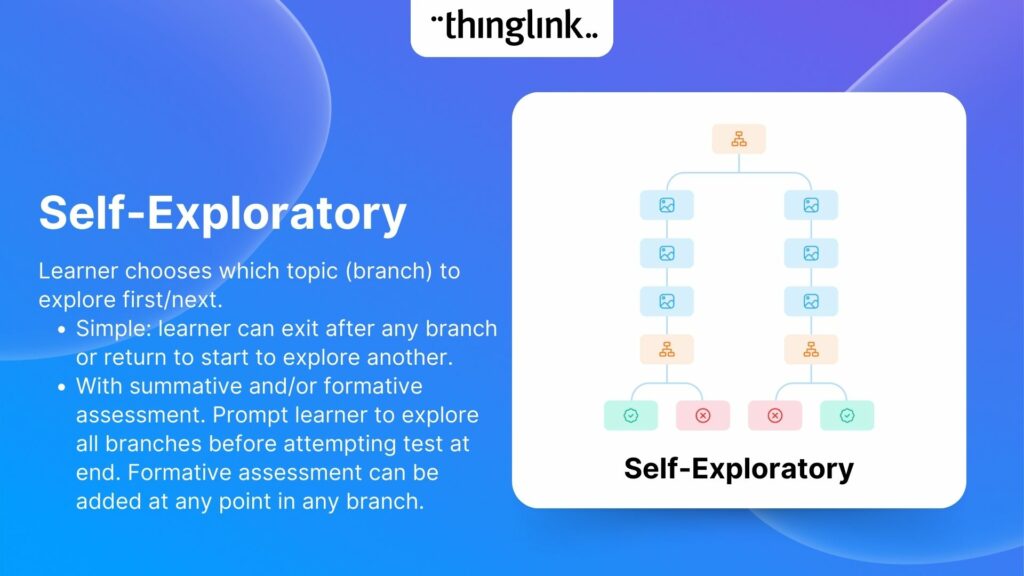 What other types of scenario templates are there?
In these related blogs you can explore example of courses created with the simple but engaging Linear template, the Escape Room template and the Simulation Scenario template. Or see the full guidance document linked below where we also look at all four models.
Free downloads and templates to help you get started
If you would like to copy the templates for the media used in the course above, you can modify and adapt the Canva template which includes each individual scene.
Planning tool: Our handy Canva Whiteboard template will help with planning out your scenario
360 images in an instant: One of the best ways to create truly immersive content is to add interactive 360 images to your course. If you don't have a 360 camera, our Pano to 360 tool is completely free to use – no ThingLink account required! Simply upload any panoramic photos from your smartphone and it's converted instantly, ready to download.
Examples of Scenarios in Online Training
Corporate Training: Design a challenging situation where an employee navigates office politics, demonstrating soft skills and problem-solving.
Compliance Training: Create a scenario where the learner must choose the correct course of action based on company regulations.
Soft Skills Training: An interactive scenario might revolve around a difficult customer, where the learner must employ patience and understanding.
Integrating Learning Scenarios in Existing Training Programs
For educators or corporate trainers with existing training programs, ThingLink's scenario builder templates can supplement and elevate the learning experiences. Whether you aim for better learner engagement, higher retention rates, or simply a more immersive real-life learning strategy, scenarios can provide the real-world context your course might be missing. training content created in Scenario Builder can be embedded into other authoring tools like Articulate Storyline. It also integrates fully into any LMS, or can be embedded anywhere or even shared with a direct link.
What are you waiting for? Start building your first course today!
Incorporating ThingLink's scenario builder templates into your online training or online course ensures a high degree of interactivity, placing learners in real-life situations that resonate and are relatable. This approach not only promotes decision-making and critical thinking but also ensures that learners are better prepared for the challenges of the real world.
From microlearning modules perfect for quick refreshers to extensive branching scenarios that mirror complex decision-making pathways, ThingLink offers the versatility to cater to various learning needs.
In the evolving realm of eLearning, where the focus is gradually shifting from passive consumption to active learning, tools like ThingLink, combined with effective instructional design, can significantly transform learning outcomes. Whether it's in corporate training, retail, hospitality or any number of other sectors, the potential benefits of scenario-based learning are vast, making it a compelling choice for educators and trainers worldwide.
Start your free ThingLink trial today!
To start creating interactive content today, sign up for a free trial account and see just how easy ThingLink can be.
Join the conversation
Get inspired by some of the content shared by our creative communities!