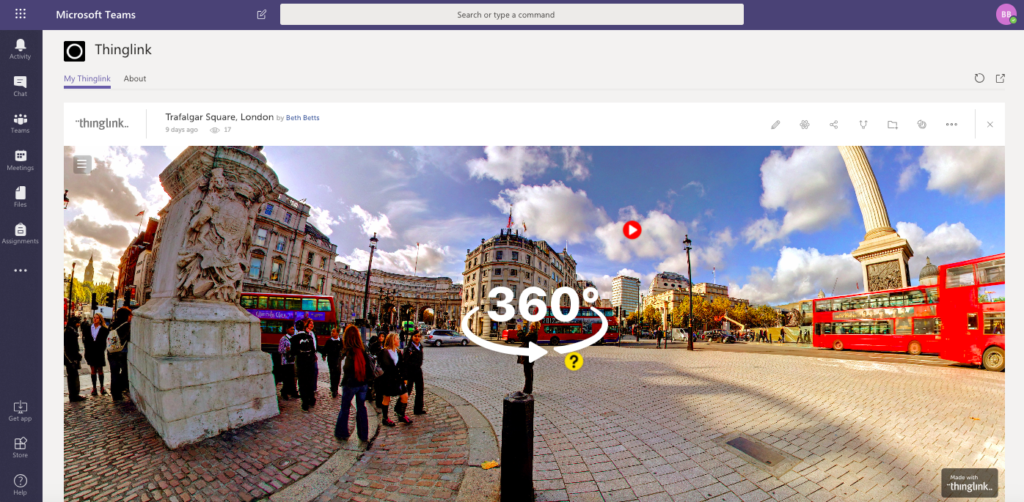 ThingLink Brings Virtual Tour Creation to Microsoft Teams
We are happy to announce that users of Microsoft Office 365 software will now be able to create and view interactive images, videos and 360-degree virtual tours in the Microsoft Teams environment. See our official press release below!
BETT, London — January 23rd, 2019
The new Teams integration lets educators and students to create interactive images and virtual tours to enhance the learning experience and develop digital storytelling skills.
ThingLink's editor can be used to enhance images and videos with points of interest containing text, audio, video, and links. Interactive images and virtual tours can be created directly in Microsoft Teams, and they can be opened in the Teams chat, Microsoft OneNote, or from a link on smartphones, tablets, laptops, and large touchscreen devices.
"Our goal is to empower educators, students, and businesses to easily build and share immersive experiences that support contextual understanding and engagement in learning," said Ulla-Maaria Koivula, Founder and CEO, ThingLink. "Everyone today knows how to create a slideshow. Soon everyone will know how to create a virtual tour. The same way as a slideshow, a virtual tour is a tool for documentation, storytelling, self-expression and collaboration."
ThingLink technology is especially useful in the education space because it lets teachers build interactive, visual learning experiences that are accessible in the cloud. These multimedia presentations can be most helpful to develop vocabulary and contextual understanding in technical education, science and social studies. Students can use ThingLink to document their learning with interactive maps, infographics, presentations and virtual 360-degree tours combining multiple forms of media: text, images, sound, and video.
ThingLink offers teachers free basic account as well as a paid school and eLearning accounts with a virtual tour creator. Microsoft Office 365 users can get a free 14-day access to ThingLink's Premium teacher and business subscriptions via the Microsoft AppSource marketplace. Sharing ThingLink images is supported in Microsoft Teams and OneNote. Editing is supported in Microsoft Teams. New uploaded images and videos from Office 365 users are saved in Azure.
"Immersive and 360-degree experiences have the potential to greatly improve learning outcomes because they help students process information faster and maintain deeper engagement in the curriculum," said Dan Ayoub, General Manager for Mixed Reality Education at Microsoft Corp. "By bringing ThingLink's technology into collaborative platforms like Teams and eventually into their assignments process, educators will have an unmatched set of digital storytelling tools to inspire great discussion and creativity in their classrooms."
About ThingLink
Based in Palo Alto, California, and Helsinki, Finland, ThingLink develops image- and video-editing technology for creating interactive, cloud-based experiences for eLearning, classrooms and workplaces. Over 6 million educators, students, and businesses in 190 countries use ThingLink for customer engagement, classroom and workplace learning Awards: Tutorful Hottest EdTech Tools (2018), EdTech X Rise Award (2017), HundrED global education innovation (2017) by HundrED.
For more information, please contact: education@thinglink.com