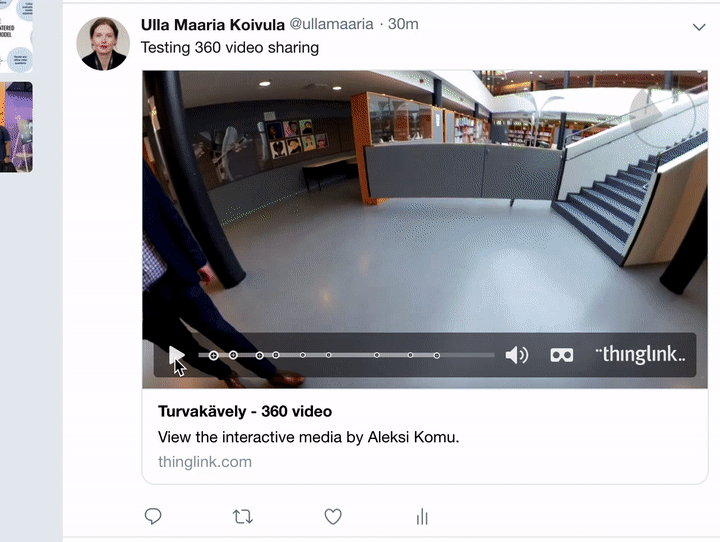 ThingLink brings interactive videos and virtual tours to Twitter – this time also in 360 degrees
In 2012, ThingLink was the first media platform to bring interactive image sharing to Twitter. The feature was hugely popular especially among customers who use ThingLink for creating editorial content and marketing campaigns.  Later on, Twitter changed their product policy for 3rd party embeds, and the integration stopped working.
The good news is, interactive sharing from ThingLink to Twitter is back. This time, it also works for videos and virtual tours, even for 360 videos, which is very exciting.  Think about an editorial or engagement campaign that invites viewers to visit physical spaces directly on the Twitter stream, now this is possible. Below is an example of a 360-degree virtual video walk through that is captured with an Insta360 One X camera.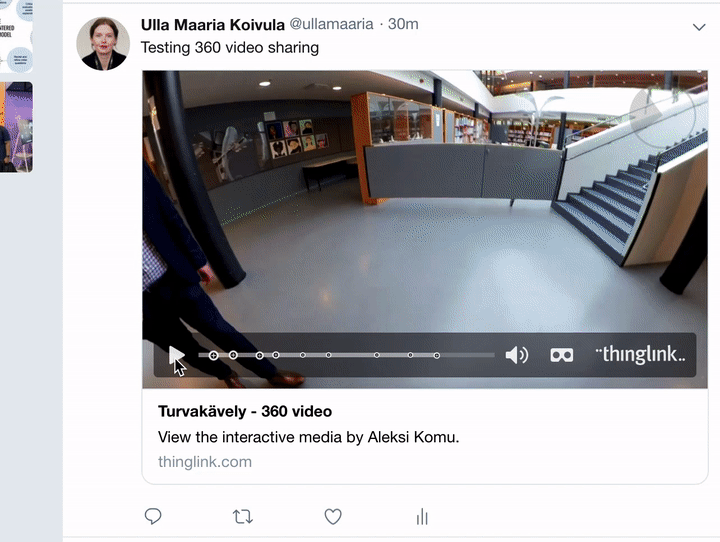 Another fantastically useful application is interactive videos that provide additional information for the viewer right on the spot, literally.  See example of a video interview that gives information of the speaker, key terminology, as well as certain details in the physical space.
Explore live tweet below or see it here. 
How do you set up a space for co-teaching? Sampo Forsström from Joensuu Teacher Training School shares some ideas in this interactive video interview: https://t.co/OLyEdfzyPW @ThingLink_EDU #edtech @ThingLink #teacherchallenge #classroom #design #teaching

— Ulla Maaria Koivula (@ullamaaria) October 10, 2019
ThingLink images and videos on Twitter can include text labels, closeup photos, text descriptions, video clips, or content from 3rd party sites. In addition, any text description in a hotspot opens in Immersive Reader with automatic translation to over 60 languages.
Here is how sharing to Twitter works:
1. Copy paste any ThingLink URL to the tweet box
2. Click "Tweet"
3. Read how-to guide and full technical specifications here
Questions about sharing ThingLinks to Twitter or anything else? 
{{cta('c99ef121-786b-44da-9c07-32d2d5628cbe')}}