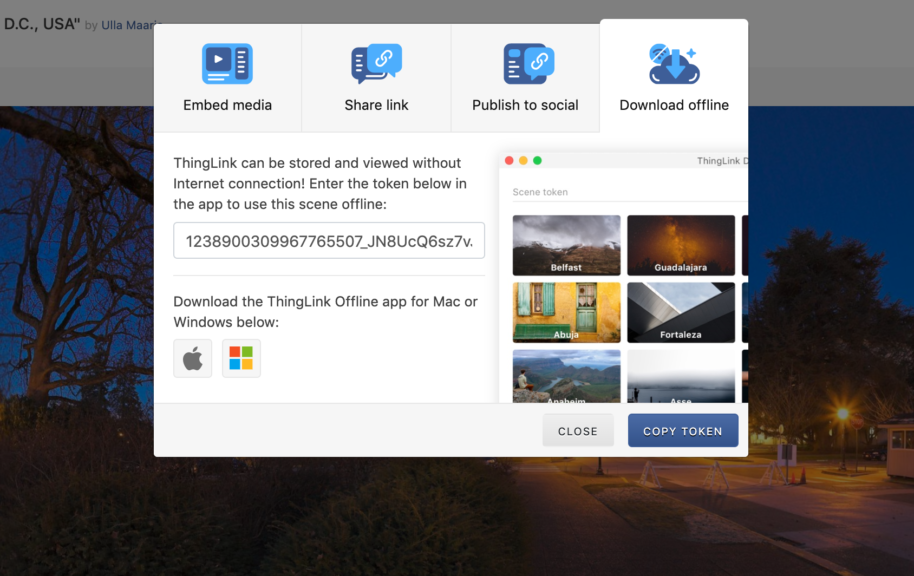 ThingLink releases offline viewing for interactive images, videos and virtual tours
In September we asked our users about offline viewing, and in less than a week we got over 200 replies. Over 80% of all the respondents said they need offline viewing because of weak wi-fi connection. This was mentioned by schools and companies operating in remote areas or schools that did not allow the use of Internet at all. The most popular use cases for offline viewing in our survey were: 
presentations (83%)

keeping content permanently on local devices (50%)

touch screen viewing at events and classrooms (41%),  and

security – hosting content locally (23%).
Other use cases mentioned by respondents included permanent exhibitions, viewing ThingLink content on airplanes, field trips and outdoors, as well as VR viewing when there is no wifi. Interestingly, 65% wanted to view offline resources on their laptop and 20% on their tablet.
Offline viewing added to ThingLink sharing options
The good news is offline viewing for ThingLink content is now available as one of the options in our sharing dialogue. 
The feature is available on the following plans:
'Premium Teams' for editorial and marketing use
'School & District' for educational accounts
'eLearning Enterprise' enterprise accounts
Explore the icons in the image to see how ThingLink offline viewing works.
ThingLink offline app is available for Windows and macOS. All types of media, including 360 images and 360 videos, can be downloaded. Note that if your images include embedded web content such as YouTube and Flipgrid videos, Google Maps, and other services that require Internet connection, the app shows a 'No Internet connection' error message. 
Read more details and information about ThingLink offiline viewing in this support article.
Questions about offline viewing?
{{cta('c99ef121-786b-44da-9c07-32d2d5628cbe')}}