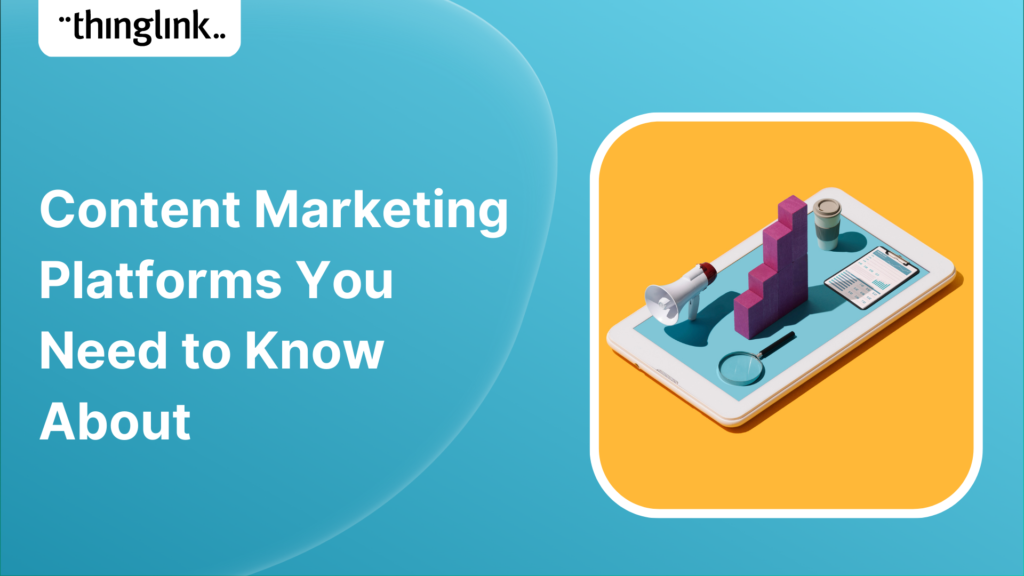 Content Marketing Platforms You Need to Know About
What is content marketing?
Content marketing is a powerful strategy that businesses of all sizes can use to build an engaged audience and generate more leads. It involves content creation and sharing, of content such as blog posts, videos, podcasts, emails and social media posts – with the goal of attracting new customers while also providing value to existing ones. Great content marketing involves connecting with your target audience in meaningful ways that foster relationships over time. With the right content marketing strategy and tools, you can drive measurable results for your business, even without a dedicated marketing team. In this brief introduction, we look at some of the most popular content marketing tools, what they do and how you can optimize them.
Meet a product expert
If you'd like to learn more about using ThingLink for content marketing, you can schedule an online meeting with one of our product experts below.
What to look for in a content marketing platform
When selecting content marketing software, it is important to consider the features available. Look for platforms that offer content curation, allowing you to easily find content relevant to your industry and content marketing efforts. In-depth metrics tracking should be included so you can monitor how well content assets are performing. Content calendar features help with content planning to make content production easier over time. Lastly, collaborative editing and content review options also prove useful when planning campaigns with multiple content creators. It's a good idea to start off with a free plan if available to see if the solutions suits your needs. Most marketing solutions today offer a range of pricing options which provide flexibility for businesses as they grow. These software solutions are almost all cloud-based, meaning that all members of your team including freelancers can access the tools they need for collaborative project management.
Types of content marketing tools
The best content marketing platforms all have one thing in common: they are intuitive and easy to use with adaptive functionality that is being developed and improved all the time.
Social Media Platforms
Social media marketing is essential for any business looking to reach its target audience online. Facebook, Twitter, Instagram, LinkedIn are all great places to post your content and engage with potential customers. By leveraging these platforms properly, you can increase brand awareness and build relationships with your followers in no time at all. Other social media networks such as Reddit may also be beneficial depending on the type of product or service you offer. However to optimize these platforms you should consider using a social media management platform or CRM platform which manages all your outputs and measures results.
CRM platforms
CRM (Customer Relationship Management) platforms are powerful software tools used to enhance content marketing efforts. They can provide meaningful insights into customer behaviors and preferences. You'll use them to design content for the most effective results, track campaigns, see click rates, and use the data gathered over time to make informed decisions about content strategy. By leveraging a CRM platform's full suite of features, you can take content marketing to the next level.
HubSpot
HubSpot offers a comprehensive suite of tools designed to help businesses create, manage, and optimize their digital marketing content. HubSpot's platform includes features such as a drag-and-drop page builder, integrated analytics, SEO optimization tools, email marketing automation and automated campaign workflows. With HubSpot, businesses can easily create high-quality content for marketing campaigns without having to worry about technical details like coding or design. It is designed to streamline the marketing process whether your goal is lead generation, conversions, customer retention or any other target.
WordPress
WordPress is one of the most popular digital content management systems in existence. It's easy to use and allows users to quickly create beautiful websites with minimal effort. WordPress also offers an extensive selection of templates, themes, integrations and plugins that make it easy to customize your website's look and feel. Additionally, WordPress offers powerful search engine optimization (SEO) tools that help improve your content performance on search engines like Google and Bing.
Interactive Content Creation Platforms
Interactive content creation platforms are revolutionizing the way digital content is created and consumed. ThingLink is a leader in this field, allowing users to easily embed multimedia within content – to create truly interactive experiences. ThingLink provides a broad scope of creative possibilities for blog posts, news articles, landing pages, presentations and so much more. Users are able to generate engaging audio-visual masterpieces that have the potential to have a huge impact amongst their audiences.
Engaging Campaigns
By leveraging these powerful platforms, you can create engaging campaigns that will stand out from the competition and ultimately increase sales and profits over time. Whether you're just starting out with your business or have been established for a while now, these platforms can help you take your business's digital presence and success to new heights!