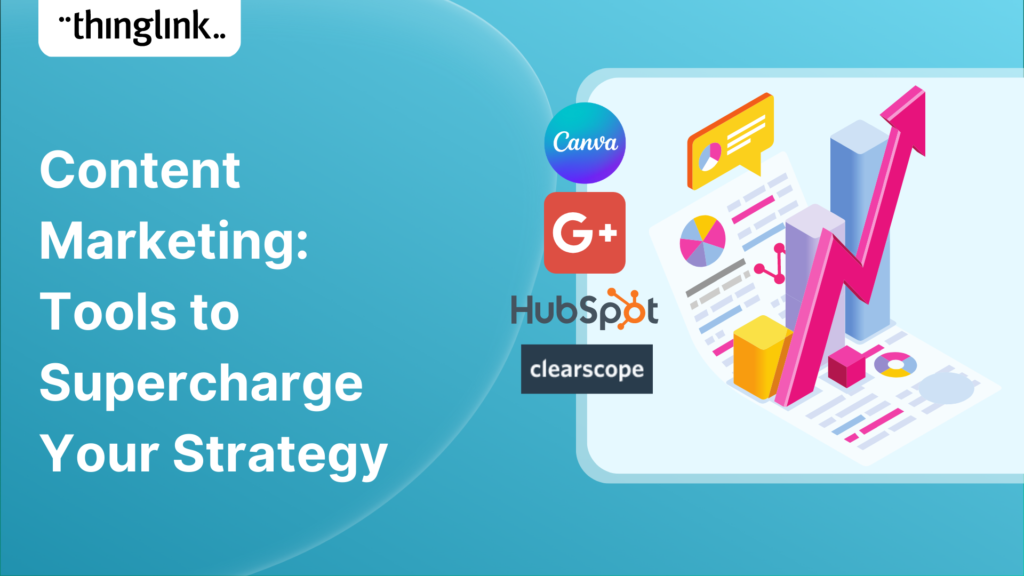 Content Marketing Tools: Powerful Ways to Supercharge Your Strategy
Content marketing has become an integral part of any successful business strategy, regardless of business type or size. It helps to create relationships, build trust, and establish a sense of authority with potential customers. As technology continues to evolve and change, so too do the tools available to help businesses create effective content marketing strategies. In this blog post, we will discuss some of the best content marketing tools for 2023, including our favourite digital marketing tools. We also look at how you can easily make your own marketing content interactive – to really maximise its impact!
1. Automation Software
Automation software makes it easy to schedule and automate tasks related to content marketing, including social media posts and email campaigns. This type of tool allows you to save time by automating mundane tasks that can take up a lot of time if done manually. Additionally, automation software can help you stay organized by providing you with detailed analytics about your content performance over time. An example of this type of platform is Hubspot, which can be used to create a workflow for any type of marketing content. An example of a more dedicated social media management and marketing automation platform is Hootsuite which allows you to schedule content across all your social media accounts.
Supercharge your content marketing
To learn more about how ThingLink can supercharge your content marketing, schedule an online meeting with one of our product experts below.
2. SEO Tools
SEO (Search Engine Optimization) is an important factor in driving traffic to your website or blog, as well as helping your content rank higher in search engine results pages. There are a variety of SEO research tools available that can help with keyword research and analysis of search volumes, allowing you to optimize your content for better search engine rankings. These tools can also identify opportunities for link building and backlinking strategies that can further boost your rankings. Most of these feature plugin functionality that integrate seamlessly with blogs like this one on platforms like WordPress, and also with tools like Google Docs from the very start of your content creation process. Using them in conjunction with free tools such as Google Analytics tools and Google Search Console can create powerful insights that quickly deliver results. Some to check out include Ahrefs and Clearscope.
3. Online design tools
Our go-to is Canva, a truly accessible online graphic design tool that allows anyone to become a better content creator. Canva has become an essential part of our toolkit because it allows users to create all types of high-quality, professional looking pieces of content from infographics to video, with a simple drag-and-drop editor. Their free version is packed with features but there are other levels of pricing which work out extremely good value, such as the pro version for $12.95 a month which is packed with features including millions of royalty-free photos, graphics, fonts, layouts and templates which provide some great initial content ideas. In fact we love Canva so much that it was one of our key 2021 integrations, accessible straight from the ThingLink editor during creation and editing. Below is an example of an interactive newsletter designed in Canva and made interactive with ThingLink. Explore the tags!
4. Interactive content
Interactive content creation platforms will be the next must-have for all types of content in 2023, partly because they have such versatile application. Whether on web pages and landing pages, in email marketing or on your social media feed, high-quality interactive content is simply too engaging to ignore! Interactive content created with ThingLink also provides your team with invaluable metrics about what your audience is looking at and engaging – differentiated according to individual marketing platforms and channels. And when you make any changes to the content, it's updated in real-time wherever it's embedded, making live content curation easier than ever before.
In 10 Business templates for creating interactive content with ThingLink and Canva we provide 10 great examples of interactive content you can use for your business, with editable free-to-use Canva templates.
PLUS: Project management platforms
Marketing teams shouldn't forget the usefulness of project management tools such as Trello, which can help manage your editorial calendar and show the progress of any project. Content management becomes easier when everyone in the team can see the completed tasks, next steps and responsibilities. This is almost essential if your team works remotely from each other or is made up of freelancers.
Content marketing has become increasingly important for businesses looking to communicate quality content to their target audiences effectively and efficiently. With the ever-evolving technology landscape, new tools are being developed every day that can help businesses create more effective content marketing strategies for 2023 and beyond! From automation software to SEO tools and graphic design platforms, there are plenty of options available that can help you maximize your reach and get the most out of your content and make your marketing campaigns less like hard work for all your team members! So don't wait any longer – start exploring the latest content marketing tools today!