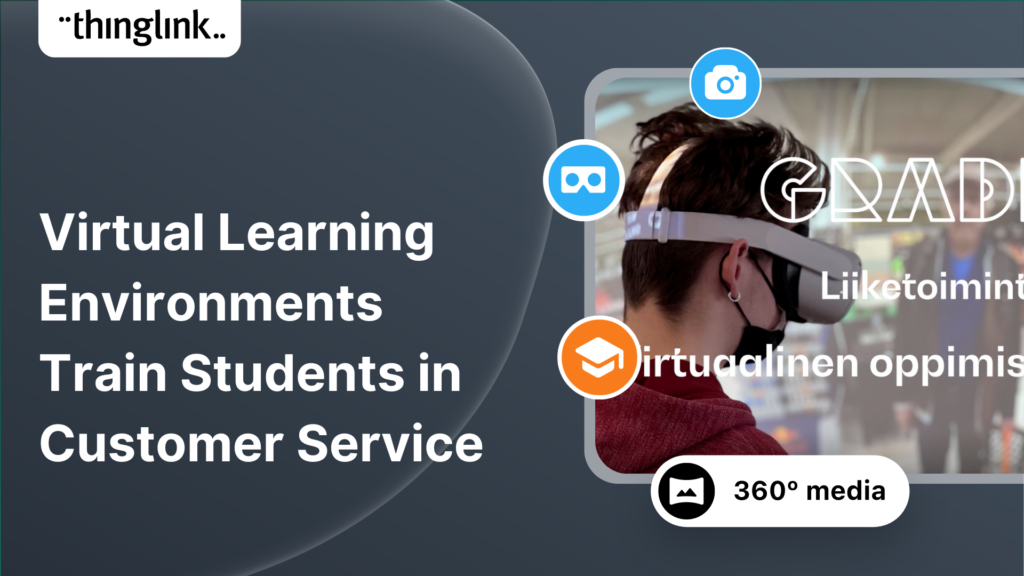 Virtual Learning Environments to Train Students in Customer Service 
Gradia Vocational School has created new learning course content for the business education sector, using 360 video simulation technology in ThingLink. The elearning environment realistically models real situations and combines the cost-effectiveness of virtual reality learning resources and the benefits of simulation pedagogy.
See the Virtual Learning Environment in action
View their incredible example and short video here, it has English subtitles.
Schedule an Informal Call and Demo
If you'd like to learn more about what ThingLink can offer to your company, you can schedule a free, no obligation online call with our learning design specialists.
Practice a challenging customer situation in a VLE
The new Virtual Learning Environment (VLE) for Gradia's business sector simulates everyday customer service and sales situations in a grocery store. Students get to practice challenging interaction situations hands-on, such as dealing with a complaint, before meeting real customers in real life. In a simulated learning space, learners can test different action options and their consequences safely, confidently and at their own pace. This type of virtual training environments enhance the learning process with realistic practice environments. The student receives support and instructions while handling the customer situation.
"Simulations have been proven to be an effective way to learn. Learning by doing leaves a more permanent and deeper memory trace than, for example, reading about the subject and written assignments. When the content studied in theory is reinforced with practical exercises, you will know how to operate better also in real work situations. The first feedback from the students is positive and shows that there is a need for similar implementations."

Jaana Eirtovaara, Business teacher of Gradia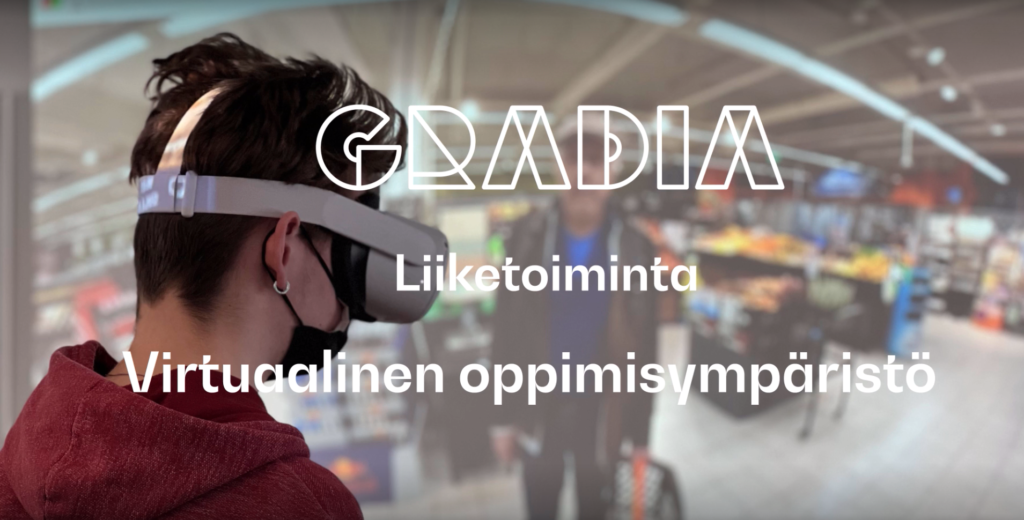 The 360 videos of the business sector were produced in cooperation with local partners. The videos were filmed in the premises of a local grocery store, K-Supermarket Länsiväylä, while the store was closed, and both the store's staff and Huoneteatteri actors were involved in the filming. This ensured that the most realistic environment and customer situation could be created for this module.
The scenarios that progress based on the choices made by the student were built in ThingLink. Gradia's scenario is in fact the most extensive learning environment built with ThingLink in Finland.
"Digital ecosystems are an integral part of the future of learning. The opportunity to practice different interaction situations improves the learner's self-confidence and ability to act in real situations. Virtual spaces can be seen as extensions of physical school buildings."

Ulla-Maaria Koivula, Founder and CEO of ThingLink
Virtual learning environments in the tourism sector
A virtual environment has also just been completed for the tourism sector, where students on the tourism training program can get to know selected tourist destinations in the Jyväskylä region in Finland with the help of immersive 360 photos.
"We have a lot of international cooperation in both vocational and upper secondary education. In the future, learning environments can develop into virtual meeting places, where students could practice, for example, using a foreign language, customer service and sales with students living in another country."

Heini Pennanen, Digital Coordinator of Gradia
Simulation-based online learning
At Gradia, simulation-based online learning in professional fields has been used for several years. In the web-based learning environments created for the business sector, recent developments have been scenario-based learning courses that respond to the user's choices in real-time and digital twins of real working life environments created with 360-video technology. The use of simulations as a teaching method and teachers' skills in creating virtual learning experiences and virtual classrooms will be further developed in the coming years, particularly in distance learning and blended learning environments.
Simple to use – anywhere!
However, the same simple-to-use technology can be used by any training provider, without the need for a learning management system (LMS) or expensive learning platform. Creating web-based materials using a tool like ThingLink means that they can be accessed and used anywhere, on even mobile devices.
If you're interested in creating interactive virtual reality learning resources like Gradia's, get in touch today via the link below.
Start a Free Trial Today
Dive into a world of immersive content and transformative learning experiences with a complimentary ThingLink trial.