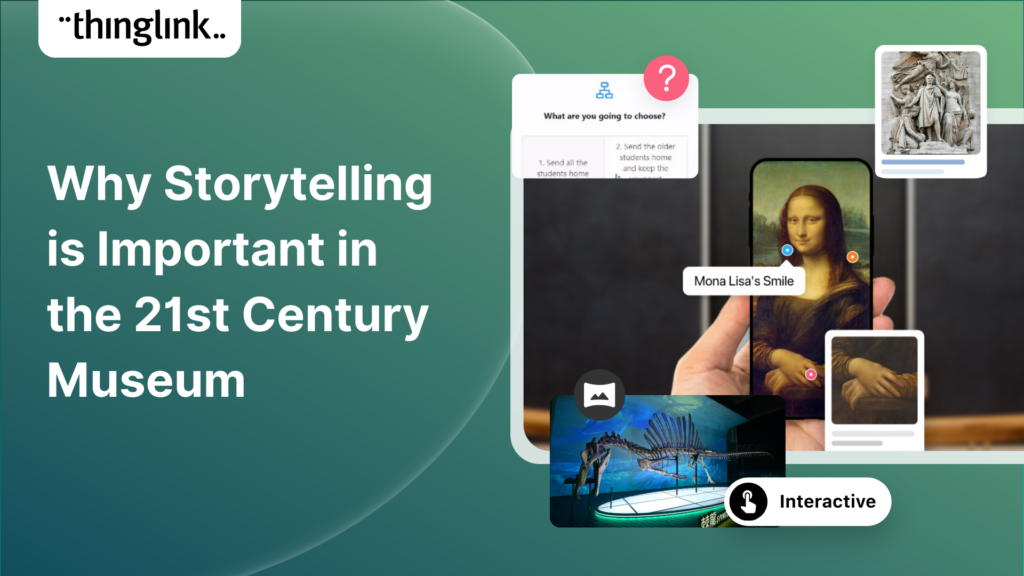 Why Storytelling is Important in the 21st Century Museum
The Evolution of Storytelling in Museums
It's hard to imagine now, but there once was a time when traditional museum exhibits relied on static displays and textual descriptions. Over the last few decades, developments in museum education and technology have highlighted the importance of storytelling in the museum environment, allowing museums to go far beyond information-sharing. Now, thanks to accessible and easy-to-use technology, museums of all sizes are able to immerse visitors in compelling narratives and great storytelling – whether that's in person visits, online, or a hybrid of both.
Storytelling allows museums to breathe life into artefacts and objects by placing them within a narrative framework. It helps visitors relate to the exhibits by presenting them as part of a larger, compelling story, creating a more immersive and memorable experience.
ThingLink has emerged as an easy-to-use but powerful tool for transforming museum experiences, and allows curators, educators – and even visitors and learners – to tell stories in a number of different ways. In this blog post, we highlight three recent case studies where ThingLink is being used by museums for telling stories that bring history alive, in different ways.
Meet a product expert
To learn more about how you can use ThingLink in your museum, cultural or heritage site, schedule an online meeting with one of our product experts!
Stuhr Museum recreates real life experiences using storytelling in a branched learning scenario
Museums can use ThingLink's Scenario Builder to recreate a personal story that enhances visitors' understanding and emotional connection to a real-life historical event. This is exactly what Stuhr Museum, Nebraska did with their inspiring "Schoolchildren's Blizzard" resource, which is testament to the power of storytelling. The learners move through the scenario, and their decision-making at key points in the story reflects the same choices made by three young women over a century ago.
Storytelling is key to Stuhr's mission, as museum Creative Director Carly Harroun explains:
"Storytelling is something that we're really trying to emphasise across the museum, since our mission is to share the collective human experience of community building along the Platte River Valley. Our motto is "Your story is our history" and we use storytelling as a vehicle to connect with that empathy in people. To show that these were actual people just like you."

Carly Harroun, Stuhr Museum Creative Director
You can read the full case study "How Stuhr Museum's Blizzard Scenario Brings History to Life: Choose your own adventure meets tech and history" here.
Sign up for our exciting Museums Focus webinar on the 28th June to hear from Stuhr's Creative Director Carly Harroun about how the learning resource was created.
Click below to register!
Wednesday 28th June
9am PDT | 12pm EDT | 5pm BST | 6pm CEST | 7pm EEST
Sign up for our Exclusive Webinar!
Highland Folk Museum Tells the Stories of their Historical Artefacts with ThingLink
ThingLink empowers museums to provide visitors with a deeper understanding of the historical and cultural context surrounding artefacts and objects. If artefacts could talk, many would have great stories to tell! Their own stories, and those of the people who owned or used them, can best be understood when visitors see them in their original context.
Living museums are wonderful places to see just how people lived, worked and used these everyday objects, in restored or reproduction buildings and sites. However, many of these once commonplace items are so fragile that it would be impossible to keep them in situ year-round.
The Highland Folk Museum in Newtonmore, Scotland, created an innovative solution to this problem with their exemplary ThingLink which we showcased in the case study "Highland Folk Museum Wows the World with Fresh New Twist on Virtual Museum Tours". This ingenious hybrid solution to combining living history with interactive virtual tours is one that many similar institutions around the world are looking to replicate in future. View all the historic sites as a ThingLink tour here.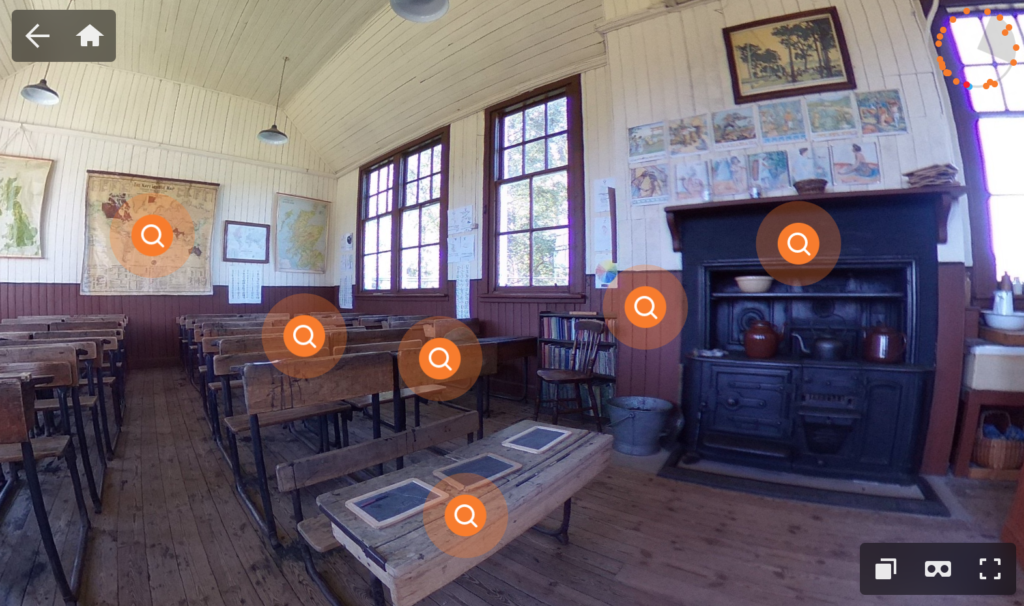 Storytelling That Brings Museums Together
As is the case with many capital cities and historical and cultural hubs, the treasures and artefacts of the city of Budapest and wider Hungary are scattered across a number of diverse museums, libraries and institutes. Many of these items which have ended up in separate locations are linked by theme, period and so on. Together, they tell endless stories about the fascinating heritage and history of a culturally rich and diverse nation.
Remarkably, it was only during the Covid lockdown of 2020 that educators from 6 of these institutions came together to envisage a joint and collaborative virtual exhibition for schools. The virtual exhibition tells the story of the growth of Hungarian national identity in the 19th century and is organised thematically. Read the full case study here: Budapest Museums and Galleries, or explore the ThingLink below!
Coming Soon – ThingLink AR App!
ThingLink will soon be adding even more opportunities for museums and galleries to provide engaging interactivity for their visitors with the launch of the new AR App. Currently in BETA, ThingLink AR App's interactive features will allow users to actively engage with exhibits, fostering a sense of participation and exploration. Visitors can delve deeper into the details, zoom in on specific aspects, and access supplementary materials. For example, a painting can come alive with audio commentary from the artist or a video depicting the historical context in which it was created. Join us on our webinar (link above to join) to find out more! Watch this short video below to see how it will work.
Focus on: How brands are also using ThingLink to share stories
Storytelling is powerful because it creates an emotional connection between a company, its products and its customers. Effective storytelling increases engagement between a brand and its audience, which helps drive conversions and, ultimately, revenue growth.

"Why Storytelling Wins in Marketing", Forbes Magazine June 2022
Successful brands in the business world have been mastering the art of storytelling for decades, but increasingly it is interactive content that is being used to help make a compelling even more engaging, personalised and meaningful for audiences.
Stories to engage your audience and customers
Although established as an edtech tool, ThingLink is now incorporated into the content marketing strategy of thousands of businesses of all sizes, from startups and entrepreneurs to major global brands. With ThingLink, marketers can engage their customers with their brand story, and maintain their target audience's attention amongst more static content. Read our selection of blogs on interactive communications and marketing to see examples of this in action!
To see more examples of ThingLink user-generated content, join our social media communities – ThingLink Education Group on Facebook or our ThingLink LinkedIn Community.
Start with a free trial today!
Get started with creating your interactive content today, with a free trial account from ThingLink.
Do you have a good story to tell with ThingLink? If you would like us to share your ThingLink creation as a case study, please get in touch! Contact our Communities and Partnerships Director Louise at louise@thinglink.com.