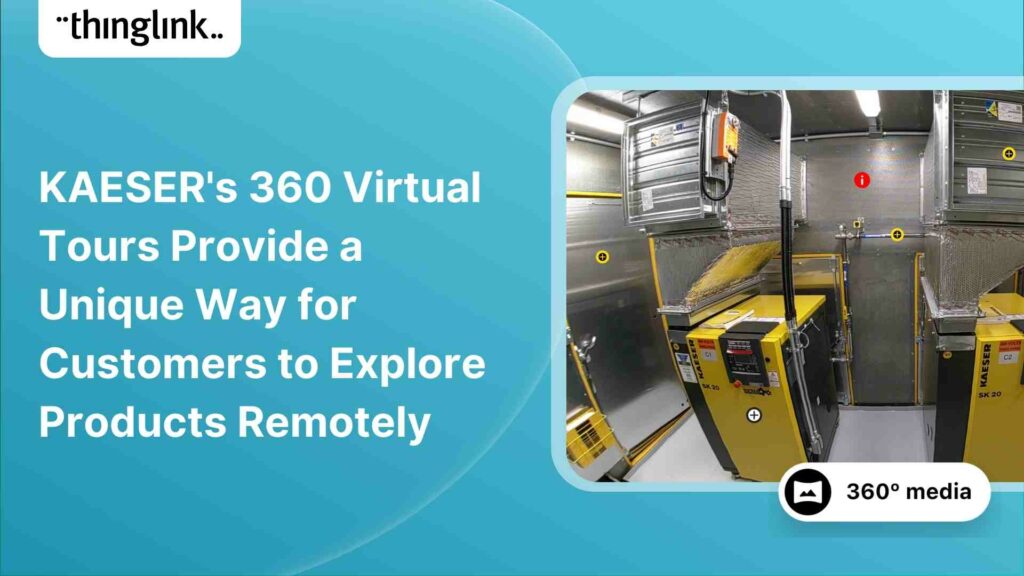 KAESER's 360 Virtual Tours Provide a Unique Way for Customers to Explore Products Remotely
About KAESER
KAESER Compressors is one of the world's leading manufacturers and providers of compressed air products and services. They manufacture compressed air system solutions for customers worldwide, across a number of different industries.
KAESER's challenge
When there are space, environmental, or time constraints, KAESER offers air systems in weatherproof enclosures, which are built at KAESER's main US facility site and then transported to the customer's location. The enclosures are complete systems which may contain compressors, blower packages, boosters, or vacuum packages. In addition, each enclosure comes equipped with piping, ducting, controllers, ventilation systems, and other features. Because of the scale and customization abilities of KAESER enclosures, they found that customers had a hard time visualising the end product.
Book a free consultation
If you'd like to learn more about how your company can save resources and effectively support employees with impactful trainining, schedule a free call with one of our transformation consultants.
Solution: 360 virtual view inside the product
To help their customers more easily visualise the complete set up of an enclosure, KAESER turned to ThingLink. They now create 360 visuals in ThingLink of every unique enclosure that they build, and in total over the last 3 years have created around 30 unique visualisations this way. Further information by way of text, images and videos, as well as links to more detailed information and specifications is contained within the clickable pop-up hotspots or tags.
KAESER sends or presents these to the customer to give a realistic representation of how the components within it work together, and to showcase the quality engineering of the system. The 360s can be shared either directly with customers via a link through email, or shown in more detail by the local sales rep on laptops, tablets or any other mobile device.
The version above shows a custom instrument air package used in advanced pharmaceutical research.
Multi-purpose virtual visits
In addition to using these as a sales tool, KAESER uses them for two other main purposes:
For training sales staff off-site, who haven't had an opportunity to view enclosure builds at the US headquarters.
For trade show displays and events to demonstrate the customizable solutions KAESER offers. Sales teams report that visitors enjoy engaging with the interactive content.
A powerful social media marketing tool
A selection of the 360s are also embedded in their website and shared on social media. From a marketing perspective, KAESER finds that the ThingLink content they share usually gets higher engagement than a static image post.
"ThingLink has been a great tool because our products aren't available for prospects to view in person, outside of trade shows. The content is easy to create, and easy to use."

KAESER
Kaeser has also recently created 360s of the interior of the compressors themselves. These are used as training tools for sales staff, and to show features of the machines to their customers.
How ThingLink has provided the ideal solution
For a product so large, when there is simply no easy way for the customer to view it in person, 360 tours provide immersive experiences for solutions that most customers have never seen, considered or imagined. The interactivity of the material also makes it a useful tool for engaging potential new customers, via a number of different channels. For a complex product with a number of different possible configurations, ThingLink provides an accessible way to explain key elements efficiently.
Further reading
You may be interested in these additional case studies which showcase more virtual tour examples where ThingLink provides easy-to-use virtual solutions for companies and organisations whose customers or other users can't visit a site in-person.
Need help to create your own tour?
Follow us or join our groups and communities on social media
For FAQs and advice from our experts, go to our helpful Support pages.