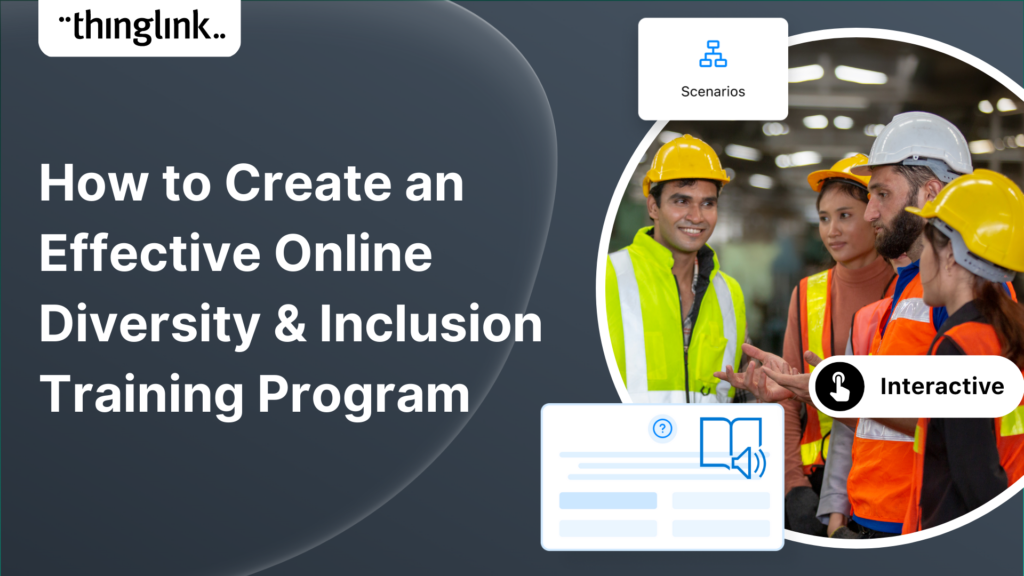 How to Create an Effective Online Diversity and Inclusion Training Program
Creating a culture of diversity and inclusion in the workplace is essential to any company's success. Comprehensive DEI (diversity, equity and inclusion) training initiatives can help employers foster an inclusive work environment where everyone feels respected, valued, and accepted.
But if you don't have a dedicated human resources department, why not consider creating your own training courses that meet your organisation's specific needs? Creating realistic, engaging and relatable online training materials that place scenarios and situations in your workplace is easier than you think! It also means you will have a suite of online diversity and inclusion training materials that be delivered anywhere, any time!
Meet a product expert
To learn more about how you can use ThingLink to create online training materials, schedule an online meeting with one of our product experts below.
Why provide diversity and inclusion training for employees?
Implementing an effective diversity and inclusion training program is essential for any organization. In creating a safe and respectful workplace environment that fosters true diversity and inclusion you are far more likely to attract a diverse workforce with a wide range of skills and experience. Employees will be better equipped to understand different backgrounds and cultures while also being more aware of their own biases – which can contribute towards building stronger teams. You are more likely to achieve higher rates of staff retention and employee engagement if you foster an inclusive culture that nurtures a sense of belonging in staff members from all demographics. It will mean that any communications and content produced in-house is more likely to be inclusive – saving time on content checking.
Develop clear goals and objectives for your training course
The first step in developing your inclusion and diversity training program is to clearly define your goals and objectives. What do you want your team members to learn? How will they be able to apply this knowledge in their day-to-day work? By setting clear goals for the training, you will more easily be able to design the structure of the training itself.
Designing a training course for an inclusive workplace
Once you have established these clear goals for your training, it's time to create the outline of your course. This should include topics such as: cultural competence, unconscious bias, and micro-aggressions. It should also cover topics related to sexual orientation, gender identity, religious beliefs, disabilities, race/ethnicity, and ageism. The goal of the curriculum should be to highlight to employees the importance of diversity and inclusion in creating a safe, respectful and diverse workplace and an inclusive environment.
Creating the materials for your training course
ThingLink Scenario Builder is an easy to use online tool that allows you to build branching logic into authentic learning experiences that simulate real-life situations, decision making and problem-solving. It's easy to learn and use with no design or coding skills required. Learning analytics provide insights into unique learner journeys and performance. And most importantly for your bottom line, it saves costs in content production, translation and logistics. Watch this quick 2 minute video for an overview.
Accessible training
In using online training learners can access the material at a time and place that suits them. It can be completely self-paced. For improved accessibility, ThingLink features built-in language and reading accessibility with native Microsoft Immersive Reader as well as a web accessibility player viewing mode. For more information on ThingLink's accessibility features please see this support article.
You can easily upload images, videos or 360 media taken in your own workplace and use these as the base media for the scenes in your scenario. In this way, in common with the best diversity training, it will allow you to illustrate examples of how your employees can incorporate specific cultural diversity & inclusion into your everyday company culture. For a more in-depth explanation of how Scenario Builder works, watch the 12 minute intro below.
Diversity and inclusion certification
Using scenario builder you could also provide your own diversity and inclusion certification once learners have completed the training. This could count towards professional development credits or be integrated into a wider organisational certificate program.
Case Studies
Take a look at some of these examples of ThingLink being used to create training materials in corporate organisations and further and higher education institutions.
Get in touch today!
If you'd like to learn more about ThingLink Scenario Builder, you can schedule an online meeting with one of our product experts below.