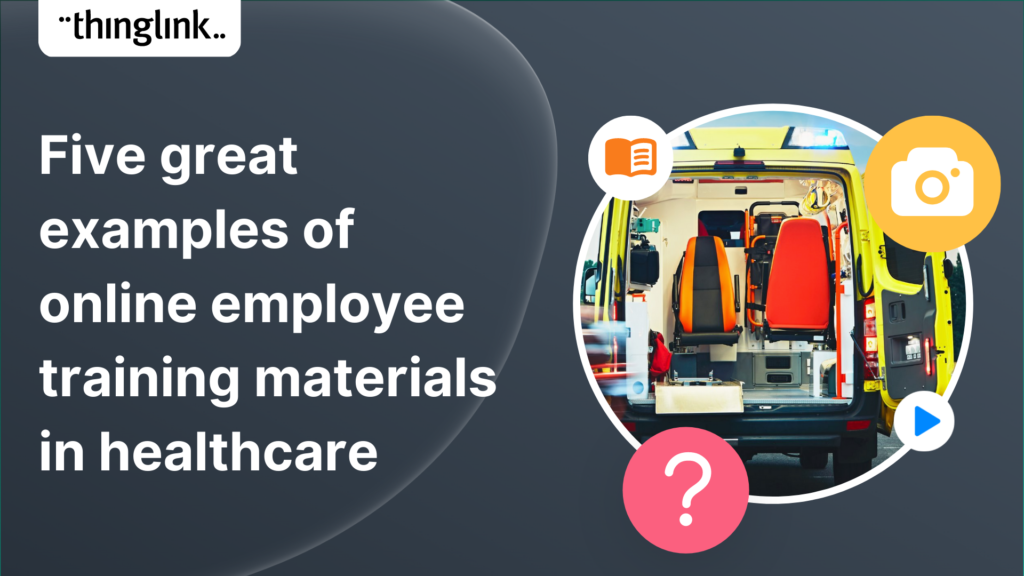 Five great examples of online employee training materials in healthcare
In this article, we look at examples of the use of elearning platforms to solve training challenges in the health and care sector. These include:
How do 3D models and 360 videos help with the introduction of new equipment and the onboarding of new employees?
What kind of interactive learning programs could be used when teaching first aid?
How could you get to know the working stages of home care virtually?
What is online training for employees?
More and more online learning solutions are being used in care and health sector training programs to meet the training needs of new and existing employees. They can be used for onboarding, CPD, compliance training and towards qualifications.
Online training refers to any form of instruction or learning that occurs via the internet, an intranet or connected digital devices. This type of training eliminates physical barriers and allows courses to be accessed from any location through multiple delivery methods such as video, audio, text, interactive exercises, quizzes, etc.
Meet a product expert
If you'd like to learn more about what ThingLink can offer to your company, you can schedule an online meeting with one of our product experts below.
What are the benefits of online training – for employees and employers?
Online training is generally more cost and time effective. Training solutions online are easier to organise and implement than in-person alternatives, and the pricing reflects that. They can also be carried out at times that suit both employee and employer – either on-site or even at home.
It has been proven that online training using realistic and immersive scenarios improve knowledge retention, soft skills such as problem-solving, delegation and team-building skills, and help prepare trainees for working under pressure, particularly when the online task must be completed real-time. For this reason, immersive scenario based learning is being used increasingly across all sectors, in corporate training as well as emergency and safety training.
In the social and health sector, the uses and functionality of online employee training software and packages is hugely varied. It gives trainees the opportunity to visit customer homes virtually and practice home care tasks. Instructional videos offer new employees an opportunity for a refresher or to upskill their skills base, which in turn boosts employee engagement and job satusfaction. Moving around a new and unfamiliar location such as a hospital is made easier with the help of virtual tours undertaken before starting work there.
The advantage of online training is its versatility. For example, with the help of elearning training modules, different types of media can be assembled into a clear, visual entity. The integration of 360-videos and images, 3D models, instructional videos, info tags, quizzes and embeds together form a learning environment where movement is intuitive and easy. Anyone can be a content creator and course content can be updated at any time.
Example 1. 3D models and 360 videos support online training for nurses
At Nova Hospital in Finland, an interactive online learning solution was created for the onboarding of new employees. The hospital had acquired new equipment, the use of which required training sessions. An on-demand virtual multimedia employee training program was created with ThingLink. The user-friendly training platform supported new hires and students to get to know the hospital's facilities and equipment with the help of 360 videos, instructional videos, 3D models and gamification. 3D models offer the possibility to rotate hospital devices and look at them from different perspectives. The hospital's new premises can be shown with VR glasses also in, for example, job interviews, which motivates applicants.
Read more about the Nova Hospital case here.
The training materials cover the use of acute room equipment with the help of videos, info tags, 3D models and gamification.
Example 2. Simulations and scenarios as an elearning solution when teaching first aid
Vocational college Samiedu's eWorking project uses simulation learning based on real emergency care situations. ThingLink Scenario Builder training materials were created on patient classification, stroke patient care, and ambulance driving. The materials are used in the Samiedu online courses as well as in online employee training in the rescue service.
The teachers noticed that there were previously not enough high-quality realistic online learning experiences in Finnish about these themes. With the help of simulations, in the future students and new hires will be able to practice, for example, arriving at an accident situation and classifying patients in a challenging situation. Through the simulation, you can also practice decision-making under pressure and deal with the emotions brought up by the situation. The simulations created by nursing professionals proceed in a scenario-like manner, step by step, according to the treatment protocol.
In the learning material "Patient path for a stroke patient", the student practices the correct treatment protocol with the help of a scenario.
Samiedu's teachers acted as photographers and content producers in the project. ThingLink's design and content production services offered support for technical implementation and pedagogical design.
"In nursing work, protocol is central, and scenario-like learning is particularly well suited to nursing teaching."

Nikki Kotilainen, Samiedu
Read more about the eWorking case here.
Read more about ThingLink Scenario Builder.
Example 3. Getting to know well-being technology through stories
The HyGGe project partners wanted to produce an online training program on the use of wellness technology. The goal was that the material could be used while working, regardless of time and place, and that it could also be used in distance education during the pandemic. The target group is social and health professionals and students. In the virtual learning environment, the user can, for example, practice home care customer visits and familiarize themselves with the safety protocol of a daycare center with the help of authentic stories. Some employees and customers are nervous about using wellness technology. With the help of the story, it is easy to remember that the use of technological aids, such as a security telephone, starts from the customer's needs. This lowers the threshold for using technology in employee training.
The online training course has been built by teachers from 8 educational institutions and uses several platforms. Among other things, visits to the homes of the elderly using 360 photos were implemented with ThingLink. HyGGe was awarded the Pedagogical Act of the Year honor at WinNova.
In the home care escape game, you can experience the everyday life of a home care nurse on a client visit. You can try the game from the embed above.
"It is enough to distribute one ThingLink link to the students. They get all the necessary information from there."
WinNova's HyGGe team
Read more about the HyGGe case study here.
Example 4. Learning the digital skills of home care with the help of virtual tours
Home care workers need a variety of digital skills in their work. For example, remote measurement, the use of safety technology and online services may feel difficult to the employee. As a solution, the Kotien Kylä learning environment was created in ThingLink at Tampere University of Applied Sciences, where digital skills are practiced at your own pace with the help of customer stories. In the online employee training program, the learner can go on virtual visits to real homes and get to know authentic stories and customer needs. Using ThingLink to create the materials meant that workers were able to access the virtual tours on any mobile device at any time. Content creators don't need to worry about hosting their training material on a formal learning management system (LMS) – content is all accessible securely via the cloud.
Read more about the Kotien kylä case here.
Example 5. Virtual learning environments support practical nurses training courses
In Raseko vocational school, employee training has been boosted with virtual learning material which was created for practical nurses. The training platform allow new employees to familiarize themselves with the stages of nursing work also remotely. For example, changing sheets becomes familiar with the help of videos, and students can practice the Finnish and Swedish vocabulary of the field with the help of mini-games embedded in ThingLink.
Read more about the Raseko case study here.
Want to know more about interactive elearning?
To learn more about ThingLink's elearning and interactive training solutions, schedule an online meeting with one of our product experts below.