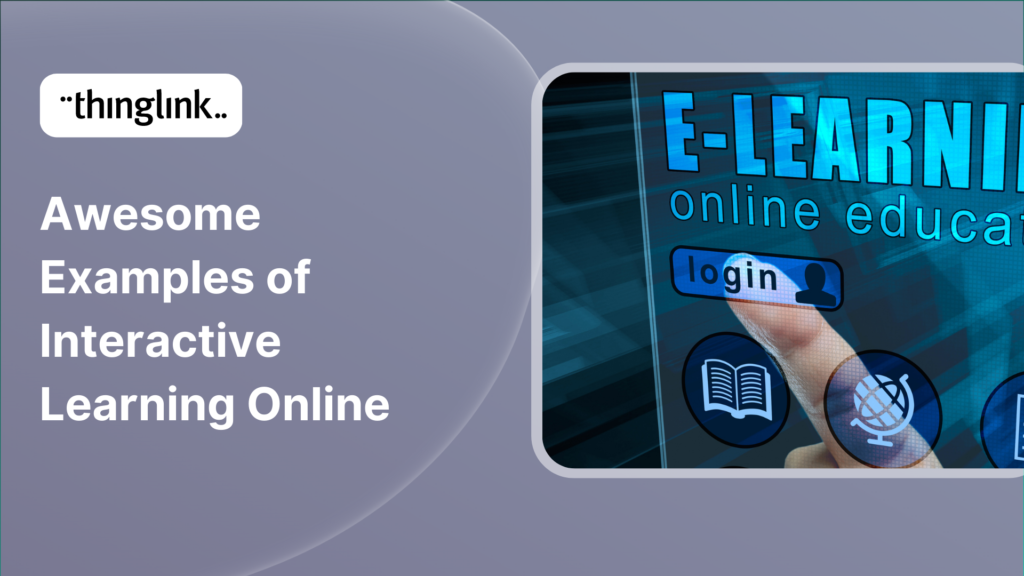 Awesome Examples of Interactive Learning Online – That You Can Easily Recreate!
The Benefits of Interactive Learning Online
Online learning or e-learning has become an integral part of education systems worldwide, from elementary school all the way through high school to higher education. It allows students to access learning materials and information equally easily from the comfort of their own homes or in the classroom. One way to improve the effectiveness of online learning is by making it more interactive. Let's take a look at what interactive learning online can do for both students and educators. Then we'll share some real-world examples that have been created with ThingLink that you can copy and adapt for your learners!
Engaging Students with Interactive Learning Methods
But how effective can online learning be from a pedagogy point of view? Online interactive learning is active learning; it allows students to be actively involved in their studies, rather than passively receiving information. This type of hands-on learning process encourages higher-order thinking skills such as problem solving skills and critical thinking, which are essential for success in our ever-changing world. It has also been shown to be a far better teaching method for knowledge retention than passive learning.
Meet an interactive learning product expert
To learn more about what ThingLink can offer your school, college or university, schedule an online meeting with one of our product experts below.
Interactive online learning can also provide teachers with an opportunity to assess student progress. By using the metrics and statistics tools within the learning platform, teachers can ensure that students understand the material being taught and can help them adjust their approach if needed. Teachers can also use interactive activities as formative assessments that provide valuable insights into student understanding and performance.
Why should I use interactive learning online with my students?
Interactive learning activities online can also be beneficial for educators who are looking to reduce classroom preparation time while maximising student engagement. By utilizing interactive activities already available online or within their LMS, educators can quickly find content that meets their needs without having to spend hours creating it from scratch. Additionally, these activities often come with built-in assessment tools that allow teachers to assess student learning and understanding in real-time, without having to manually grade each assignment or quiz themselves.
Recent advancements in easy to use platforms and apps like ThingLink have meant that all educators are now capable of creating truly immersive interactive learning experiences for students. These can be easily shared, cloned and adapted according to subject matter and lesson plans. They can be accessed from anywhere, on any platform or device – even smartphones, often making the material more accessible to students.
Examples of Interactive Learning
In the last 2-3 years, educators have been creating increasingly innovative virtual learning environments in ThingLink. From scenario-based learning experiences using ThingLink Scenario Builder where role-playing and choices dictate the path that the learner takes, to escape rooms in small groups which incorporate team-building and problem-solving skills and collaborative learning, the possibilities are expanding all the time. And best of all, they require no design or coding experience! This was one of the reasons that ThingLink was awarded Best Paid for Software/App at the prestigious GESS Education Awards in Dubai in November 2022. Here are some of our favourite recent examples which can all easily be recreated in ThingLink. Each case study contains guidance from the creators on how they design the material; some contain links to the original learning material in ThingLink which you can clone.
Meet an interactive learning product expert
To learn more about what ThingLink can offer your school, college or university, schedule an online meeting with one of our product experts below.
Get started with Interactive Learning today!
Overall, using interactive learning online is a great way for both educators and students to benefit from remote instruction. For educators, it reduces preparation time while still providing meaningful engagement opportunities for their students; for students, it encourages critical thinking skills and provides ample opportunities for feedback on their progress throughout the lesson or unit. Whether you are an educator or a student, taking advantage of interactive learning online is a great way to maximize your educational experience!