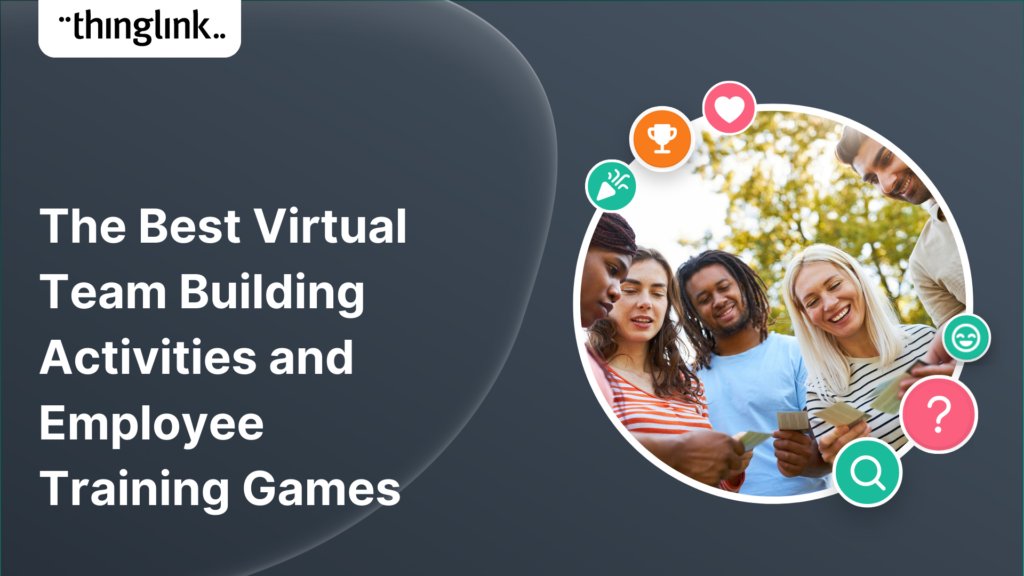 The Best Virtual Team Building Activities and Employee Training Games
The pandemic caused most organisations to embrace some element of remote working, and for companies who have never been in a remote setting before, this may have proved daunting. However it's still possible to create a fun and engaging workplace environment amongst remote team members – even those who may never meet in person! In this blog we look at some online games and activities that can be used for online team building and how you can create and facilitate these.
Why is virtual team building important?
If you have a "virtual office" work environment and always meet via video conference calls and virtual meetings, it can be hard to replicate the water cooler and coffee break moments from the workday which have traditionally made up part of a company culture.
Remote team building activities are an ideal way to foster team bonding between remote workers in any organisation. Additionally, employee training games can also be used to teach new skills or reinforce existing abilities.
Meet a product expert
To learn how ThingLink can help your company create elearning and training experiences, schedule an online meeting with one of our product experts!
Examples of virtual team building activities
Here are some virtual team building ideas based around fun games which encourage friendly competition! They would work particularly well for large groups who remote work and want to improve their teamwork and cohesion.
Icebreaker Games
Icebreaker questions are a great way to get people talking and create meaningful conversations between your remote employees. This activity should be done at the beginning of a meeting or all-hands meeting so that everyone can get to know each other better. It can also be used as a way to bring up topics that might otherwise be uncomfortable or difficult to broach without breaking the flow of conversation. A few examples of icebreaker questions include: "What would you do if you won the lottery?" "If you could go anywhere in the world where would you go?" or "What TV show do you never miss?" The goal here is simply to get people talking and sharing stories about themselves; nothing too serious!
Interactive Quizzes
Interactive quizzes can be used as an educational tool as well as a fun activity. They are particularly effective for training new employees or reinforcing knowledge on a particular topic. You can create your own customized quiz based on specific work-related material or subject, such as company policies, product information, technical skills, etc., or use free online tools like Kahoot! or Quizlet. This activity encourages engagement while testing knowledge retention – plus it's fun!
Group Challenges
Group challenges encourage collaboration among colleagues while allowing them to develop problem-solving skills in a friendly environment. These challenges can range from simple puzzles like word searches and crosswords (which are great for refreshing memories on certain topics) to more complex tasks such as coding problems or creating presentations which require research and critical thinking skills. Whatever type of challenge you choose, make sure that it's something everyone can participate in regardless of their skill level; this will ensure that everyone feels included and valued within the group dynamic.
Virtual Murder Mystery
For a longer form game, how about a murder mystery challenge? Read how Learning Specialists at Huddersfield University created a virtual murder mystery game in ThingLink for nursing students which was designed to improve team working!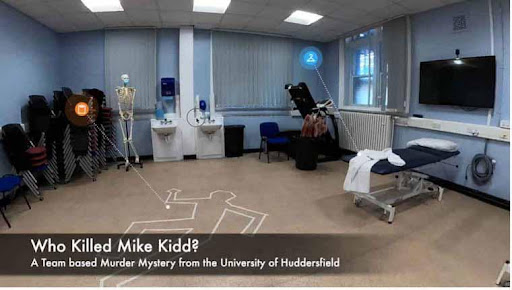 Virtual Breakout rooms
Virtual breakout or escape rooms are a great way to get teams working together to solve a series of consecutive puzzles that lead to a very satisfying conclusion. Read how educators at the University of Central Lancashire created a virtual escape room. Their version was initially designed to practice core skills but adding a time limit to the game helped improved teamwork and communication skills under pressure.
What software do you need for hosting virtual team building games and challenges like these?
Both of these virtual activities above were created in ThingLink and then shared using a video chat or video conferencing platforms which created a virtual workspace. Zoom calls, Microsoft Teams and Google Meet are all examples of these which work equally well.
What other virtual team building activities could be created with ThingLink?
You could create a virtual scavenger hunt based on linked ThingLink scenes. Staff could play individually or in small groups.
A virtual trivia game could be embedded in interactive tags in ThingLink. Trivia questions could be shared during a video call team meeting, virtual coffee break or virtual happy hour.
To welcome new team members, you could create an interactive organization chart like this editable Canva template. Include bios, interesting facts and birthdays for each member of your team! Or remove the names and photos and challenge team members to guess who is who from just fun facts and quotes. A fun way to build team camaraderie and boost employee engagement.
You can also use ThingLink as the hub for various types of virtual events as in this example of a virtual careers forum, created during the pandemic.
For an immersive team building event, ThingLink works with Igloo Vision to deliver in-person, face-to-face shared VR experiences in 360 pop-up pods.
We hope these examples have provided lots of inspiration for your virtual team building exercises!
Meet a product expert
To learn how ThingLink can help your company create elearning and training experiences, schedule an online meeting with one of our product experts!