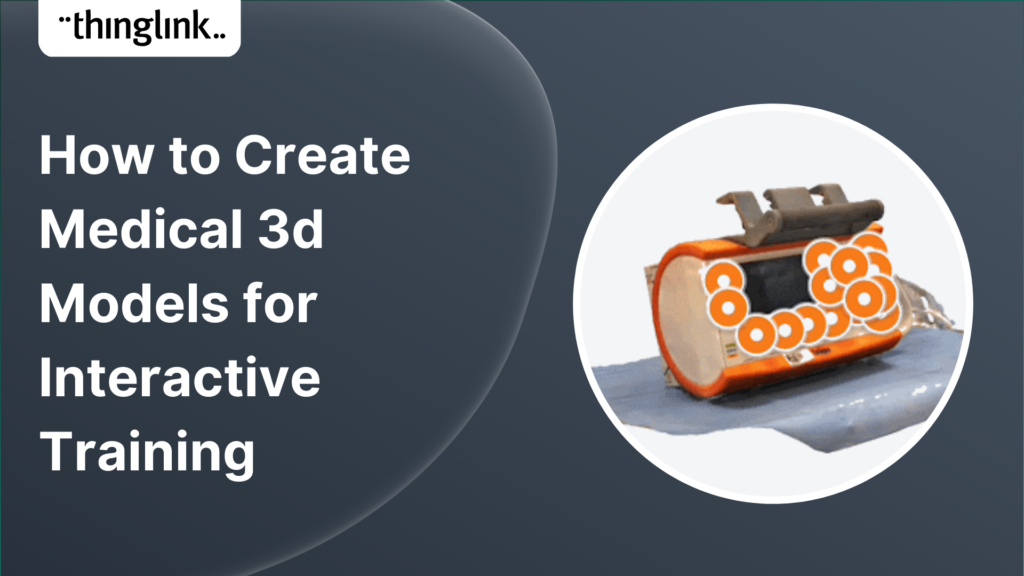 How to Create and Annotate Medical 3d Models for Interactive Training
Medicine and healthcare is a sector in which imaging technology has always played a crucial role. From the first use of x-ray technology, via ultrasound 3D scans, MRI scans and CT scans, technical advances in medical imaging play a key role in everything from surgical planning to physiotherapy.
How are medical 3d models used in training?
However 3D imaging is now being used increasingly as a training tool across a wide range of healthcare settings in ways you may not expect. For example, with the help of simple-to-build 3D models of equipment, alongside 360 images of healthcare settings, staff can familiarize themselves with the use and functionality of medical equipment anytime and anywhere. 3D models and 360 videos can help to simplify the use of complex equipment and work both in new employees' orientations and as refresher material for experienced employees.
In this case study we look at how ThingLink was used in Finland to create training materials from 3D and 360 images, and how staff were trained to capture and edit these images themselves. It is a great example of how colleges and healthcare workplaces can create interactive content collaboratively that answers the needs of students as well as staff.
Meet a product expert
To learn more about creating training material in ThingLink, schedule an online meeting with one of our product experts below.
3D models created for the learning environment
Central Finland Hospital District is the largest non-university hospital district in Finland. Central Finland Hospital Nova is a unit in Jyväskylä offering specialized medical care in the hospital district. Northern Central Finland Vocational College POKE offers professional degree training and continuing education and training for companies and other employers in the area.
Together Nova and POKE jointly created a learning environment using 3D models, presented in and annotated with ThingLink. The materials are now being used in the training of healthcare professionals at Nova and for emergency workers training at POKE.
Medical 3D models created through collaboration
The 3D models and associated training materials were born out of Nova's need to describe the use of emergency operating room medical devices for temporary employees but also POKE's requirement for more examples of real-life working examples for their social and health students.
POKE's digital learning environment expert Pekka Ouli trained Nova's staff in using 3D medical models and building ThingLink learning environments to annotate them with rich media content. Central Finland Hospital District technical expert Antti Mähönen provides technical support for content production in Nova's training unit. They report that the introduction of 3D imaging has produced a very successful collaboration between the hospital and the school.
From POKE, lecturer Milja Forsman, designer Katja Huttunen, teacher Matti Nurro and lecturer Ulla Martinmäki were also involved in the content production. The materials were produced by Milla Sivonen, Nova's teaching assistant. He now also uses the materials when training new emergency workers at POKE.
The training materials cover the use of acute room equipment with the help of videos, information tags, 3D models and a mobile game.
At Nova for example, there was a need for training material on the use of a particular model of defibrillator. A ThingLink video about the use of the defibrillator was created as preliminary training material and at time of writing has already collected 1500 views. The material has made the work of the trainer easier, since the employees have been able to familiarize themselves with the device even before the training. The video also serves as review material for current employees. The 3D visualization created from the defibrillator allows you to view the device from different sides, and the tags added to the 3D model provide additional information. A mobile game has also been created about using the device on the seppo.io platform. The game was linked to ThingLink as part of the training material.
Parts of the PHILIPS V6O respirator are named using tags in a 360 image in ThingLink.
How can medical 3D models be created?
At POKE, the use and creation of 3D models and 3D printing are commonplace. POKE trained Nova's staff in the technology used to create 3D models and the photogrammetry involved in 360 shooting. Now hospital employees can quickly create a 3D model and take 360 photos themselves. Professional input was needed however for the scripting of the descriptions, when considering what subjects are described and how the information is presented in the training material. This is particularly the case for the creation of anatomical models
You can familiarize yourself with the Oxylog ventilator in addition to the operating videos, but also with the help of a 3D model.
Nova filmed and produced the training materials itself under the guidance of POKE. In this way, it was possible to ensure that the educational materials provided the perspective that was needed in medical care orientations. When the materials are created in-house, it is also easy for Nova's staff to update them if necessary.
"360 environments combined with AR are the easiest entities to implement in an organization. The key is that the organization can produce the material itself."

Pekka Ouli, POKE
In terms of content production, technical support was also provided to Nova when required. The ThingLink team also provided support for descriptions, pedagogical design and content production.
The benefits of using medical 3D models in this way
At Nova, the virtual training materials created in ThingLink are also being used in recruitment, to present the hospital's facilities, for example, in job interviews. Applicants can easily be shown Nova's new facilities with VR glasses. In Central Finland it can be challenging to find new employees. Nova's new, comfortable facilities and making them visible with VR glasses help address this recruitment challenge.
In training sessions, virtual materials also offer an opportunity to teach the teachers and reinforce knowledge. Employees can familiarize themselves with the topic and the use of devices in a virtual learning environment with the help of 3D models, videos and rich media information tags in advance, so that in the teaching situation they can focus more on practical training.
Developing the use of medical 3D models at Nova
In the future, Nova will expand the use of ThingLink will expand to use the Scenario Builder tool. The scenarios build branching logic into authentic learning experiences that simulate real-life situations, decision making and problem-solving.
Examples of immersive materials and virtual reality used in healthcare training – further reading
In this article we highlight recent research into the use of VR and AR in training; many examples are from the medical sector
This support article shows just how easy it is to create 3d models for use in ThingLink
Are you interested in ThingLink's design and content production services?
Do you need a partner for planning, filming and building interactive 360 ​​environments? Do you need support in presenting school or company facilities, orientations, trainings or producing online training materials? ThingLink's design and content production services are tailored to your needs and may include, for example:
the planning and execution of the tour or presentation with a professional specialized in the planning and filming of interactive contents
filming and editing: photos, videos, 360 photos, 360 videos, drone photos
planning, implementation of an online course or training and ThingLink user training in cooperation with the customer
Meet a ThingLink design expert
To learn more about ThingLink's design and content production services, schedule an online meeting with one of our product experts below.
Note on compatible 3D file formats for using in ThingLink
Currently only .glb files are compatible with the ThingLink editor. It is not currently possible to use .fbx, .dae, .dxf, .ztl or .obj files for 3D annotation. Further formats will be added in the future.