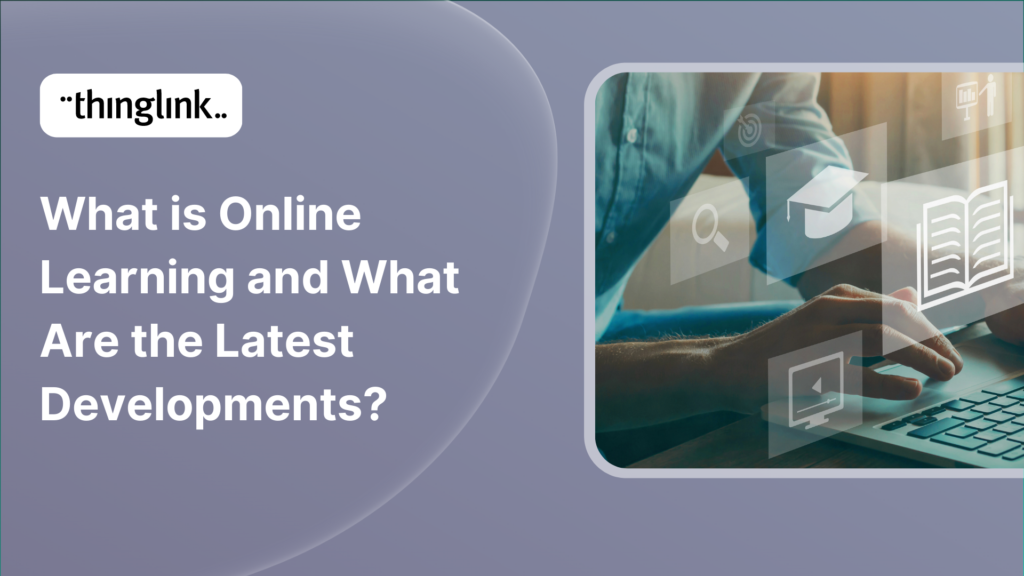 What is Online Learning and What Are the Latest Developments?

Online learning has become increasingly widespread in the higher education sphere over the past decade. It is a great way for students to access courses and programs from anywhere in the world. But what exactly is meant by online learning, and what are the most significant recent developments into how it is being used in Higher Education?
We look at three innovative ways that the universities of Keele, Huddersfield and Central Lancashire and Queen's University Belfast have recently applied online learning. These include virtual labs, virtual field trips and virtual escape rooms.
What is Online Learning?
Online learning, also known as e-learning or virtual learning, is a form of distance education that uses technology to deliver course content and instruction remotely. This type of learning usually takes place through a web-based platform such as a learning management system (LMS). Students access their courses from any internet-connected device, whether it be at home or on the go. It can be delivered as synchronous learning (for example as an online, live lecture, webinar or virtual classroom) or as asynchronous learning (where the material can be accessed at any time by each individual student at their own pace.)
Meet an online learning product expert
To learn how ThingLink can be used to create online learning materials, you can schedule an online meeting with one of our product experts below.
What are the benefits of Online Learning?
Online learning offers many benefits to both students and instructors alike. For students, online classes are often more flexible than traditional face-to-face, in-person classes, providing them with the opportunity to work around their own unique schedules and timelines. Additionally, online courses are typically less expensive than traditional classes due to lower overhead costs for both schools and students alike. Finally, online courses often provide greater access to resources such as multimedia tools that can help engage learners in different ways.
For instructors, online learning provides the opportunity to reach more students than they would be able to in person due to geographical limitations. Furthermore, they can use technology tools such as screen recording software or video conferencing platforms to create engaging lectures that cater specifically to their students' needs. Additionally, instructors have better insight into how their students are progressing through course materials thanks to automated tracking systems within most LMS platforms.
Types of Online Learning
Online education and distance learning has become commonplace since the covid-19 pandemic, with almost all higher education providers putting at least some of their learning material online via an every increasing number of learning platforms. However, most online programs struggle to replicate the practical elements of some courses – particularly science-based disciplines which can require training with complex and valuable equipment and materials.
The development of online learning
Recently, educators from leading universities, colleges and other educational institutions have been creating some inspiring and immersive content to make learning environments that replicate and complement traditional classroom, laboratory or fieldwork. There are wide ranging, multiple benefits of these types of e-learning tools.
These learning experiences are naturally more accessible and inclusive in many ways. Their asynchronous nature means that students can access the virtual labs or field trips from anywhere, in any time zone and self-paced.
The Virtual Laboratory
Academics at Keele University created a virtual lab using ThingLink which we featured in this blog from June 2022. Their research into the success of the materials and how they could be used in tandem with traditional coursework and lab work was published in the academic journal, Journal of Chemical Education.
The Virtual Field Trip
Dr Neil Reid from Queen's University Belfast created post–graduate virtual field trips in ThingLink which won a university-wide award. His assessment of the comparable grades achieved by students who completed the course against the previous year who did not, showed that students gained near-identical marks. His work in creating this engaging material also resulted in increased enrollment for the course.
The Virtual Escape Room
One type of learning resource which has shown huge benefits for learners in the last few years is the virtual escape room. This is a type of exercise which cleverly replicates the pressures and stresses of decision making in real-time. It is particularly effective when used as a team exercise, as the team members are forced to use elements of diplomacy, delegation and joint problem-solving. The team solves the problems together in a synchronous way, but in different remote locations, using chatrooms, video forums or online discussion boards to communicate.
Two very impressive recent examples from the Universities of Huddersfield and Central Lancashire show how virtual escape rooms created in ThingLink can be used in medical and healthcare training:
In summary, online learning environments like the ones showcased here provide so many advantages and learning opportunities for both instructors and learners alike. They can make higher education more accessible and cost-effective while giving educators greater control over how they teach their learning programs. The lessons learnt and examples shown could easily be replicated for any form of professional development, or in any situation where educators or trainers were looking to take their learning courses outside of the physical classroom setting.
Get Going Today!
Start creating online learning materials today with a free ThingLink trial account. We can't wait to see what you create.