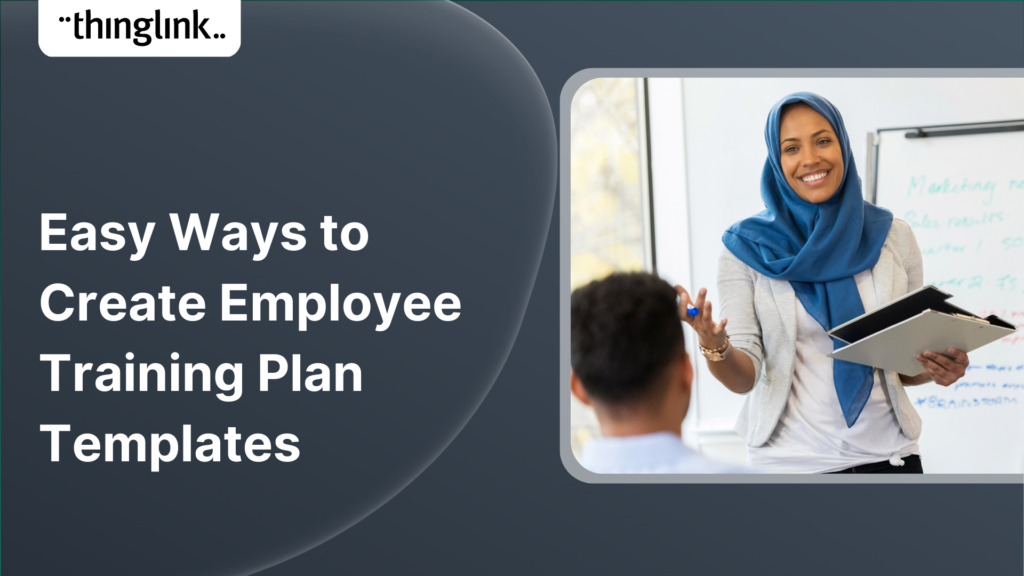 Easy Ways to Create Employee Training Plan Templates
Effective employee training plans are essential for any business looking to ensure that all team members – both existing and new employees – are up-to-date on necessary skills and processes. They help identify and address skill gaps, set training objectives and can be tailored to your -and your individual employees' – requirements.
By implementing training plans that develop your employees' skills you should also be helping them reach their career goals. In turn this should help boost employee engagement and job satisfaction, and hence increase staff retention.
Key point: Crucially, creating your training plans or roadmaps should be the first step before you begin creating the training materials themselves.
Why should I create templates for my employee training plans?
Creating effective training plan templates can help you save time and resources, streamline training management, ensure that key elements of the training process and roadmap are not overlooked, and ultimately ensure that your employees are best equipped to help your company meet your business goals.
Key point: Once you create the first training plan, you can almost certainly clone similar plans from this original template.
Meet an elearning product expert
To learn more about how ThingLink can help to your company with training and elearning, schedule an online meeting with one of our product experts below.
How many training plans should I create?
This will very much depend on the size and scope of your organization. You may require distinct and individual training plan templates and formats for different scenarios, needs and career paths. For example you may require one overall training plan to cover your employee onboarding process, regardless of role. Then for existing employees, your continuous professional development (CPD) training plans may include: new initiatives or new company policies, introducing new skills or upskilling employees, refreshing core competencies and addressing any knowledge gaps that they require to reach their goals or milestones.
A good way to look at the training plan is as a path or roadmap, and the routes through this will depend on the sector as well as career paths or goals. Take a look at this interactive example below, created in ThingLink – where a training plan for content creators is represented as a simple road map. The modules are represented as markers along the route and there is a clear start and finish with goals. This could be used as an initial template which is then adapted depending on the needs of the learners or trainees.

How do I write an employee training plan?
So how do you go about creating an action plan that reflects your company's training curriculum? When creating an employee training schedule or plan, start by creating a training checklist of all of the basic elements that need to include in the plan. This will vary depending on the training needs of your organization but could include topics such as onboarding for new hires, safety protocols, customer service practices, technical skills, or specific job roles. This list will serve as the foundation for your training plan and help you identify what needs to be included in each element of the plan.
Set Learning Outcomes and Metrics
Once you have identified all of the elements needed in your employee training plan, it is important to set goals and objectives for each one. Goals should be specific yet achievable so that they can be measured against progress throughout the course of employee development. For example, if you are setting goals related to customer service practices, these could include increasing customer satisfaction ratings by 10% over a 6-month period or reducing customer complaints by 15%.
All types of training plan should include evaluation for each stage or module
In order for your employee training program to be truly effective, it is important to include an evaluation component. This could take many forms such as online quizzes or tests after each module or a more comprehensive assessment at the end of important levels of the program. Evaluations allow you to measure progress and determine whether employees have acquired necessary skills during their training sessions. It also allows you to adjust future courses based on individual performance so that employee performance can benefit from more targeted instruction as needed.
Interactive training materials using SBL – scenario based learning
One of the most effective training methods that has emerged in recent times is scenario-based learning (SBL).
SBL is an instructional strategy for learners to pick their own path based on the choices they make. Read What is Scenario Based Learning? for more detail and examples. Learners are placed in interactive scenarios, often based on real life situations. Proven as a highly effective form of online training, SBL learning provides a more experiential learning process than traditional learning materials. It is one of the easiest ways to introduce situated learning into the online learning environment, but can also be delivered in-person, in real-time and in groups. Group-based SBL is in fact an ideal way to develop teamwork so is ideal for new teams. Read Using ThingLink to develop Virtual Team Building Activities for Nursing Students for an excellent recent example of this in practice.
What software can I use to create my training plan learning materials?
There are a number of apps, platforms and integrations that can be used to create interactive SBL materials and training courses that will help you meet your training goals. ThingLink has emerged as one of the most popular platforms for creating training materials, thanks to its user-friendly interface for both creators and learners, and the way in which it can be easily updated.
Learning scenarios created in ThingLink can be used as templates and cloned to create variations of the materials for different requirements.
Conclusion
The right training plan will help any organization ensure that their staff have access to the necessary information and learning to optimize business growth. When creating your new employee training plan, make sure you start with basics and set achievable goals before including an evaluation component which will help track progress throughout coursework leading up to successful completion of learning objectives. Use this optimal training plan to create templates for your future requirements and while save valuable time and resources in the process. With this in mind you'll have no trouble creating a great employee training plan template that works for you!