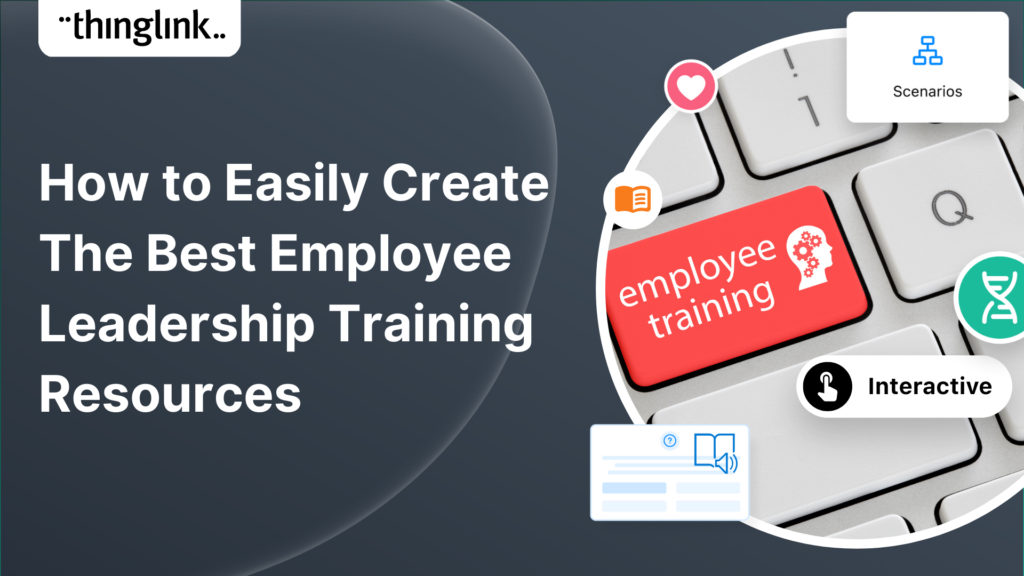 How to Easily Create The Best Employee Leadership Training Resources
What is Employee Leadership Training?
Employee leadership training is any training designed to enhance any individual's leadership skills and abilities. It focuses on developing the mainly interpersonal skill sets that are essential for effective leadership, such as decision-making, problem-solving, communication skills and team building.
In this blog we show you some examples of extremely effective materials that have been created at low cost to provide highly effective employee training. These are accessible online resources created with ThingLink that could be quickly and easily created by organizations of any size – including SMEs or organizations without a dedicated human resources or IT department.
Try ThingLink for yourself!
To start creating interactive employee training resources, start a free trial of ThingLink today.
The benefits of leadership training for your organisation and your employees
All employee training and professional development is an investment in both the individual and the organization's future success. Leadership development programs will enhance your employees' confidence and skills, enabling them to take on greater responsibilities and roles within the work environment. You'll be giving them the skills they need to be an effective leader – even if they eventually leave your organisation.
For the oprganization, well-trained and effective leadership teams can lead to better decision-making, increased productivity, and a stronger company culture. In providing leadership courses for your employees, you're also demonstrating a commitment to employee development, which can encourage strong candidates and future leaders to apply for roles, as well as improve current employee engagement and employee retention. The bottom line is that investing in leadership training is an investment in the success and the longevity of your organisation.
Identifying potential leaders
Identifying those employees who would thrive in leadership roles is key to making the most of the training that you develop. Good leaders not only drive performance and increase productivity, but they also inspire their team members and foster a positive work culture.
Look for individuals who show initiative, problem-solving abilities, and strong communication skills and emotional integlligence. Try to identify those individuals who are willing to take on challenges, embrace change, and who take responsibility for their actions and inspire a strong work ethic in others. By identifying these individuals, you can provide them with development opportunities to grow into future leaders within your organization.
Creating interactive and immersive employee leadership training with ThingLink
ThingLink is a platform which was originally developed as an education technology tool and is now used in corporate learning and training to create effective virtual learning environments (VLEs). Now used by almost 10 million creators worldwide, it provides the easiest way to build immersive and engaging interactive training materials cost-effectively. No coding or design experience is required. With ThingLink you can:
Create interactive walk-through simulations with embedded learning opportunities and automatic language translation via Microsoft Immersive Reader.
Allow your employees and external users to access the immersive training securely.
Update your content in minutes – no need to engage external developers or course providers.
Create interactive, multimedia learning experiences that can be viewed any time, on any device, including tablets and mobiles.
Created branched scenario-based learning modules with embedded metrics on user engagement.
Powerful use cases in employee training
We have curated a list below of some case studies of successful training materials created by the global ThingLink community.
Check out more examples of online courses, VLEs and immersive learning and training featured on our blog!
Meet a product expert
If you'd like to learn more about what ThingLink can offer to your company, you can schedule an online meeting with one of our product experts below.