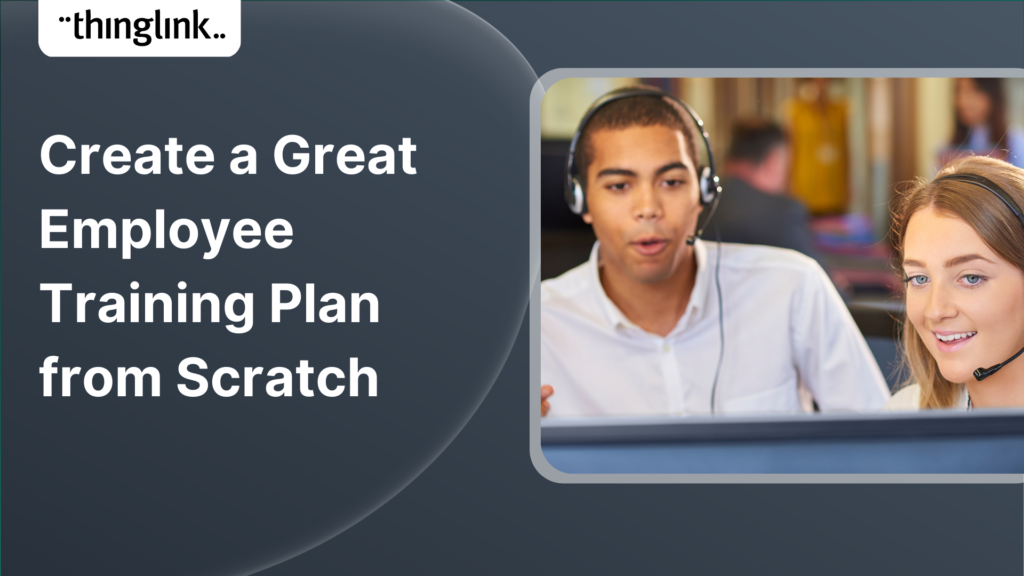 Create a Great Employee Training Plan from Scratch

Creating an effective employee training plan is essential if your organisation is to reach its business goals. In this blog we lay out the core steps to take once you have decided to begin introducing employee training in your company or organisation.
Why do I need an employee training plan?
A well-planned employee training program ensures that all new employees are equipped with the knowledge and skills necessary to perform their job duties efficiently. But as well as onboarding new staff, an employee training plan also helps to create a cohesive workplace environment in which everyone has a clear understanding of their roles, responsibilities and competencies as well as company policies. Providing a clear employee development plan which maximises and grows your employees' skills will help you attract strong candidates and improve retention rates, as well as improve overall employee engagement.
But with so many types of employee training methods available, both in-person model and via elearning, where do you start? Here are the steps you should consider to create an effective employee training plan from scratch.
Meet a product expert
To learn more about how ThingLink can help you create immersive interactive training materials, schedule an online meeting with one of our product experts below.
How to create an employee training plan
Step 1: Identify Your Training Needs, Goals and Objectives
The first step in developing a successful employee training plan is identifying the goals and training objectives of the program. Ask yourself why you are creating the program in the first place – what do you hope to achieve? Who is the training for? Perhaps you simply want to bring new staff up to speed correctly, with a new hire training plan as the core part of your onboarding process. Or is it more important to address skill gaps in existing staff? Or both? By clearly defining your training goals and objectives, you will be better able to create a program that meets your needs.
Step 2: Develop Your Training Curriculum
Once you have identified your goals and objectives, it's time to start developing your curriculum. Think about what topics should be included in the program and create detailed lesson plans and modules based on those topics. Are there key initiatives, safety training, or would you like to start a management development program?
Make sure that each course, module or lesson builds upon the last one, so that by the end of each training course or module, employees have a good understanding of all concepts covered in it. Take into careful consideration the accessibility features for learners as well as different learning styles. Your training should be inclusive for all current and future team members.
Step 3: Choose your training materials and create your specific training content
Will you deliver training in-house yourself, via a colleague mentoring system, or will you engage a third party training provider. Perhaps you could consider a mix of all three?
Increasingly, training course creators are designing and using their own interactive training materials as part of in-person and online training courses to teach new skills and refresh existing ones. ThingLink's Scenario Builder can be used to easily create, edit and share powerful training materials for immersive tailor-made learning materials.
For example, this blog contains two case studies from Finland showing how it was used to create customer service job training sessions. The learners use the materials for role-playing exercises where they can practice dealing with various customer situations.
Step 4: Assess Progress – test and adjust if necessary
Monitoring progress is an important part of any employee training program, as it allows you to make sure that employees are learning and retaining information effectively. You can assess progress through quizzes, tests, or other forms of assessment at various points throughout the training period. This will help ensure that employees understand key concepts before moving on to more advanced topics. If existing employees are delivering some of the training as part of a mentoring program, how is this process working? What elements are a success and what could be changed in the next iteration? What is the feedback from your trainees?
In conclusion
Creating an effective in-house employee training plan from scratch requires careful planning and execution, but can be incredibly rewarding for both employers and employees alike. By following these simple steps above, you can make your initial progress towards creating a training plan that will work for your business and everyone in it!