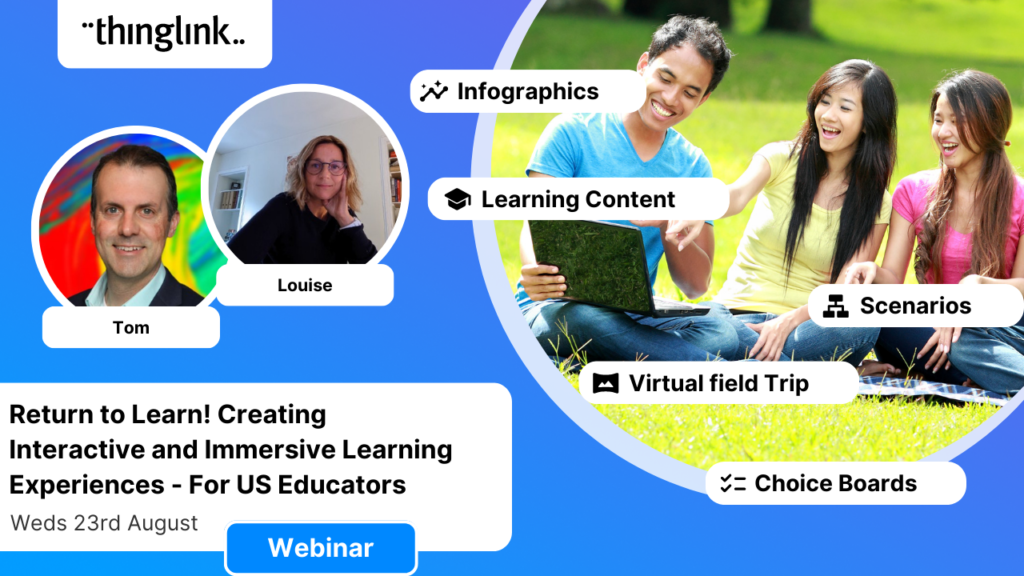 Webinar Return to Learn with New Immersive and Interactive Learning
Our webinar for US Educators with Special Guest Host Tom Mullaney. It was absolutely fabulous!
On-Demand
This webinar has aired – but sign up anyway and you'll receive the replay
Dive Deep into the World of Immersive and Interactive Learning with Us: Since its inception in 2010, ThingLink has stood as a beacon for cutting-edge educational tools, with a keen focus on immersive and interactive learning experiences.
We invited our US-based community of dedicated educators and innovative creators to join us in a deep dive into these transformative teaching methods. 
To Kill A Mocking Bird Learning Resource created by Dan Fitzpatrick – Interactive Learning Example Created with AI Tools and ThingLink!
Discover What Awaits You in Our Webinar!
Understanding AI in Education: By the end of this webinar, you will have gained a deeper understanding of how artificial intelligence is impacting the educational landscape, driving innovations and influencing traditional teaching methodologies.
Exploring Immersive Learning in the Age of AI: We will introduce you to the advancements in interactive and immersive learning made possible due to the way Thinglink uses AI to generate images and media.
Deep Dive into ThingLink's AI Innovations: You will gain insights into the development and application of AI tools by ThingLink, exploring their potential in enhancing content delivery and facilitating improved learning experiences.
Staying Ahead with AI-Powered Content Creation: This webinar will equip you with knowledge about the latest AI tools and techniques that assist in content creation, allowing educators and creators to craft more effective and engaging learning materials.
Sign up for our Exclusive Webinar!
Our Special Guest Co-Host Tom Mullaney
Tom Mullaney is a former teacher who infuses EdTech PD with creativity, collaboration, and fun. Tom's public education experience includes Special Education, Social Studies, educational technology coaching, and digital design. He is an Adobe for Education Creative Educator Innovator and Google for Education Certified Innovator and Trainer who has spoken at national conferences including SXSW EDU, the National Council for the Social Studies, and ISTE. He shares educational technology ideas on his YouTube channel.
You've not missed it, you can still catch the replay!
Sign up anyway, we've got you covered with an exclusive action replay delivered straight to your inbox!
Other posts we think you'll love
For more ideas, use cases and inspiration on content creation, join our communities on social media! LinkedIn Community, Twitter Creative Learning Design Community and ThingLink Education Facebook Group.