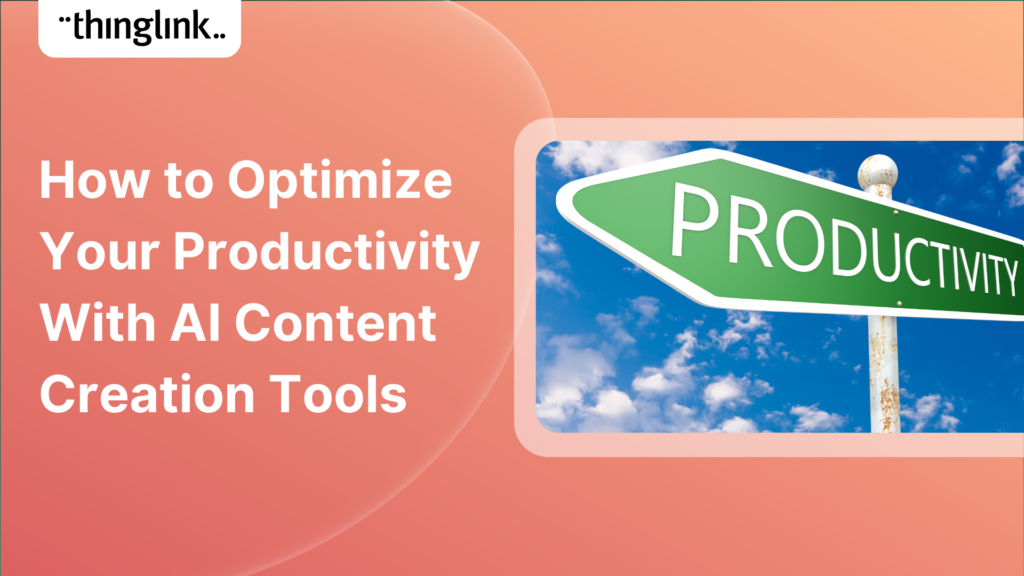 How to Optimize Your Productivity With AI Content Creation Tools
The development of artificial intelligence is having an incredible impact on written content creation. But many creators are still hesitant about using AI tools in their writing process. This may be due to concerns about pricing, uncertainty and unfamiliarity, worries about plagiarism or just a general feeling that using AI in everyday work reduces originality and creativity.
However there are a wide range of ways in which AI tools can be harnessed to optimize your workflow without compromising your creativity! Whether you need help with grammar, research or editing, AI can become your trusted writing assistant, providing innovative functions and solutions to help you boost your output, produce better content and optimize your productivity.
Start creating interactive content
Create immersive and engaging content with ThingLink – start a free trial today!
In this blog we give a broad overview of some of the ways in which you can "pick and mix" from the ever increasing selection box of AI content creation tools – whilst still producing original and high-quality content that will tick every box in your content marketing strategy.
Scaling and repurposing content production
Most content writers specialize in (or are most comfortable with) particular styles or types of content. That might be long form content, social media content, or a multitude of others. AI writing tools can help you take one type of content and generate multiple variations on it, such as blog posts, social media posts, ad copy or product descriptions. Platforms like Jasper provide dozens of different templates including company bios, captions, press releases. headlines, persuasive bullet points,
Enhance your content quality with AI
AI content creation tools can offer suggestions and improvements to enhance the quality of your content writing. They can identify potential errors, provide grammar and spelling corrections, and suggest rephrasing for clarity and brevity. Grammarly is possibly the most well-known example in this field.
AI to assist with content ideation
Generating ideas is a fundamental part of copywriting – but what about those days when you are just all out of good ones and have a serious case of writer's block,? Luckily you can look to AI content tools to kick start the process – whether that's a catchy title, some suggested use cases or related content ideas. Open AI's ChatGPT is particularly good for this type of work.
Using AI to create outlines, lists and templates
It is valuable to note that the leading content agencies in general don't use AI to generate content in one shot. Their content leads will typically use AI content generators at the initial stage to create content briefs or outlines for writers, who will then generate the main pieces of content. Platforms that are commonly used in this way are Jasper, Writesonic and Copy.Ai.
AI tools for SEO optimization
AI tools can assist in optimizing content for search engines. They can carry out keyword research, provide recommendations for better keyword placement, suggest meta tags, and optimize content structure. By leveraging AI in this way, you can improve your content's visibility and organic search rankings for Google search and others. Clearscope is a popular example of this type of product.
Content distribution and scheduling with AI
AI-powered content management tools can help you streamline content distribution across multiple platforms. These tools can automate scheduling and help you publish content at optimal times. By automating content distribution, content creators can save time, and ensure consistent and timely delivery. HubSpot is possibly the most well-known example of this type of platform.
Final thoughts on AI tools for content creators
It's worth noting that while AI content creation tools can significantly enhance productivity with automation of various stages of the content creation process, they are really nothing more than algorithms and machine learning! It's important that you still balance AI-generated content with your own creativity, expertise, and editorial oversight.
Although AI content tools are based on natural language processing, it is essential that a human always acts as copy checker. This way you'll ensure that the finished product is one of high quality, aligned with your own brand values and brand tone of voice, and will effectively engage your target audience.
Although we have named a number of different platforms and providers here, it is worth doing your research to see which tool best suits your own process and way of working. There is a huge amount of variety in the interfaces and one size will certainly not fit all. Take your time to fully explore the features, functions and limitations of each and see which works for you. Happy content creating!
Further reading
Need help in using AI in image generation? Read our helpful blog Top Six Outstanding Text to Image Generation Tools
PLUS: Watch the replay of our awe-inspiring webinar: AI in Immersive Learning where we show you how you can create your own incredible 360 images using AI!
Meet a product expert
If you'd like to learn more about what ThingLink can offer to your organisation, you can schedule an online meeting with one of our product experts below.