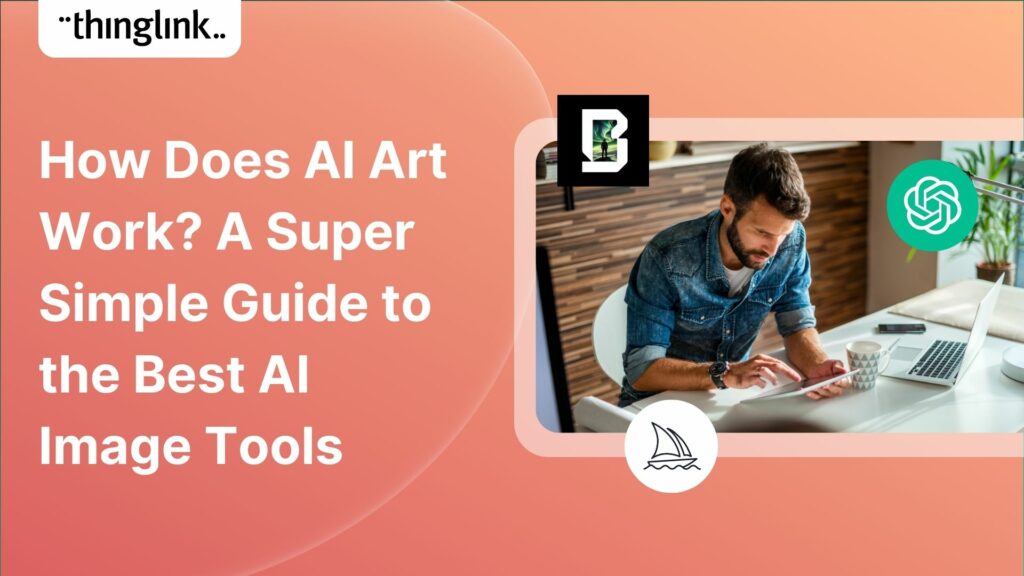 How Does AI Art Work? A Super Simple Guide to the Best AI Image Tools.
Artificial Intelligence (AI) has undoubtedly revolutionized the way and the speed at which we can create content. But how does AI technology generate art and images? What processes are involved? In this blog post, we provide a simple breakdown of how AI-generated images are made. We also suggest some easy to use platforms that you can use as AI art generators to create your own professional-looking resources.
Meet a product expert
If you'd like to learn more about what ThingLink can offer to your company, you can schedule an online meeting with one of our product experts below.
How does AI generate images?
In simple terms, AI digital art or AI digital images are generated by a machine learning algorithm or process. This means that a machine has collected the data it needs (or "learned" it) and used it to produce a new AI-generated image.
All AI-generated artwork begins with the collection of vast amounts of data. This data can include photos, paintings, illustrations – in fact any type of visual content. It serves as the primary source for AI algorithms to learn patterns, styles, and aesthetics.
The collected data is fed into an AI model, often based on deep learning architectures. These are models which are trained to understand the intricate details, compositions, and styles of the existing images within a dataset. Common types include Generative Adversarial Networks (GANs), Variational Autoencoders (VAEs) and Convolutional Neural Networks (CNNs).
These generative AI models all work in slightly different ways to use the collected data and evaluate the results. For example, GANs consist of two neural networks: a generator and a discriminator. The generator creates new images, while the discriminator evaluates them for authenticity. Through a training process, GANs produce increasingly realistic images.
Did you know? Edmond de Belamy was the first of the AI-generated works of art to be auctioned at Christie's. The art world was stunned when this groundbreaking piece of AI-generated art sold for $432,000 in 2018.
Three useful AI image generator platforms
Best for creating 2D images: DALL-E 2 from OpenAI, the creators of ChatGPT. The platform works on a credits system, with each image generation costing 1 credit. 115 credits currently cost $15 (USD).
Best for creating 360 images in a range of different styles: SkyBox by Blockade Labs. Paid plans start at $10 per month for 100 generations per month. Ideal for creating 360 scenes for ThingLink virtual tours!
Best for creating people and character images: Midjourney is a text-to-image generator. The user inputs their text prompts or text descriptions of the image they would like generated, incorporating a range of specific commands. Plans start at $10 per month for the Basic Plan and go up to $60 for the Pro Plan.
For a list of our top six text-to-image generator apps and AI art tools, plus a round up of the best of the rest, see our recent blog post Top Six Text to Image AI Generation Tools.
In summary then, it's fair to say that AI art represents a captivating blend of technology and human creativity. By analyzing vast amounts of data, training on neural networks, and utilizing various generative models, AI algorithms can assist your productivity and your creative process by helping to produce astonishing images.
Further reading:
Interested in the use of AI to optimize your written content?
Start creating today!
To get started creating interactive content, start your free trial of ThingLink today.