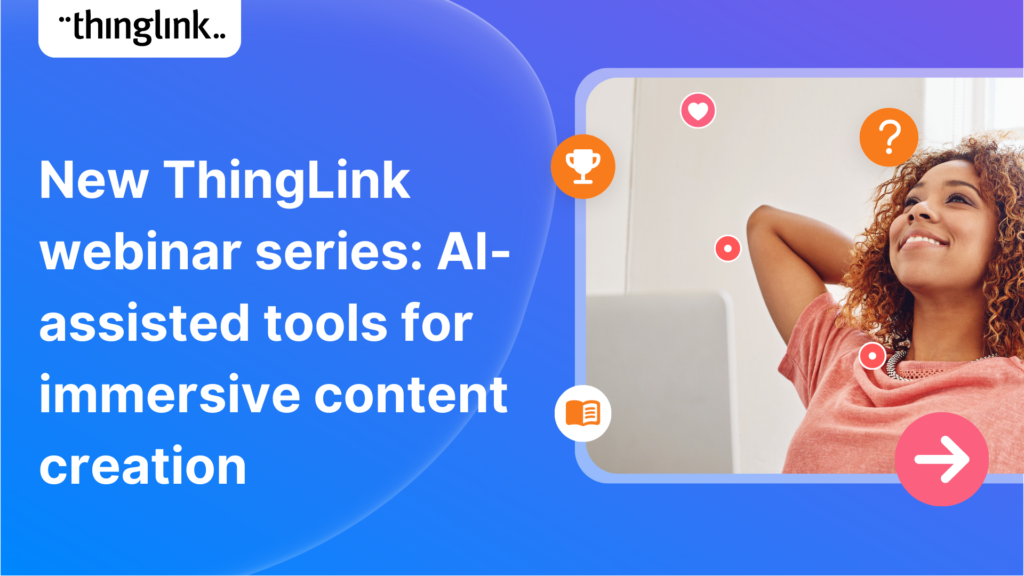 New ThingLink webinar series: AI-assisted tools for immersive content creation
In the past months, our team has had several internal discussions about the potential of AI in immersive content creation. AI as a topic is not new. We have been thinking about AI in 360 learning environment since 2016, explored automatic image clustering, and tested ideas around a virtual learning assistant (the first version used Microsoft Chatbot), but none of these experiments have been integrated into our main product.
The launch of Chat GPT3 and 4 and the related developer tools opened up new possibilities. At BETT, we participated in the Open AI roundtable discussion organized by Microsoft, which again spurred new ideas for both internal and external tools. One evening, our CPO and I sketched the different use cases on a napkin, and made it into the following four-field matrix. The first focus area for development, we decided, would be content creation; how the current AI-powered tools can assist educators and HR management to create new immersive and interactive learning experiences.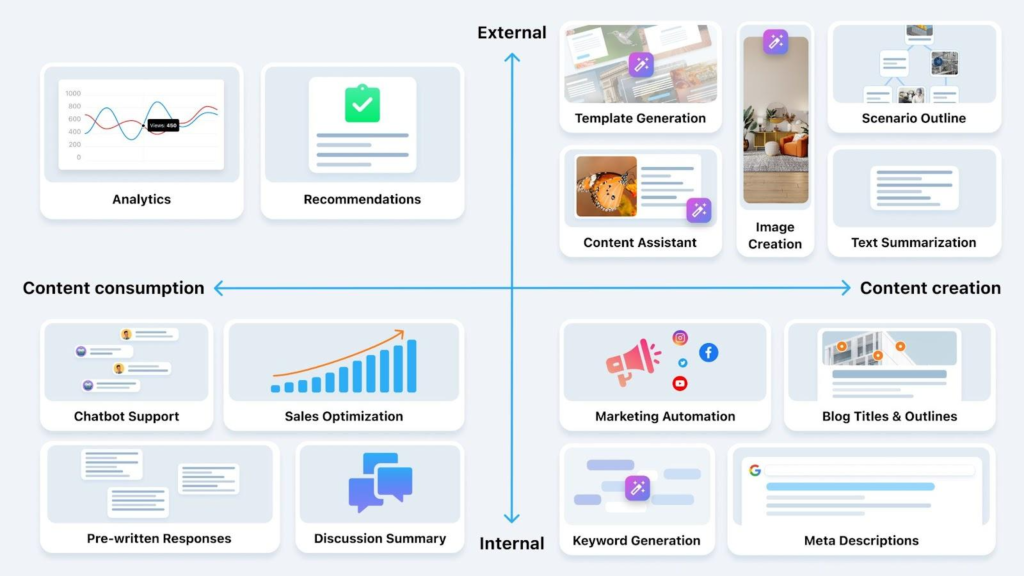 Goal: Supporting our users to create better learning experiences in shorter time
In this first phase of development, we are especially interested in understanding what kind of tools can:
– Save time in planning and creating immersive learning experiences
– Improve the structure and presentation of information in scenes and learning scenarios
– Guide our first-time users in getting started, and
– Improve the general user experience at ThingLink.
As we learn more about the points above, we want to tackle some of the most important AI-related concerns at an early stage: transparency, privacy and control.
Transparency
Developing new products and features is an iterative process that requires continuous discussion with users, developers and multiple domain experts. Going forward, we are going to be open about our own learning process, so that at any time, ThingLink users will be able to follow and comment on our plans. To kick off the discussion, we are hosting a series of webinars around AI and how it can assist creators, educators and learners today and in the future.
Privacy
We have installed OpenAI in our own Azure cloud. This means that the data that we will use in training any of our own algorithms or the data users generate using our tools, will remain in the ThingLink system. It is not available publicly or to Open AI service. We will not save the prompts that our users write.
Control
Access control: ThingLink's content creation tools will be available by default only to account admins and educators, not students or learners. The organization admin, however, will be able to turn on AI-assisted tools for all users, if they want to do so.
Editing control: In ThingLink applications, users can approve or dismiss any suggestions from the AI-powered content assistant.
Sign Up to Join!
We'd love you to join our next webinar, if you can't make it, sign up anyway and we'll send you the action replay!
In our first webinar, Dan Fitzpatrick, one of the authors of "The AI Classroom: The Ultimate Guide to Artificial Intelligence"  inspired us to think how AI is changing the world of education and training. Join us in the next webinar to learn more about the latest tools to assist content creation and contribute to the topical discussion on how to support skills such as creativity and authenticity in the era of AI-assisted learning!
Other Connected Posts