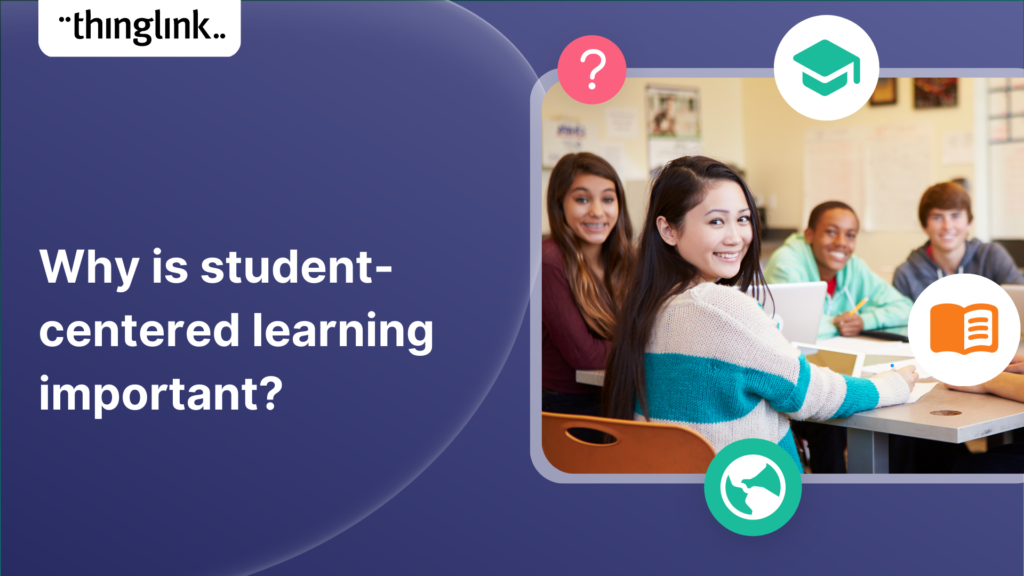 Why is Student-Centered Learning Important?
What is student-centered learning?
Student-centered learning is an approach to pedagogy that puts the focus on the student rather than on the teacher. It aims to empower learners by giving them more independence and autonomy to direct their own learning experiences. In a student-centered classroom, the teacher serves as a facilitator rather than a lecturer, working together with students as active participants to co-create learning goals and activities. This approach to student learning values communication skills, collaboration and critical thinking skills over rote memorization teaching methods and passive learning. By allowing students to take ownership of their own learning journey, student-centered teaching prepares them for success in real-world situations where adaptability and self-motivation are essential traits.
Meet a product expert
If you'd like to learn more about what ThingLink can offer to your school or organisation, you can schedule an online meeting with one of our product experts below.
Benefits of a student-centered learning environment
A student-centered approach enhances critical thinking skills, problem-solving and decision-making abilities, and the acquisition of new knowledge. Educators usually see higher levels of student engagement, motivation, and self-esteem than in a traditional teacher-centered classroom. Lastly, this approach to the learning process promotes a sense of responsibility, autonomy, and self-discipline in students, preparing them for lifelong learning and success in the future. Ultimately, student-centered instruction is an effective way of giving students meaningful educational experiences, helping them to develop the necessary skills and attitudes needed to thrive in today's fast-changing world.
How do you promote student-centered learning in the classroom?
As we have seen, one of the key ways to promote student-centered learning in the classroom is to encourage and facilitate active participation from the students themselves. This can be achieved through student-led discussions, small group or individual project-based learning. It can be achieved by following individual students' interests, by promoting and respecting student choice regarding topics of study or learning activities. Another way to promote student-centered learning is to provide opportunities for students to reflect on their learning and set goals for themselves. This allows them to take responsibility for their own progress, empowering them to become self-directed learners. This will put high school students in particular in a good position to move onto further and higher education.
How can you use ThingLink in student-centered learning?
ThingLink is a versatile and powerful tool that makes any visual media interactive and engaging with multimedia hotspots. It is an ideal tool for enhancing student-centered learning experiences and project-based learning. ThingLink can facilitate collaboration and creativity among students, as they can work together on rich media projects and co-create content. Popular examples for student co-creation are virtual exhibitions, interactive stories and artefacts and virtual tours and expeditions – to either real or imagined places.
Because ThingLink is hosted and updated in the cloud, it is ideally suited for ongoing project work. Students can create a live piece of content which can be updated regularly and when needed.
By integrating ThingLink in student-centered learning, educators can empower students to become active learners and deep thinkers who are able to make meaningful connections between concepts and ideas.
Examples of how you could use ThingLink for student-centered learning
A virtual exhibition on any character in history that the students choose. In this example below, students at the University of Central Lancashire have created a virtual exhibition on women in history
A virtual tour or exhibition around places or landmarks of the student's choice – they can use the free 360 images within the ThingLink image library to create their dream trip!
Students can upload a piece of content of their choice and add rich media tags at any place within it to record their own personal response to it – in text, image or video format. The main media could be an artwork, a photograph, a 360 image or even a 3D model.
Students can create a science fair with their own investigations and research of choice presented as interactive virtual exhibits.
Students could create an interactive infographic to show any process – this could be a scientific process, a business process or a creative one. For more advice on creating interactive infographics with Canva that students can then make interactive in ThingLink, please see this helpful blog post.
Students could create a timeline on any subject of their choice. This could also be used for personal journalling. For further guidance on how to create an interactive timeline see our blog post.
An interactive newsletter for their group or club.
For more inspiration on interactive content that students can use to create student-centered learning experiences, take a look at this blog with ten Canva templates that could be adapted.
Hopefully this blog has given you some useful inspiration for ways to use student-centered learning with ThingLink. For more ideas, look out for our education blogs where we share great use cases from some of our talented educators around the world.
Meet a product expert
If you'd like to learn more about what ThingLink can offer to your school or organisation, you can schedule an online meeting with one of our product experts below.