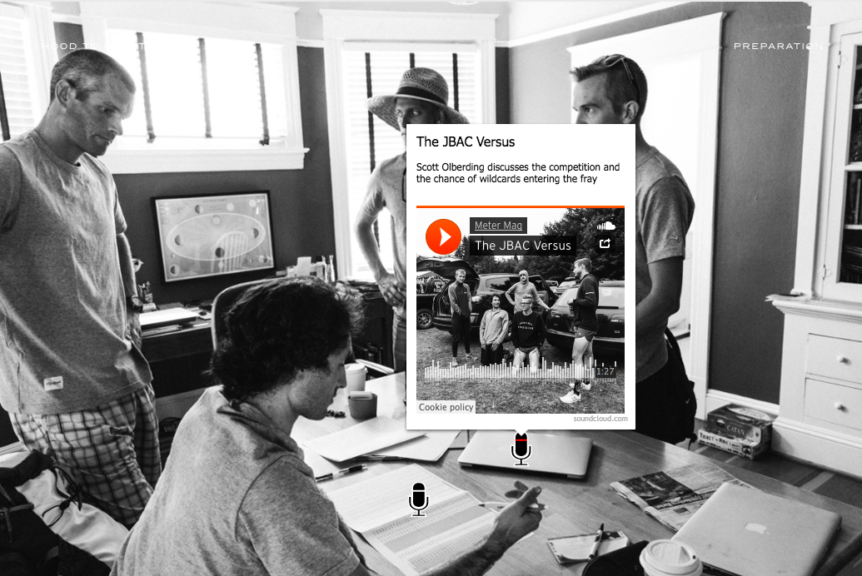 How to: Incorporating interactive media into digital journalism
With media steadily moving out of print and on to the web, consumer choices are steadily increasing as publications multiply. Distinguishing your work is key to attracting and keeping readership, and interactive media is a great way to engage your audience. Keep viewers on your content and reading longer with images, video and 360° material that combines multimedia options. While plain text gets the information across, interactive media is a useful and effective supplement that makes it more interesting and visual.
In this blog post, discover how different publications are using ThingLink in 4 different areas to make their work stand out.
---
Meter Magazine: Sports Photojournalism
In this example, Meter Magazine combines beautiful photography with interactive tags to create 200 Miles is a Long Drive, a spread of images and audio that tell the story of the grueling Hood to Coast race.
via Meter Magazine
How to: Add audio like Meter Magazine did here using a third party platform or by uploading straight to ThingLink. Audio hosted on SoundCloud or AudioBoom can be played straight from the tag just by using the link. Or, click the Upload Audio button in the ThingLink editor and add it directly from the audio file.
BBC: International Coverage
Below, BBC covers the emerging trend of digital nomads, professionals who work far from where their company is based, traveling the globe while keeping up their day jobs with just a wifi connection. Viewers can easily visualize life in different places with the interactive 360° globe. Jump between countries on an intuitive map, then click through when you're ready to learn more.
How to: Instead of embedding your photography directly into your article, start with a 360° image of the globe on ThingLink. Then link your individual images where they belong on the map, and add captions and links right onto the image. Readers will easily be able to connect the images with the written content.
Toronto Life: Lifestyle
Here Toronto Life already has mouthwatering photography to complement their piece about where to get Texas barbecue in Toronto. They use interactivity to make their images even more compelling, using tags to breakdown all the bites we see in the photos. Easily distinguish beef ribs, from spareribs, from baby back with tags that not only I.D. the items but tell the viewer more. Instead of a long list beneath the image numbering the elements, the information is readily available and easy to read.
How To: Take your busiest or most complicated images and add a layer of tags that annotates the important elements to note. This works well on pictures that include many important people or products that need to be differentiated.
Calvert Journal: Arts
Each month the Calvert Journal releases a Mixtape feature highlighting a different musical artist. In July they turned the spotlight on Moa Pillar, a Russian electronic music producer. An interactive image allowed the author to really highlight the artists multimedia work and online presence. Music doesn't always carry over into text and the ability to include actual audio, album art, and social media presence made that possible.
 via Calvert Journal
How To: Let readers engage with your outlet and the subject of your content by adding rich media tags that feature social media presence. Links to Facebook pages, Twitter, Youtube, and LinkedIn accounts all allow the viewer to add, follow, or interact right from the tag.
---
Want to learn about how interactive media can be incorporated into your online publication or see how easy it is to quickly add a layer of hotspots to your images? Join us for our regular webinars where you can see the full breakdown, live!
{{cta('f87a2b2d-4c14-4f99-bf7b-f61608356c39')}}
---