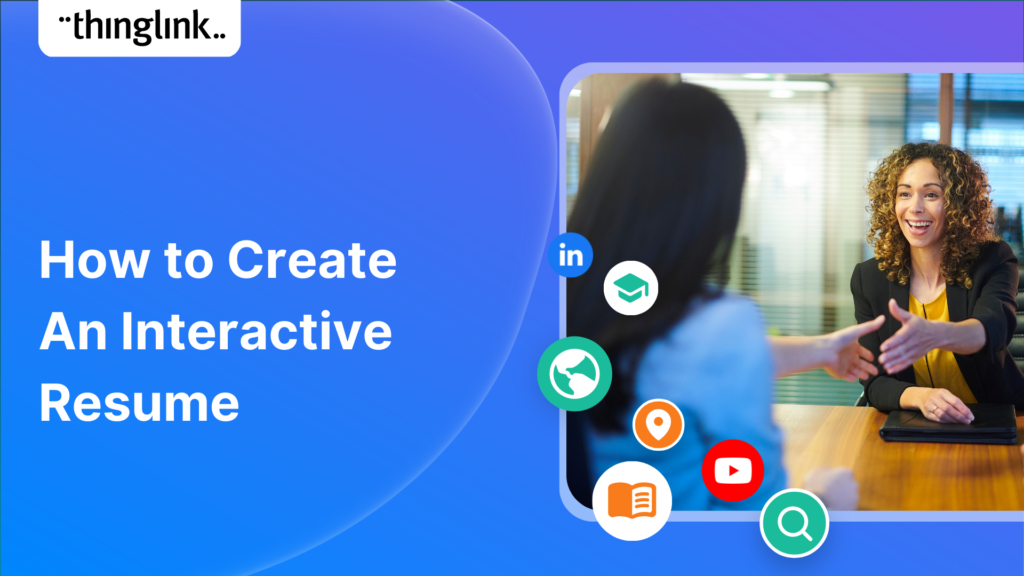 How to Create an Interactive Resume: Includes Free Templates
What is an interactive resume?
An interactive resume or interactive CV (curriculum vitae) is a tool that contains rich media in a variety of formats. It goes beyond traditional resume design and formats by providing recruiters with a personal window into your unique character, skills, and experience. An online resume is the first impression that you will present and your best chance to stand out from the pack and secure an interview for your dream job.
In this blog we show you what you can include, and how to build one in a few easy steps. We provide two different interactive resume examples for you to explore. Plus – you can download our free creative resume templates.
Meet a product expert
To learn more about creating interactive content with ThingLink, you can schedule an online meeting with one of our product experts below.
What are the benefits of creating an interactive resume or CV?
Interactive resumes give potential employers a huge amount of information about you in a personalised way. They can help set you apart from other applicants by showing off who you are as both a professional and a person. It also shows instantly that you are creative, resourceful, and can present a large volume of information in a clear and succinct way – qualities that are sure to be valued regardless of the role you are targeting.
Start designing your interactive resume
Start by thinking of the initial visual resume format. It should be easy to read and not cluttered with unnecessary information or images. It may help if you think of it as an "infographic resume" – with concise information that summarises the key points. You're then going to add additional information in the interactive hotspots! Take a look at the example below and explore the tags for ideas about what you could embed in yours.
Key points to remember when designing the layout:
Take care that the colour combination you choose for any text doesn't create legibility issues. A basic rule is dark on light, or vice versa – rather than two mid-tones.
The font should be professional and easy to read; avoid using fancy fonts like comic sans or handwriting fonts.
Try to keep all paragraphs and text blocks aligned as much as possible.
If all this sounds a little daunting, don't worry; there is help out there!
The example above was created in Canva – the online graphic design platform which lets anyone design professional-looking materials. It's super easy to use and they provide user-friendly tutorials for complete beginners. Go to their dedicated resume builder hub where you can choose from hundreds of creative cv templates to edit and adapt. Choose a new resume template and start making it your own!
If you like the version we created – grab the free Canva template here. You can then upload it into ThingLink to start making it interactive. Add audio, video, photos, external links, social media and so much more!
What interactive content should you include in your resume?
Relevant Information
The same rules apply for an interactive resume/CV as any other type of resume or job application. Whatever you include in your interactive resume MUST be relevant to the position you're applying for. As a bare minimum this should include:
Work experience or internships related to the position or role you are applying for.
Qualifications you have that are necessary for the role.
You can also include:
Links to any relevant social media profiles if appropriate – LinkedIn being the best option if possible.
References from past positions or academic supervisors
Awards and prizes
Any personal information that is relevant or helps your application – such as volunteering, clubs and societies or interests that demonstrate skills and qualities required for the role.
Video
Videos are also great for showcasing how well you communicate, which may come in handy when interviewing for certain positions. Include videos of yourself speaking about your qualifications or a portfolio of past work—the goal is to give employers a chance to get to know you better on a personal level before considering you for an interview.
Accessible content
Including functionality that allows your resume to be viewed in an accessible format demonstrates your understanding of the potential accessibility needs of others – whether that is the recruiting team, your future colleagues or your future customers or clients. ThingLink provides a number of accessibility features as standard including Immersive Reader and a Web Accessibility Player.
Bonus template – an interactive "resume website" or landing page
It's easy to create interactive content in ThingLink that behaves like a website. This would be a great way to demonstrate your understanding of retail or marketing for example and could be used across a huge range of sectors. It works particularly well as a "portfolio website" for product designers, interior designers or artists.
This version above was created in Canva. You can download the free "website template" here. Design and edit your "web pages" in your Canva account and then upload to ThingLink to make fully interactive. Tip: Use the Tour Tag to move between pages just as in a website.
Hopefully with these tips, examples and templates you will be able to create your best resume ever that will help you succeed in your job search. Good luck!
More examples of interactive content using Canva and ThingLink – more free templates included
Meet a product expert
To learn more about creating interactive content with ThingLink, you can schedule an online meeting with one of our product experts below.