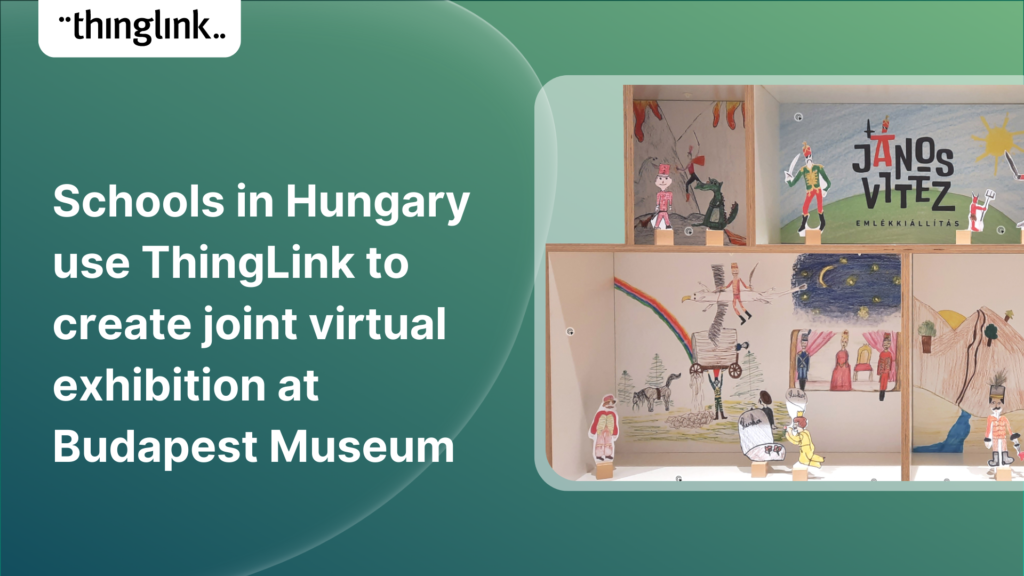 Schools in Hungary use ThingLink to create a Virtual Exhibition at Budapest Museum
The János Vitéz Memorial Exhibition is a collaborative virtual exhibition organized by the Petofi Literary Museum in Budapest. Between March and May 2021, over 300 students and 18 teachers attended the museum's online classes, where they learnt how to build an exhibition in ThingLink. The children used 360 images, videos, games, quizzes and other media to create, link and host their collaborative content.
In 2020 we showcased the wonderful collaborative project "Kapocs",  created in ThingLink by six Budapest cultural institutions during lockdown. The name means "link"in Hungarian, and the project exhibited and linked artefacts that had never previously been shown in the same exhibition space. ThingLink was delighted to speak once more to Anna Kadar, educator at the Petofi Literary Museum (PLM), who had helped initiate Kapocs, about their 2021 schools project based on a 19th century epic poem. 
Start creating your first virtual exhibition today!
To see just how easy it is to create interactive virtual exhibitions, field trips, tours and galleries, get started with a free ThingLink trial account today.
An Epic Project
János Vitéz (in English "John the Valiant") is an epic poem written in 1844 by Sandor Petőfi, considered the national poet of Hungary. The poem tells the story of a young shepherd who leaves home and enjoys adventures around a semi-fantastical world. János Vitéz is known to every Hungarian school child and is part of their core curriculum.
Make Your Own Adventure
The team saw John the Valiant as the ideal starting point for story-based project work for fifth-graders (aged 11–12). Research shows that at this age, children are particularly interested in stories where they can adapt the plot and introduce their own themes, characters and variations. John's adventures take place in a number of fantasy worlds with limitless possibilities. Expanding and re-shaping his story with their own ideas would be an exciting challenge for these school children.
Valuable Lessons
Anna and her museum education department colleagues, Anna Czékmány, Judit Kodolányi and Diána Sóki had learnt many valuable lessons during lockdown and in creating Kapocs. They knew that creating a community experience and an opportunity for collaborative thinking and creation was key to engaging school pupils. They saw ThingLink as the ideal tool to facilitate a project like this.
Call to Schools
PLM put out the call in January 2021, for any 5th grade classes who would like to create a new character for the poem. In small groups, the children were asked to illustrate their character's encounter with John the Valiant, and create an interview with him/her/it about this adventure. Over 300 students and 18 teachers signed up.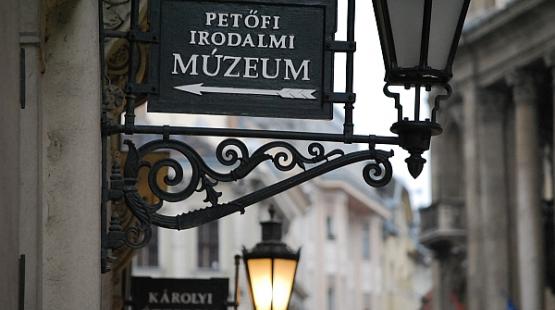 Open to All
Initially the project was envisaged as a competition, with only the winning entries exhibited in the final virtual art exhibition. However Anna and her team realised quickly that the project had generated a great deal of enthusiasm, effort and commitment from both the teachers and children. A third wave of the pandemic in Hungary and the threat of more museum closures confirmed their decision to include all entries in the final virtual event. The aim and focus of the project therefore shifted away from competition and towards networking and co-operation.
Training and Support
The museum educators knew that the support of the teachers was key to the project's success. They provided tutorial videos and group training workshops for the class teachers. They covered both the technical aspects of creating the content and how best to work together.
Structure of the Accounts
During the creative stage, each teacher had an overview of just their own students: they could view and organize the art pieces, choosing when to make it visible to the museum.
Junior Curators
The classes themselves then attended virtual museum lessons with Anna and her colleagues, where they learnt more about Petőfi, the poem, the key steps in exhibition planning and curating, and using ThingLink to create a joint online exhibition.
The children divided into groups within their classes and amalgamated their digital art and interviews into a ThingLink scene adding explanations, games and instructions for future visitors into this online gallery. They then created their virtual exhibitions in these virtual spaces. The work was led by the class teachers, with the museum educators supporting via a mentoring system, each educator mentoring 3-4 teachers.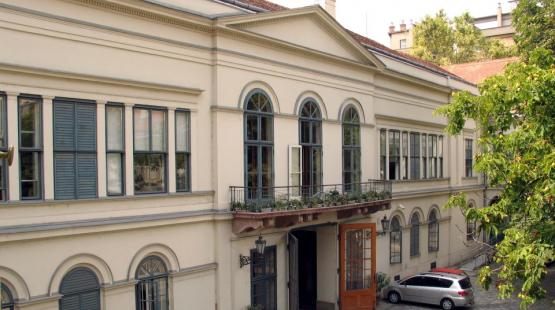 An Old Classic is brought up to date
The children adapted the characters and locations of John the Valiant to their own 21st century world. Petofi's original poem was very male-dominated, but the children included female characters, with many giving their heroines a traditionally masculine role such as warriors and rebels.
The children chose to use a wide and inventive variety of media including films, photos, drawings, sound recordings, interviews, instructional videos, cartoons, computer games and quizzes. There were some very ingenious ways of creating content quickly and easily. Some of the children created videos simply by using common video conferencing platforms, reading and acting out the stories they had created. Several schools also reported that the children continued their creative work on their own.
The New Characters Need a Home
The teachers and groups of children then had to combine and arrange their characters and stories in a series of shared spaces. Where would these new characters meet? Many of the classes chose to showcase their characters against a background image from ThingLink's own 360 image library. As well as using the ThingLink 360 library, one group created their own panoramic virtual 360 space using their own background drawing. Another group used Google Street View (now deprecated) to take and combine images of a local park to create a background for their virtual art gallery.
Conditional Transitions Tool
The groups also made great use of the conditional transitions tool. Exhibition visitors have to answer a question correctly before being allowed to move onto the next scene. One class even created an escape room using the conditional transitions, which was a very popular addition to the virtual exhibition. At the end of the virtual opening, participants were able to decide whether to make their work available to the public.
Making Connections
Feedback from the schools showed that building the exhibition was a very important community experience for the children, who had endured varying degrees of isolation during successive lockdowns. The project won the Museum Pedagogy Award in 2021, an annual prize issued by the Museum Education Methodology Center, a nationwide institution for museum education and museum studies. Anna writes in her museum blog: "This success is really about the work, the flexibility, the ideas and the connections we have made in a very isolated period for all the participants."
What's Next at the Museum
Anna and team hope to run the János Vitéz Memorial Exhibition competition again in 2022, making the most of the experience and lessons learned from the first round. 2023 will be the 200th anniversary of Petőfi's birth, so the museums will cooperate once more with a celebratory project based on the original Kapocs project. Petofi travelled to many towns and villages during his short life, which now feature memorials and celebrate legends in folk tales and songs about the poet. The PLM educators would like other museums outside the capital to be involved in this next stage.
Want to know more about using ThingLink at your museum, gallery or heritage site?
Read more about how you can use ThingLink to easily create your own virtual tours and exhibitions here! You can also read some more real-world examples below. See how real galleries have been creating virtual spaces in ThingLink to share with a global audience.
Your ThingLink virtual tour can be embedded in your website, shared as a link or on social media, or even viewed in VR (virtual reality) mode.
How to create a virtual gallery
The easiest way to make an online art gallery is with our smart Canva template. Download and read the simple instructions here.
NEW! The easy way to create 360 images: Pano to 360
Creating virtual tours, exhibitions, escape rooms and other immersive content just got even easier! ThingLink has now launched Pano to 360 by ThingLink: an easy way to create a 360 photosphere from a panoramic image using any smartphone. For more information, including step-by-step instructions see this helpful support article.
Try the free Pano to 360 converter
The Pano to 360 photosphere converter is free to use for anyone, no ThingLink account required! Upload a panoramic image to see it in action.
Complete our form to receive a PDF copy of this Case Study!