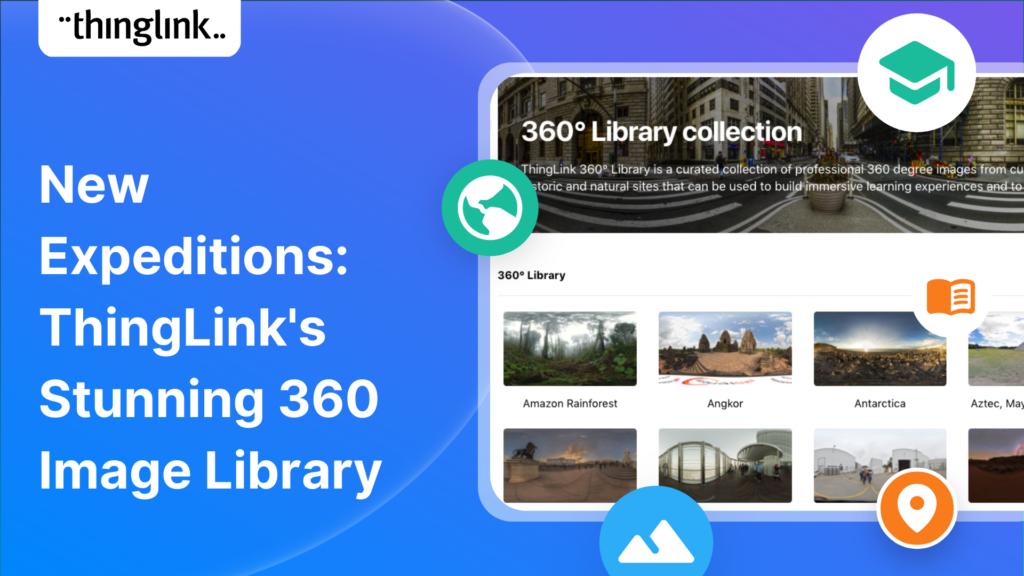 New Expeditions: ThingLink's Stunning 360 Image Library
ThingLink's 360 Image Library is a curated collection of professional 360 images from culturally relevant natural and historic sites. You can use the images to create virtual tours and immersive learning experiences that let your learners travel virtually across the world.
Talk to a product expert
To find out more about what ThingLink can offer, please schedule an online meeting with one of our friendly product experts below.
How can you access the 360 Image Library?
You now have access to the 360 Image Library in all account types in ThingLink. You will find a link to the library on the left navigation sidebar. Simply browse through the images and choose one that you could like to clone. In addition, you can choose images for annotation from the 360° Image Library during the image creation flow.
We first launched ThingLink's 360 Image Library in 2017, which allowed teachers and students to build virtual expeditions and field trips. Using ThingLink's 'Clone' feature, users could create their own interactive versions of the library images. For instance, they could add notes and narration, or connect several scenes into a virtual tour. It was so popular that subsequently we made the 360 Image Library available to all users – not just those in education.
Create virtual tours that users can access anywhere
We know educators would like to create their own virtual tours using 360 imagery, but may not have access to a 360-degree camera. The library features over 50 new scenes such as Antarctica, California State Parks, Desert Habitats, and Medieval Europe. You can also find a stunning series of shots from selected destinations such as CERN, The Palace of Versailles and Taj Mahal. Now anyone can use ThingLink's 360 Image Library to explore historical landmarks, visit international capitals and Unesco World Heritage Sites from wherever they are.
Teachers can guide the tours from their home, by recording a voice narration in the background of the images. This means that students are not required to wear headsets, or be online at the same time. They can view the guided VR tours at their own pace from an iphone, android phone or any mobile device.
How do you create a virtual tour?
Watch this short video and become a virtual tour creator!

You can easily create a new tour using ThingLink 360 Image Library: start by following the steps below. Most importantly, when you use our library images there's no need to worry about copyright, you're covered!
Search images from ThingLink 360 Image Library

Clone the image to your own account and open it in the tag editor

Record your guided tour in the background of the image

Share with learners via direct link, LMS, Google Classroom or Microsoft Teams

. You can also embed your virtual tour in a website or landing page, share via social media or with a QR code.
Taking your own 360-degree images
If you want to create your own virtual tours from scratch you can use a camera or phone that takes 360 jpgs as photospheres. Models to look at include the Insta360, Ricoh Theta V or Ricoh Theta z1 cameras or the Google Pixl phone range.
NEW! Creating virtual tours, exhibitions, escape rooms and other immersive content just got even easier! ThingLink has now launched Pano to 360 by ThingLink: an easy way to create a 360 photosphere from a panoramic image using any smartphone. For more information, including step-by-step instructions see this helpful support article.
Try the free Pano to 360 converter
The Pano to 360 photosphere converter is free to use for anyone, no ThingLink account required! Upload a panoramic image to see it in action.
What can you use Virtual Tours for?
Using ThingLink's new "Conditional Transition" functionality, it's now easy to build tests and learning games that include a question for the viewer before transitioning to the next scene. This can be a fun project for students working in small groups, and they can share their games with each other!
Further reading on creating virtual tours with ThingLink
Read how featured educator Jennifer Ivory brought literature to life through escape rooms created with ThingLink and how you can do the same with ThingLink 360° Image Library! Read our round up of this and other tours in our blog How to Make a Virtual Escape Room.
Virtual Tours in ThingLink are being used across a huge range of sectors, from real estate to safety and security training. Realtors can create virtual staging tours that provide a walkthrough of a site for potential buyers who can't attend in person. Our new floor plan feature adds extra navigation for the viewer.
ThingLink is the simplest and easiest to learn virtual tour software for Higher Education users, who use it to create high quality 360-degree tours at low cost that are instant and easy to update.