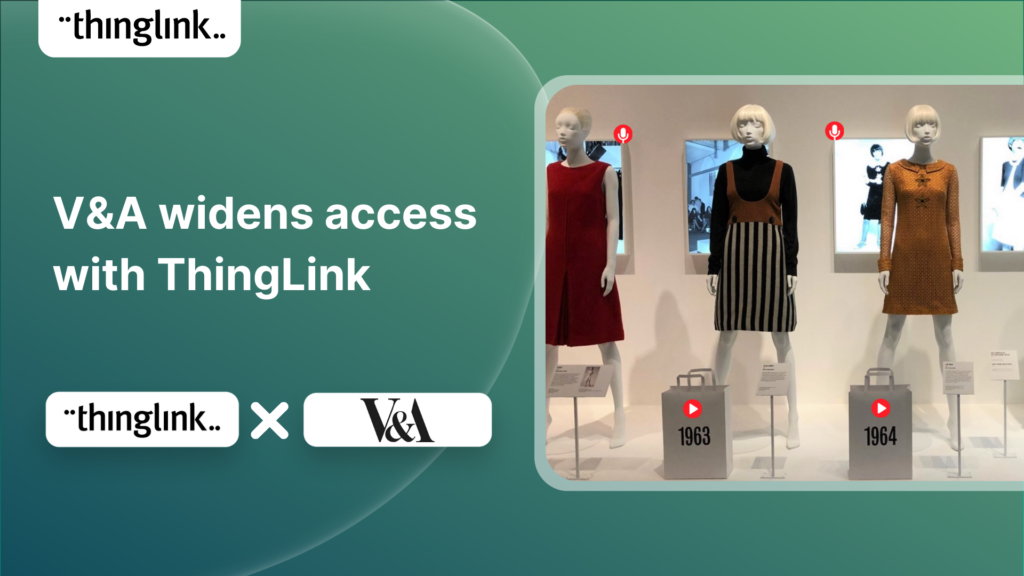 V&A Dundee Widens Access with Virtual Museum Exhibitions in ThingLink
The Scottish design museum creates interactive learning resources that reflect the innovative, global and democratising themes in their recent exhibitions. This case study demonstrates some of the key benefits of a virtual museum exhibition.
Meet a product expert
If you'd like to learn more about what ThingLink can offer to your museum, gallery or heritage site, schedule an online meeting with one of our experts below.
Three years ago Scotland's first design museum opened in the city of Dundee. ThingLink spoke to Chris Lewis and Julie Muir from V&A Dundee about how ThingLink changed the way that the museum creates their learning resources and has helped them increase accessibility in many different ways.
"During lockdown, we asked ourselves – Should we be doing things differently? So we did what a design museum should be doing – which is redesigning to fit the situation that was going on – and ThingLink was part of that."

Julie Muir, V&A Dundee
The V&A in London was founded in 1852 and is the world's leading museum of art, design and performance. In 2018 the V&A Dundee opened, in the historic Scottish maritime city. It is Scotland's first design museum and one of the most significant museum openings in Europe of the past decade. In March 2020 the successful and high-profile exhibition on British fashion designer Mary Quant had finished its run in the V&A London and was ready to open at V&A Dundee. However on 18th March the COVID-19 pandemic forced the closure of the museum, meaning that exhibitions could only be accessed online until they eventually re-opened in August.
Chris Lewis was the V&A Dundee's Schools Development Officer and the museum's ThingLink lead at the time. When the museum closed, he used ThingLink to create a set of learning resources for "Mary Quant". Rather than re-creating the displays as a virtual museum tour, Chris and the learning team created four separate ThingLink resources, each a standalone scene examining one aspect of the exhibition.
The introduction contains original audio recordings of interviews with the designer, as well as fascinating films from the 1960s. Curator Insight contains videos filmed around the exhibition which provide unique "behind the scenes" curator perspectives. This helps to give the viewer the feel of a personal tour of the exhibition displays. The Shop contains close-ups of this part of the exhibition as well as a curator talk. Finally The Wet Collection contains links to videos and longer articles plus text and image tags with details of this display.
"With ThingLink, switch on and you're in": How a virtual museum works in practice
As a qualified senior school teacher of History and Modern Studies, Chris has vast experience in how young people in particular interact with information sources. As he explains, using ThingLink gives the instant access that young people these days expect.
"Teenagers and young people today have phones in their pockets and are used to instant access..they often don't have a great deal of patience when doing research. ThingLink gives them the instant access and that digital experience they want, but also the depth of knowledge that they need."

Chris Lewis, V&A Dundee's Schools Development Officer
Julie Muir is the museum's Learning Manager (Schools, Young People & Families). She agrees that the ThingLinks provide top level information leading to deeper content, driven by what and how much each individual learner wants to find out. She describes ThingLink as
"Pinterest for the 21st century. It puts more of our content in one place – helping to streamline students' focus. It provides a broad picture – but you can dive into the parts that you want to and you can step back easily too. It provides the different levels that different learners need."

Julie Muir, Learning Manager (Schools, Young People & Families), V&A Dundee
Create your own 360 exhibition using your smartphone!
Pano to 360 by ThingLink is the new free tool allowing anyone to upload a panoramic photo and convert to a 360 panosphere. No ThingLink account required! Try it now.
Contactless Learning
Meanwhile in direct response to the pandemic a new, stand-alone exhibition was envisaged and curated by the entire staff of the museum. "Now Accepting Contactless" opened during Spring '20 and brought together objects which showed the many ways designers and citizens have used their skills in the crisis, and demonstrating the vital role design played during the pandemic.
The "Imagining the Future" section of the exhibition was co-curated by The Young People Collective (YPC) alongside V&A staff. YPC is a voluntary group of 14-24 year olds who meet once a week to help co-design the young people's programme as well as provide feedback for lots of ideas within the museum such as interactive exhibits.
Chris and the learning team used the same approach as they had successfully used with Mary Quant, dividing the exhibition into individual ThingLinks. These reflected the exhibition's four themes: Hacking Healthcare, The Home, Connecting to Each Other and Imagining the Future.
"Now Accepting Contacless was a very broad exhibition whose only common theme was the pandemic. ThingLink made it make sense – gave it a cohesion. What could have been an overwhelming amount of information was ordered with ThingLink into a set of easily-accessible scenes."

Chris Lewis, V&A Dundee's Schools Development Officer
Curator and Creator Insights
Tags in one ThingLink include insights and explanation into how the YPC envisaged, created and curated their part of the exhibition. Another tag links to an interview with the agency who created the graphic scheme and 3D exhibition design. In this way, the viewer is not only given access to artefacts within the display, but behind-the-scenes insights into the curatorial process itself and reasons as to why particular items and artworks were chosen for inclusion. The visitor's user experience and understanding is further enriched with this extra layer.
Democracy in action in the virtual museum exhibition
The V&A learning team describe ThingLink as a democratising tool – both for creators and viewers. The learning team are also planning a ThingLink co-design session with a local school.
"It shows ThingLink's ease of use that we haven't needed to do any staff training on it. It's so intuitive. It's very, very user friendly".

Julie Muir, Learning Manager (Schools, Young People & Families), V&A Dundee
For audiences, she adds that ThingLink is "a tool that can be used across a multitude of settings and it covers accessibility issues across a wide spectrum of age ranges." Whilst the ThingLinks created have been used in schools and on the website, they've also been used in care homes and promoted to family groups too, in both formal and informal settings.
Access for all
The accessibility provided by ThingLink can be seen in the resources that the team created for "Mary Quant". They embedded the recorded online curators' talks about the exhibition into video tags which have BSL (sign language) interpretation and closed captions. All the curator insight videos are also captioned. However accessibility in a wider sense is very important to the learning team and fundamental to why they have chosen to use ThingLink to accompany their exhibitions.
"We talk about inclusivity and accessibility all the time. But that doesn't just extend to people physically entering the museum. I think people often forget how to talk about accessibility – it's also travel time, location, as well as money and available time. It's something that ThingLink can help us tackle. A ThingLink museum visit is self-led, so you can go down your own interest paths at a time that's suitable to you."

Julie Muir, Learning Manager (Schools, Young People & Families), V&A Dundee
Online catalogue vs ThingLink?
The interactive element of any Thinglink means that it acts as so much more than an online catalogue. Julie and Chris agree that ThingLink gives you the ability to view any exhibition from multiple viewpoints and backgrounds and in different contexts. Julie describes the ThingLink as "a leaping off point that allows people to go on their own journey." For V&A Dundee, the group curation, the multiple viewpoints and voices contained within each of their Thinglinks reflect the co-creative process of the exhibitions themselves.
"In terms of the legacy of any exhibition or project, an e-catalogue or written report is great for some people…but would you rather read that in a catalogue or would you rather have the same information in a ThingLink? Where you can chop it up, break it down and embed it – where it immediately becomes more digestible? If museums and organisations have this kind of mini-archive of an exhibition or project, it means it's always accessible in the future and stays interactive after the exhibition has finished."

Chris Lewis, V&A Dundee's Schools Development Officer
Global connections: how to create an online museum exhibit that works worldwide
Mary Quant was a high profile exhibition that many people had planned to visit but couldn't. Now however, this digital record of the exhibition in ThingLink allows even more people to see it, from all over the world. In fact V&A Dundee's Thinglinks have also helped them make closer links with fellow international museums. Bendigo Museum in Victoria, Australia were able to clone and adapt the Thinglinks created by the Dundee museum when the Quant exhibition travelled there – the only Australian stop on its world tour. This approach could work for any touring exhibition – with individual teams adding and editing the tags, or keeping the same tags and simply swapping in a new background image to show the displays in their new home.  
Imagine the future of virtual exhibitions – with ThingLink
ThingLink has now become an indispensable tool for the learning team. All the ThingLInks created for Mary Quant and Now Accepting Contactless are available via the museum web pages. And ThingLink online exhibit resources for the physical museum exhibition Night Fever and for the Scottish Design Gallery are being developed – look out for them on the website soon! 
For a final word, let's return to Mary Quant – a true design revolutionary. Emma Busowsky-Cox, Bendigo Art Gallery Curator says "She represented the triumph of the new and freedom from the establishment – making fashion for everyone. She would take her designs to the world….she made fashion less exclusive and more accessible." Sound familiar?
Mary Quant herself once said "The whole point of fashion is to make fashionable clothes available to everyone." That very same vision is at the heart of ThingLink – a tool that was designed to make knowledge and learning available to all.
Ready to create your own online museum exhibit?
These case studies contain great examples of how to design a virtual museum, gallery or exhibition:
Design and create your own virtual museum or 360 gallery in moments!
We've created an easy to use template for a 360 virtual museum or gallery using Canva and ThingLink! Including a tutorial on how to create an interactive virtual gallery or online interactive exhibit with multimedia hotspots. Embed to existing web pages, view in virtual reality mode or share via your social media channels!
Get started with a free trial!
To see just how easy it is to create virtual tours, exhibits and galleries, start a free ThingLink trial today.
Download the Case Study
Want to keep a copy of this case study? Need a version that you can share with colleagues? Complete this quick form below and we can email a PDF version straight to your inbox!