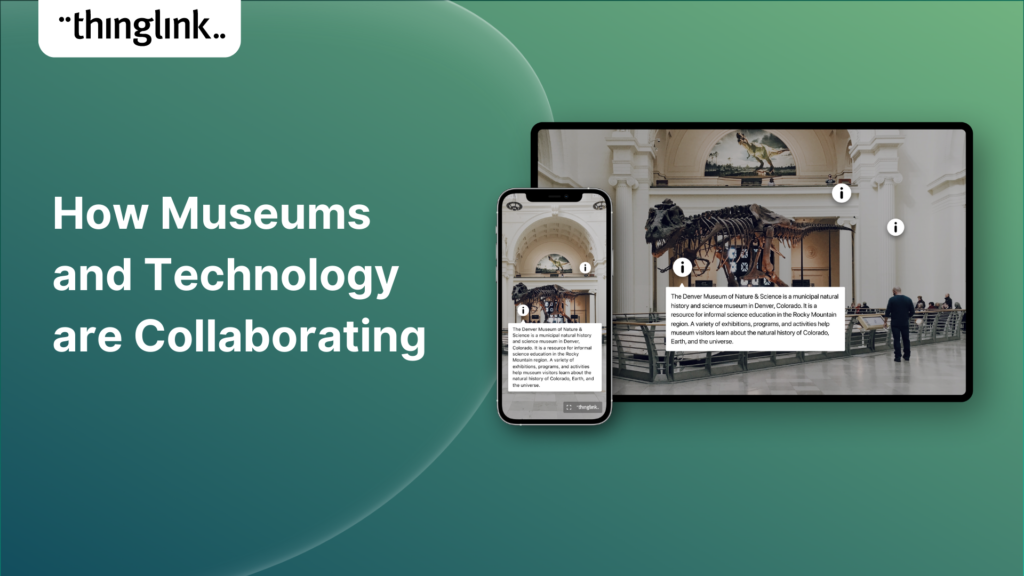 How Museums and Technology Are Collaborating
With technology merging with museums, you don't just view art, but you live it. In some cases, it's as close as you get to time travel. Technology broadens the scope of potential and opens opportunities to capture a younger generation, newer audiences, and magnify the significance museums play in our society.
In a recent survey from Seakbeak, "More than half of U.S. adults who use the internet have taken a virtual tour," emphasizing the growing increased interest in virtual tours. As the trend of merging tech with museums continues, we can expect benefits around expanded learning, promoting museums, widening reach, and dramatically transforming how museums function.
Virtual Tours
Virtual events are one of the most significant ways museums have evolved by technology. Museums have benefited tremendously; from increased revenue to spikes in recognition, virtual tours have extended museums.
In recent years, particularly during the pandemic, museums have been using virtual tours to expand their reach and engage directly with students through their schools. One recent article featured 75 museums around the world through virtual tours (Upgraded Points).
Virtual tours have allowed schools to work directly with museums for virtual tours as a learning component of their curriculum. It not only enhances their educational experience but provides an opportunity to see other views of the world.
Outside of school, virtual tours allow anyone to appreciate the wonders of museums and further expand potential reach. It draws attention to each museum to continue to generate revenue and appreciation to remain open for future generations.
Utilizing virtual tours benefits museums and customers significantly. Museums can profit by expanding their reach and promoting their tours, while customers can enjoy a museum from the comfort of their homes. It's a win-win for both.
RELATED: See how six major museums in Budapest create virtual tours with ThingLink.
Art Installations & Exhibits
Museums rely on limited-time art installations and exhibits to attract old and new visitors. These are typically seasonal and viewed at several museums around the globe. People don't have to miss the opportunity if they're out of range from a particular museum, and it saves museums from the logistics of temporary exhibitions.
The ability to transform how we view art has drastically raised the bar and the flexibility to experience it. Museums around the world are re-evaluating how they display art. In a world of technology, it becomes challenging to engage with a younger audience that is technologically stimulated.
However, museums are quickly educating themselves on what clicks. For example, the world-famous Smithsonian featured a VR exhibit in 2015 called "Renwick Gallery Wonder 360," which drew in a whopping 730,000 visitors in nine months. It created tremendous attention via social media, further attracting visitors and providing exposure.
Traveling art installations have become more accessible thanks to technology. Whether it's a new artist or reigniting the interest of a historical artist, technology becomes the solution.
As seen with the recent buzz regarding the traveling Van Gogh exhibit. Renowned Van Gogh and his work aren't new, but the way technology brought his work and history to life is new (Panasonic). The Van Gogh exhibit virtually takes the audience through Van Gogh's life and artwork. All displayed along the wall, floors, and ceilings throughout the museum space— a genuine ability to walk through time.
Not only did the combination of technology and Van Gogh create a fascinating spectacle to view, but it introduced Van Gogh to a newer, younger, more tech-savvy generation.
Technology removes the limitations of visiting a museum. You don't have to work about the distance, time frame, or cost. The ability to explore museums becomes more accessible.
It not only appeals to the audience but word of mouth is also shared through the lens of social media, providing a much-needed spotlight on the value of museums.
Engaging with Art
We know how technology can deliver to the masses, but there's the ability to interact directly with technology in museums that creates an engaging experience, unlike ever before.
Whether it's at home or in a museum, technology has allowed for better engagement from visitors. At the Cleveland Museum of Art, they create a virtual space to appreciate art at an individual pace through screens and devices uploaded with all of CMA's art collection with educational interactions for visitors to learn more about the artists and artwork.
You can educate and expand on topics, unlike reading excerpts and looking at models or displays. It provides personalized control for the visitor.
With a younger, technologically advanced generation, learning by technology is a language more comfortable for younger audiences.
Museums all over the world have been incorporating technologies that provide interactive education. A fantastic example is the National Museum of Emerging Science and Innovation in Tokyo, Japan.
One of the standout pieces in the museum is its renowned "LED globe, which shows a display of the Earth as visualized through geodata. Elsewhere, visitors can interact with AI robots, models showing a visualization of the internet" (Moraikan).
Another example is the Prado Museum in Madrid. They offer the first innovative 360-degree immersive experience. It allows visitors to be close to precious art and artifacts. You can have hands-on experience without the damage of physical touch. Instead of viewing artifacts within a closed box, you can have a visually stimulating experience with history.
Technology has helped museums through the pandemic. For example, the Vermont School of the Arts in Middlebury used ThingLink during the pandemic to curate museum content to build a collection online. Not only was it meant to bring culture to communities after museums shut down but to drive website traffic and help boost traction dispute the circumstances. ThingLink allowed museums to create collections captured from galleries throughout Vermont and provide an engaging and interactive experience for families, at home, in crisis.
Technology and museums are beyond just viewing a tour from your home but how you can interact with any museum history.
How Will Technology Continue to Change the Future?
We shouldn't expect the merger of technology in museums to slow down anytime soon. Although the pandemic widened the active interest in technology in museums, we can expect to continue. Since 2020 and the beginning of the pandemic, "the Arts & Culture initiative by Google currently offers virtual visits to about 500 museums" (Inexhibit). This includes some of the most famous globally, such as the New York Metropolitan Museum of Fine Arts.
Thus far, it only provides benefits in the future, both benefiting customers and museums alike. These changes in technology have become so wildly impactful that studies have shown that "Among the factors, enjoyment shows the highest effect on satisfaction with the 360° virtual tour experience and stress reduction" (NCBI).
Technology has only strengthened our ability to connect with art and learn from museums engagingly, unlike ever before.
We can only expect technology to widen the possibilities of how we can enjoy museums.
In our view, technology will save the appreciation for educational learning from museums.
It will revolutionize how we learn when we use technology and expand reach to everyone worldwide and cater to schools and higher education curriculums. The possibilities remain endless.
We might not know precisely how technology will continue to change the landscape of museums, we know it will, and we're excited for what the future holds.
Learn How ThingLink Works With Museums & Galleries Globally!