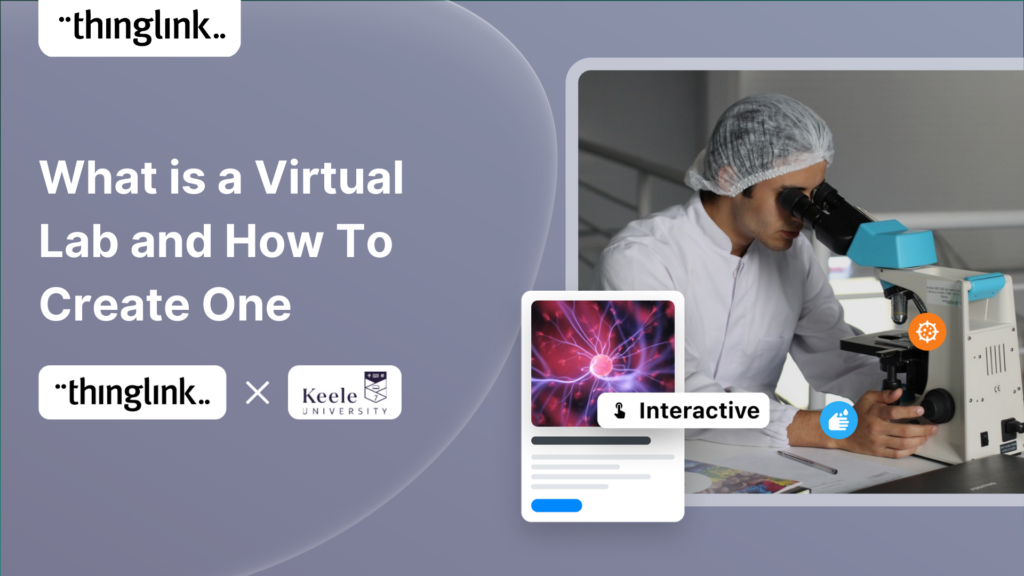 What is a Virtual Lab and How To Create One
ThingLink Virtual Labs help address accessibility and inclusivity challenges for science students
Many ThingLink creators in the Higher Education sector have carried out research on the value, benefits and potential of ThingLink as a supplementary tool for learning. Their findings have been published in academic journals. We recently spoke to the lead author of the most recent of these papers, Dr Adam Jeffery, Curriculum Developer and Geologist at the Keele Institute for Innovation and Teaching Excellence, Keele University (UK). Dr Jeffery explained in more detail how he had created his Virtual Lab materials and how his study had introduced and assessed ThingLink as a teaching tool. He also summarised the wide range of benefits and potential applications he sees in its use – particularly in the sciences field. The full paper cited here is published in the Journal of Chemical Education, Issue 14, June 2022.
Meet a product expert
To learn more about what ThingLink can offer to your university or college, you can schedule an online meeting with one of our product experts below.
How do virtual labs work?
Dr Jeffery created two virtual laboratory learning environment resources in ThingLink. Resource 1 was an X-ray fluorescence spectrometer (XRF) and Resource 2 was an ion chromatography system (IC). They were both designed as complementary higher education tools for undergraduate, postgraduate (taught), and research students of physical sciences. The ThingLink content for each instrument simulation provided a number of different areas to explore, including background theory, technical information on how the instruments operate, health and safety information (where appropriate), sample preparation, and calibration procedures. Both resources allowed students to analyze virtually a range of samples appropriate to their course. The instruments would undertake an "analysis" and then provide data extracted from a real life data set in a real laboratory.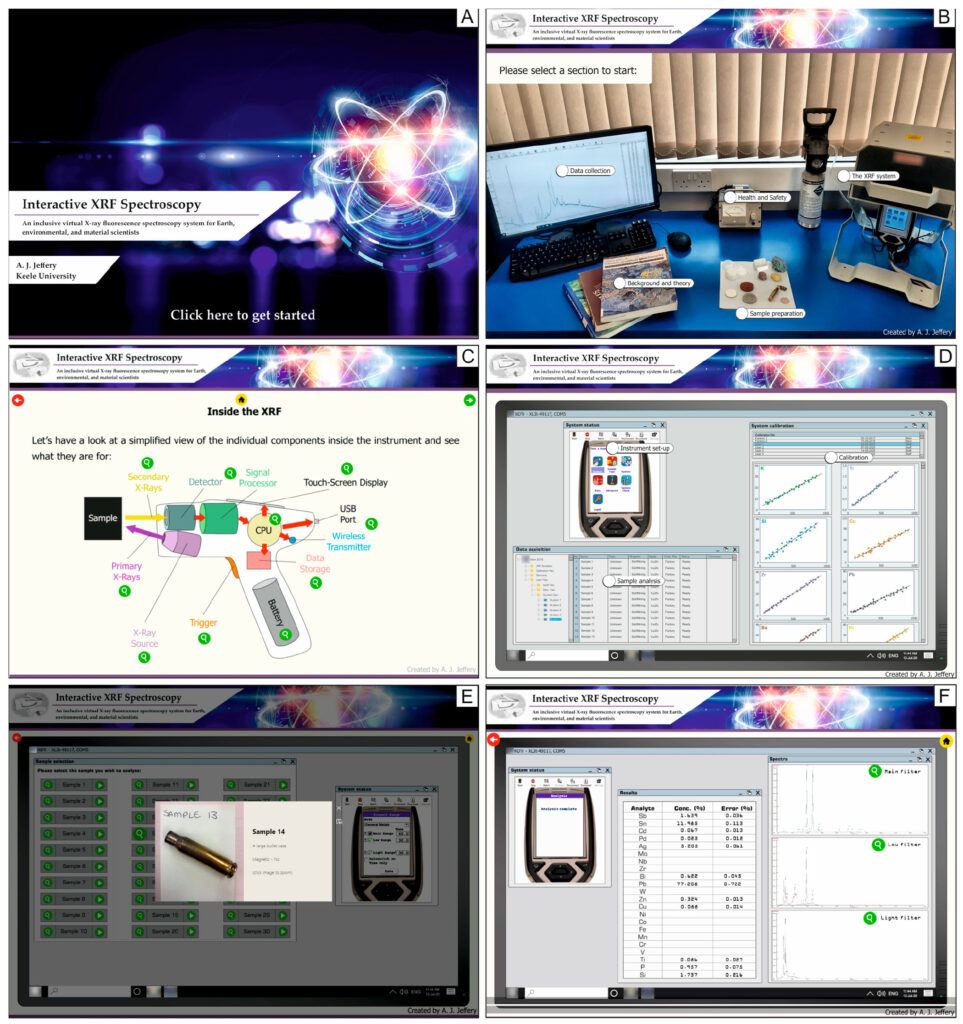 How the materials were assessed
The materials were sent to teachers and learners, who provided feedback via questionnaires and interviews. The results showed extremely positive feedback. They were particularly excited about how ThingLink could improve accessibility and inclusivity for students thanks to the fact that material could be accessed at any time.
How did the virtual lab compare to a physical lab?
For Resource 1 (XRF) quantitative results for student feedback: 96% of all feedback was positive, 3% was neutral, and only 1% was negative. Staff responses: 100% of the responses were positive. For resource 2 (IC) quantitative results for staff feedback on Resource 2 were entirely positive.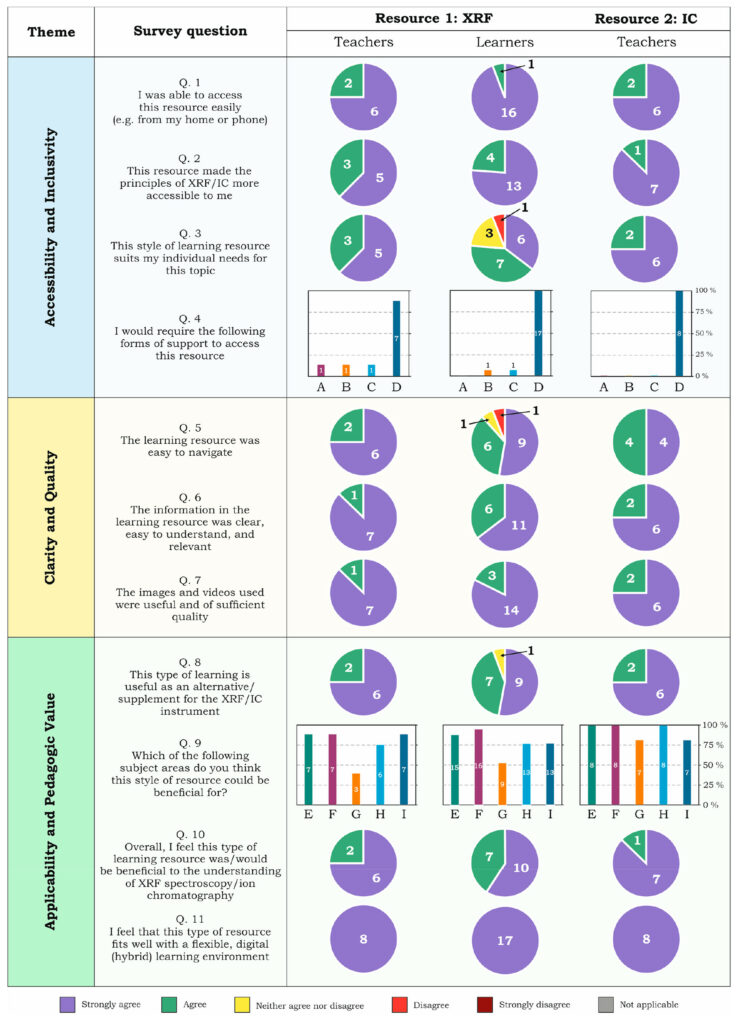 What are the advantages of virtual labs?
Improved resource management
Many of the main potential benefits of the ThingLink "virtual lab" learning resource can be described as efficient resource management
In many scientific fields, learning can rely heavily on hands-on access to extremely valuable instruments. However the purchase price and day-to-day running costs of these tools are high, meaning that sometimes there is just one single instrument available for students to use. In addition, high student numbers, limited laboratory space and limited staff time means that it can often be difficult to make the lab equipment available and accessible. Health and safety considerations can also mean that the instruments can't be used unsupervised, which again requires more staff. In addition there can be limited awareness of the adjustments required for learners with specific educational needs, as well as limited ability to provide them.
ThingLink goes some way to remove these issues, concludes Dr Jeffery. The asynchronous aspect of the ThingLink online labs means that more students are able to acquire skills with many of the valuable instruments found in physical laboratories in a far shorter period – saving both student and staff time, and keeping both students and valuable equipment safe. The virtual lab experience makes the instruments available for students to practice with at their own pace. As a result they will be more confident and competent when they carry out real-life laboratory experiments – leading to fewer costly and potentially dangerous mistakes. This method of online learning also opens up the lab space for many people who, for a wide range of reasons, are less able to access the real lab environment, but who nevertheless may have much to offer in their field.
"Users…highlighted their potential power to enhance accessibility and inclusivity, two themes that are recognized as vital for technology-based learning and are protected by the Equality Act in the U.K."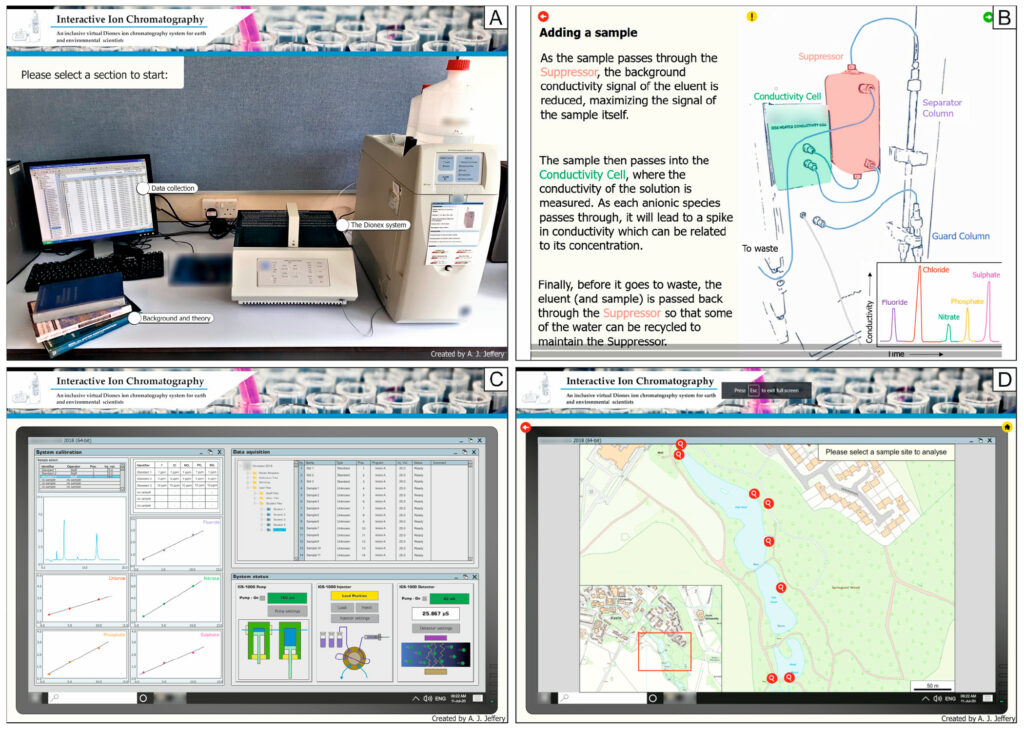 Time-effective resource creation
One concern that educators may have about virtual laboratories is the time, effort, and expertise they may need to create them. However Dr Jeffery points out in the paper that the ease of use of ThingLink means that "educators could create unique and bespoke viable virtual laboratory resources with little expertise or training." In fact he created the entire Ion Chromatography resource from scratch himself in 2 weeks, using basic equipment such as a smartphone for the images, and PowerPoint to create the slides. However, he stresses that the average HE teaching professional would be able to create similarly high-quality resources in ThingLink far more quickly using their existing teaching materials. "It's a user-friendly interface – so straightforward and easy to figure out" he says.
"Overall, one of the greatest strengths of the ThingLink platform is its simplicity and user-friendliness, allowing users to easily create and disseminate immersive, interactive learning materials with very little training time. This permits the creation of bespoke digital learning resources that adhere to modern principles of curriculum design and, on an institutional level, educational vision and strategy."
Tips for creating virtual labs
When sketching out your virtual science lab learning resources, Dr Jeffery suggests "Ask yourself – what can I build out of pictures and videos?". As the paper states:
"There are no constraints on the user other than their own creativity."
You can even think of the resource as a "Choose your own adventure" story (in fact Scenario Builder is the ThingLink version of this concept).
You could also add a link to a chat room function? Or an "emergency button" where students could email or message direct in real-time for help or with any questions.
What's Next?
Dr Jeffrey plans to use ThingLink's Scenario Builder for future versions of the science education resources. He also plans broader applicability – to encourage cross-institutional sharing and testing of resources
He will also be working with the Forensic Science Department at Keele who have already been using ThingLink to re-create crime scenes as virtual environments.
The future of virtual learning environments
The pandemic accelerated a growth of real-world practical applications of new technologies and platforms like ThingLink in creating virtual learning environments like these. In particular we have seen outstanding and award-winning examples in medicine, the life sciences and in technical education; our pick of the best case studies is below.
Meet a product expert
To learn more about using ThingLink to create e-learning experiences please schedule an online meeting with one of our product experts below.
Download this Case Study
Want to keep a copy of this case study? Need a version that you can share with colleagues? Complete the form below and we can email a PDF version straight to your inbox!