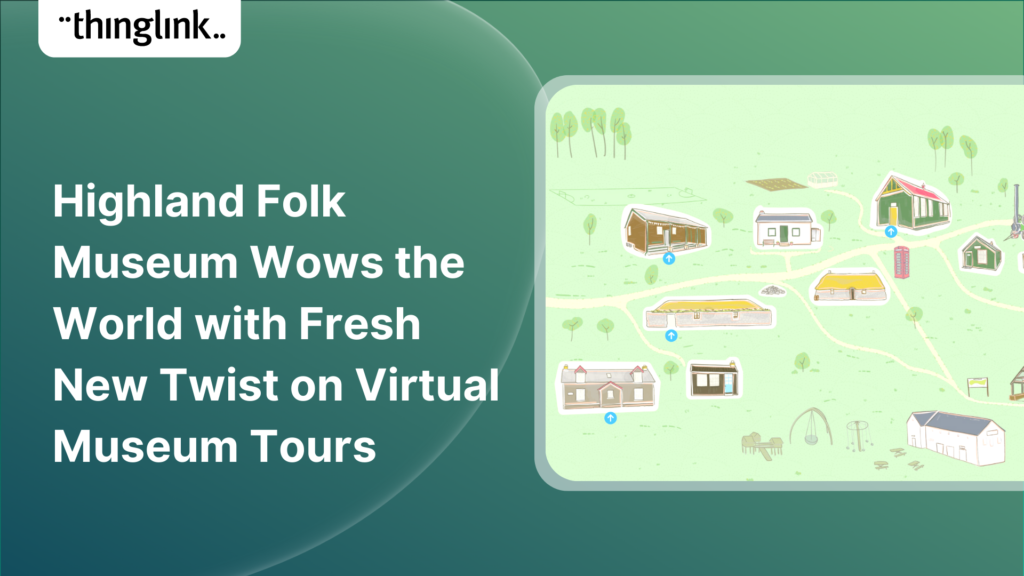 Highland Folk Museum Wows the World with Fresh New Twist on Virtual Museum Tours
Virtual museum exhibition puts historic artefacts in context for the first time.
The Highland Folk Museum in Scotland have created 5 virtual museum sites in ThingLink, in what we believe is the first project of its kind. They placed authentic historical objects from their own archive collections into the buildings which form part of their open air museum. They then created 360 virtual tours of each of the buildings in ThingLink, producing totally unique and fascinating interactive exhibits that anyone, anywhere in the world can enjoy year-round via this online museum tour. A great example showing the benefits of a virtual museum in practice.
Start creating your own virtual exhibition today!
To see just how easy it is to create a virtual exhibition or museum with immersive 360 images, start a free ThingLink trial today.
Mainland Britain's First Open Air Museum revolutionises the traditional museum concept
Museum pioneer Dr Isabel F. Grant founded the Highland Folk Museum in 1935 on the island of Iona, off the west coast of Scotland. She was inspired by European folk museums to create a "living museum", to save the way of life of the people of the Highlands and tell their story through a collection of artefacts. In 1939 the Highland Folk Museum moved to the mainland to the village of Laggan, and by June 1944 a longer-term home had been found in nearby Kingussie. Over the years the site was developed to incorporate three specially constructed replica buildings. In 1996 the Highland Folk Museum moved again to its current and permanent home, an eighty-acre site in neighbouring Newtonmore, where an open air, living history site was established. Costumed staff and over 30 historic buildings help to bring Highland history to life. The museum is recognised as mainland Britain's first open air museum.
A unique museum and collection
Since that time, the buildings together with Dr Grant's unique collection of everyday objects, tools and machinery have helped visitors understand the living and working conditions of the Highlands in the past. It is now run by High Life Highland, a public body which develops and promotes opportunities in culture, learning, sport, leisure, health and wellbeing throughout the whole of the Scottish Highland region, for both residents and visitors.
This site is divided into four main areas – Aultlarie Croft – a 1930s working farm; Balameanach (Middle Village) – the site of re-located heritage buildings; the Pinewoods; and 'Baile Gean' a unique re-construction of an early 1700s Highland Township.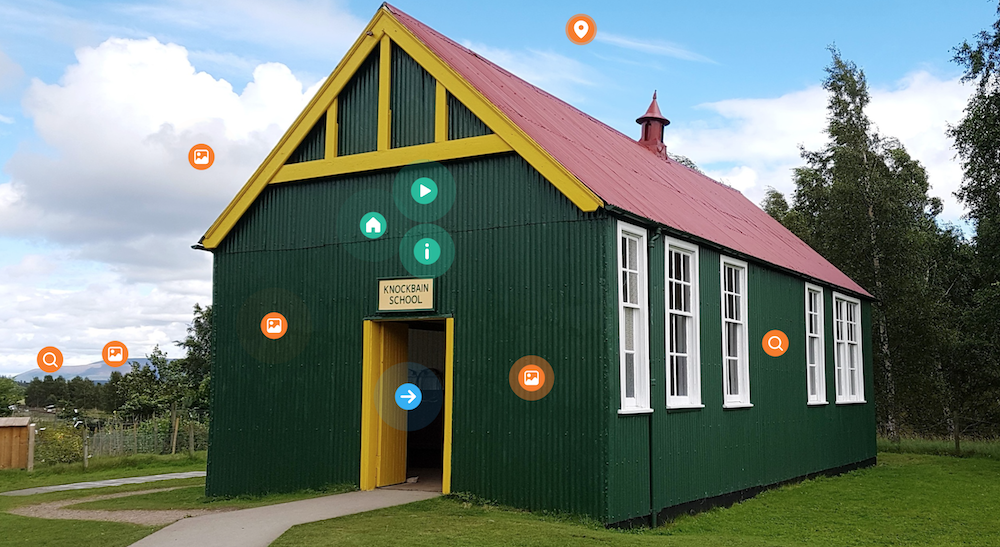 Recreating the past at a living museum
By moving between these four areas, visitors can discover how Highland people lived and worked from the 1700s to the 1950s. The recreations are considered so realistic that they have even been used in movies and TV series. The most famous of these was in the first series of the global hit series "Outlander" in 2014.
In 2013 a new purpose-built storage facility, 'Am Fasgadh' (Gaelic for 'the shelter') was completed and now houses over 10,000 archive items along with a conservation laboratory, research areas and library. Access to the collection is by appointment or guided tours by curatorial staff and volunteers. Many of the items would be unsuitable to live permanently inside the museum's historic buildings as they need to be kept in a dry, secure and stable environment to protect them for future generations. 
Virtual exhibition puts artefacts into context for the first time
Thanks to ThingLink, the museum is now able to showcase a selection of these unique objects in their natural setting. With the ThingLink tours, many of the objects were able to be presented in context for the first time, highlighting the stories that they tell about life in the past, and the people that made and used them. You can view all the tours on their explore web page here.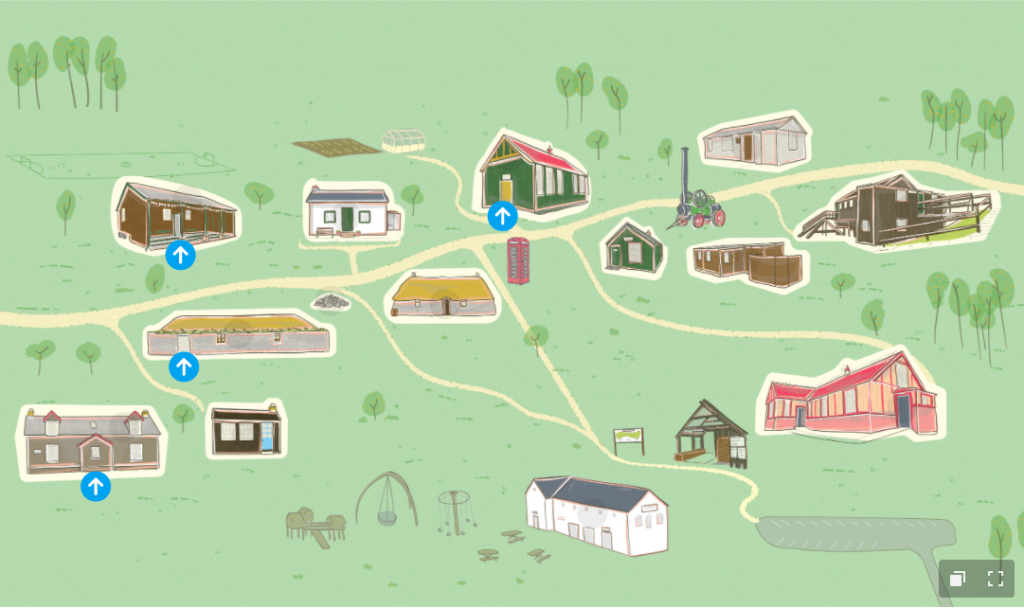 Open all hours thanks to new virtual exhibitions
In 2021, the museum decided that they would like to create virtual tours of some of the most important buildings on the site. Because the museum is open air, and because of its location in Highland Scotland, it is only ever open from April to October. Creating virtual tours would mean that the virtual museum could be open virtually all year round. It would also allow the team to place some of the artefacts in the buildings that they relate to.
They applied for and were granted funding from The Esmée Fairbairn Collections Fund, which funds projects that develop and achieve social impact, and is run by the Museums Association.
The team took five of the most significant buildings and created virtual tours in ThingLink of each. These are:
The Blackhouse: a traditional, thatched building based on the blackhouses from the Scottish west coast and Western Isles. This was one of the first buildings to be constructed at the Highland Folk Museum in the 1940s, under Isabel F. Grant's direction. The ThingLink tour contains crofting tools, vernacular furniture, items of clothing and other textiles.
Knockbain School: a prefabricated corrugated iron school building, originally located in Knockbain near Inverness. This tells the story of a small Highland school in the 1930s. It was moved to the museum after falling into disuse, and opened to visitors in 2000.
The Travellers' Summer Encampment. Constructed in 2018 under the instruction of Scottish Traveller Essie Stewart, who had spent much of her early life travelling with her family, and living in bough tents like this. For the virtual tour, the tent was furnished with objects that were made or used by Travellers and which help visitors learn about the crafts and trades that Scottish Travellers were known for, from silversmithing to horn-working, and pearl fishing to basketry.
Boleskine Shinty Pavilion. Built in 1930 near Loch Ness, the pavilion was at one point the home of Boleskine shinty team. The pavilion opened at the museum in 2013, and tells the story of the ball and stick game shinty, or camanachd, played in Scotland for around 2000 years. The ThingLink tour contains antique sticks, balls and clothing.
Lochanhully House is recreation of a 1950s Highland home originally built in 1922 around 20 miles from the museum. In 2013, it was dismantled and completely relocated to the museum site. In the ThingLink tour you can see vintage clothing from a bridal trousseau of the 1950s amongst other items that highlight mid-century life in the Highlands.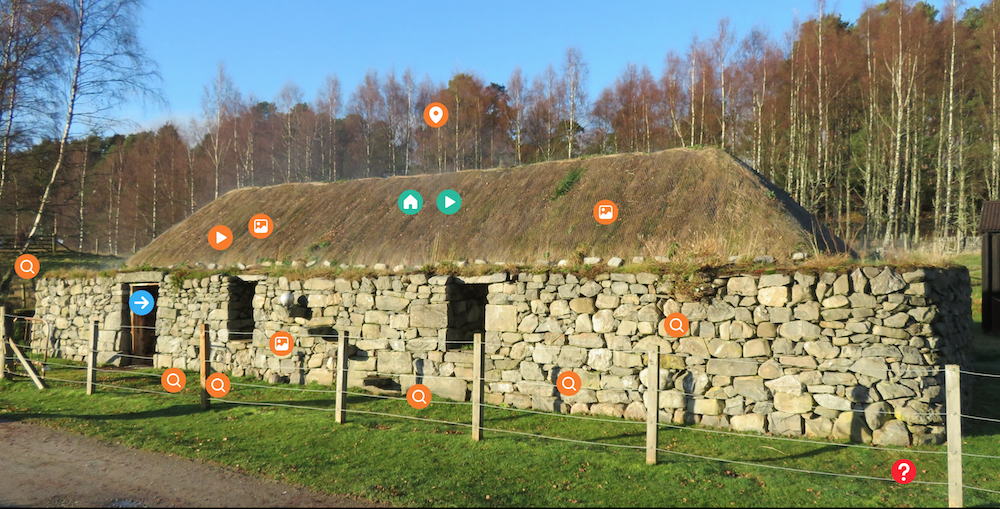 Come on in to the virtual museum!
Explore the full user experience here! Visitors access each building via maps of the different museum areas. By clicking on the building they would like to visit, they first reach an image of the physical museum building with multimedia content in a number of tags. They can then "enter" the building and look around the 360 tour. In some of the buildings you can move between rooms, each presented in 360 aspect. 
The museum team have used a particularly wide range of media types in their exhibition design including images, text, videos and even sounds, to create a rich background to each building and fully explain all the artefacts within. They have also included high quality 3D objects – created by AOC Archaeology Group and hosted on the Sketchfab platform. This includes a 3D model animation which shows the object (a tin lantern) opening and the flame on the candle burning, showing the full functionality of the object.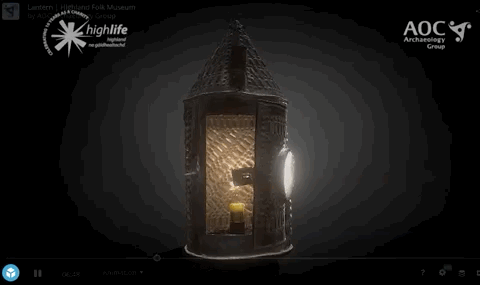 Some of the tags contain links to Am Baile, the High Life Highland online photographic archive of Highland history and culture. The archive is fully searchable from within the HFM ThingLink.
Dive deeper into historic collections and buildings
Project Officer Helen Pickles: "Virtual tours are a great way for us to present some of our most iconic buildings and collections. Each location can be enjoyed on different levels – online visitors might want to just have a quick browse and get a feel for the buildings, or for those who want to dive deeper and learn about the history and stories hidden within, there is plenty of information to read, watch and absorb.
"With these tours, we're able to present many of the original objects in context for the first time and highlight the stories that the objects tell about life in the past, and the people that made and used them."
NEW: Create your own 360 images with any smartphone
To help museums, galleries and schools create their own virtual tours, ThingLink launched Pano to 360 – a <strong>free </strong>tool to create 360 panospheres from panoramic photos. Convert your images for free and use in your own tour!
What are the benefits of virtual museum exhibits like this?
Helen adds: "The digital tours have been very positively received by our audiences far and wide. Regular visitors love being able to see their favourite buildings and collections up close, and are keen to return to the museum, and people who haven't been before are telling us they can't wait to come and visit in real life; it's made them curious. ThingLink has been the perfect way to present our unique buildings to an online audience."
High Life Highland Board Director and Vice Chairman Mark Tate adds: "Many of the items from the collection need to be kept in a dry, secure and stable environment but thanks to digital technology, we're now able to showcase some of these very special objects in the buildings where they once would have belonged."
Thanks: The creation of the ThingLink tours and other accompanying digital resources was made possible with funding from The Esmée Fairbairn Collections Fund, which funds projects that develop collections to achieve social impact, and is run by the Museums Association.
Looking for more help to design a virtual museum? Our case studies showcase examples of virtual museum, gallery or exhibitions created in ThingLink:
How do I create an online museum exhibit?
We've created a template for a 360 virtual museum or gallery using Canva and ThingLink. It includes a tutorial on how to create an interactive virtual gallery or online interactive exhibit with multimedia hotspots. Embed to your existing web pages, view in virtual reality (VR) mode or share on social media!
Download the Case Study
Want to keep a copy of this case study? Need a version that you can share with colleagues? Complete this quick form below and we can email a PDF version straight to your inbox!
Connect and engage with fellow creators
For more ideas, use cases and inspiration on content creation, join our communities on social media! Twitter / X ThingLink or ThingLink Education, LinkedIn Community and ThingLink Education Facebook Group.
Meet a product expert
If you'd like to learn more about what ThingLink can offer to your museum, gallery or heritage site, schedule an online meeting with one of our friendly product experts below.