How to Add Virtual Learning Environments into An Employee Training Program
Creating virtual learning environments for your employee training and development is a cost-effective way of fulfilling training needs at every stage. In this blog we examine how one Finnish organisation introduced Virtual Learning Environments using ThingLink to their employee training program.
A great example of a training program using virtual learning environments
Norelco is a Finnish manufacturer of electricity distribution systems. Founded in 1962, the family-owned company designs and manufactures systems for the energy sector, industry and construction. The company has 230 employees in three factories across Finland. Norelco's CEO Ari Hämäläinen has worked for the company for 33 years. He is also currently responsible for Norelco's ICT development.
Norelco wanted to invest in skills training and development programs for new hires. Their solution was a ThingLink online training environment created in collaboration with the University of Applied Sciences XAMK and the vocational school Samiedu. The learning environment includes videos presenting the work steps, key instructions for new skills and links to additional information.
Meet a product expert
To learn more about how ThingLink can help you create virtual learning environments, schedule an online meeting with one of our product experts.
What are the benefits of employee training?
Now, the learning environment is also used for in-person training and everyone benefits. The trainer can focus on supporting in problem situations, while the trainees can also rehearse the instructions independently. The virtual learning environment also benefits students in this field, who are able to familiarise themselves with the work steps and terminology whilst still studying, using the material via online learning.
Norelco's principles are that all products are developed and manufactured from the very beginning within the company. This guarantees their customers receive quality products. In addition, all operational information systems and software are designed in house.
The importance of continuous training for employees
The company culture at Norelco involves supporting the career advancement of employees by upskilling within the company. Employees can advance from an electrician's job to testing, designing, supervising or selling. This type of employee training means that as employees and supervisors become familiar with specific skills and competencies gained through their own experience, it is easier for them to understand the challenges that arise in other tasks.
Norelco has invested in employee training and on-the-job hands-on learning. The onboarding for new electricians is supported by the provision of mentoring by job counselors who familiarize employees with new tasks and help in problem situations. The company runs several training courses each year for career changers who have no previous experience in the electricity industry. In the past this has required job counselors to go through the materials and work steps in courses face-to-face with these learners.
Face-to-face training has its advantages when, for example, new employees can easily ask for help. With a large number of participants in the group however, face-to-face training brings also challenges. In a large group, it has been difficult to ensure that all new employees see and hear the work steps accurately. It can also be difficult for employees to remember the steps and see the materials if the work methods are not shown several times. In addition, not everyone may have been able to attend training situations. According to Ari, the heterogeneity of the training has been a challenge, as it has not been possible to guarantee the same skills to everyone during the trainings. Each trainee has done the electrical installations slightly differently during the onboarding process – depending on how the job counselor has advised them. The work methods have then needed to be corrected with follow-up training during the on-the-job learning period.
The advantages of a training program using a virtual learning environment
As a solution, Norelco switched to training that combines the best of digital and on-site training methods. During the course, the job counselor and career changers will continue to meet on the spot, allowing the tutor to show the work steps, advise in problematic situations and answer questions. The learning is supported by the ThingLink learning environment, which contains basic information related to the professional skills of an electrician. With the help of digital training material, the work is easy to start. The learning environment includes videos that introduce you to the installer's job and the different work steps. In addition, tags include descriptive texts, links to more information and, for example, pictures of the manual pages referenced in the videos.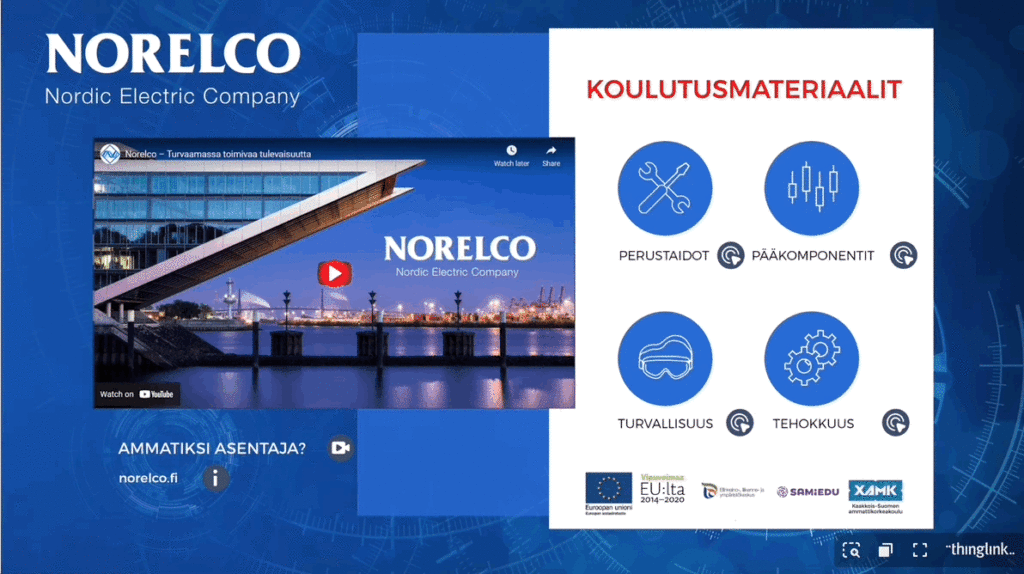 Ari states that Norelco already had training videos in place before ThingLink, but it was difficult to share them smoothly. Norelco also has a large number of its own technical guidelines, which were laborious to go through. With ThingLink, relevant information can be conveniently gathered in one place and structured meaningfully with tags next to the videos. More information is available via links, as well as, for example paper instruction booklets – depending on what is most convenient in everyday work.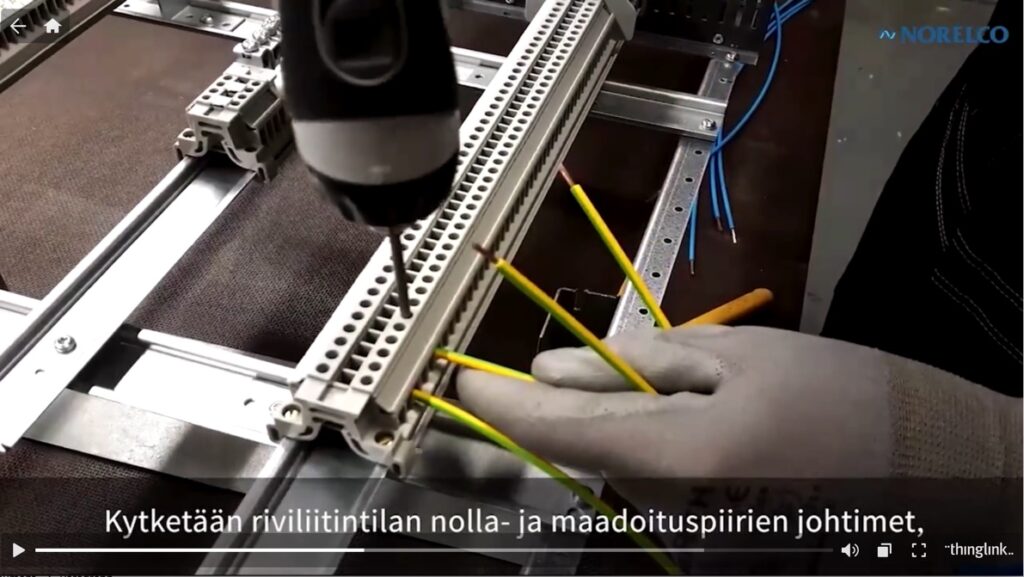 The end result is user-friendly, clear and comprehensive. Relevant information is gathered in one place, and its clear structure facilitates learning. The materials make it easy for employees to rehearse work steps and instructions. Ari states that this has increased the quality of training and harmonized working methods – now the right method for technical skills are learned correctly first time.
"The learning environment allows you to start learning a profession faster than before, when the material can be viewed even when the instructor is not present. The initial learning curve is steeper than before."

Ari Hämäläinen, Norelco
An elearning environment for career changers and students
The users of the learning environment are both Norelco team members and Samiedu vocational school students. At Norelco, there are 3 courses per year for career changers, with about 7 participants each time. In addition to these 21 career changers, the learning environment serves approximately 20 apprentices each year. Plus the material provides a learning opportunity for any employee who wants to review a particular work step quickly and easily. Every year, the learning environment facilitates the work of at least 40-50 employees.
The training materials have been created in collaboration with the University of Applied Sciences XAMK and the Vocational School Samiedu. In addition to Ari, materials have been created by Jarkko Paappanen, head of Norelco's education department, Petteri Aleksejev from Samiedu and Mari Rasku from XAMK. The cooperation has served both the schools and working life. The shared educational materials serve as a bridge between school and work for Samiedu students. This can be seen in the fact that the terminology used by electricity companies becomes familiar to electricity students already at the study stage.
Effective employee training and positive feedback
The ThingLink learning environment has been used by Norelco and vocational school students since late fall 2021 and the feedback has been positive. The creation of the learning materials was straightforward and the ThingLink platform provided the ability to log in, which was paramount for security.
Employees and students have liked the materials and found the environment easy to use. They have also appreciated the visual look of the learning environment and the clarity of progress. Next, Norelco will focus on implementing new training materials by job counselors. In the coming years, the virtual learning environment will make the daily lives of both job counselors and trainees easier.
Create an employee training plan for your own team training
Virtual learning environments like the one created at Norelco are ideal for creating safety training simulations which can be used to teach new skills or initiatives as well as for CPD or compliance training.
This type of training is also ideal for practising soft skills such as decision making, leadership training and communication skills. When delivered as a group exercise they are ideal for team-building. This blog gives a great example of how this was used for nursing students. And in this blog we look at five types of online employee training materials created in ThingLink.
Meet a product expert
If you'd like to learn more about what ThingLink can offer to your company, you can schedule an online meeting with one of our product experts below.