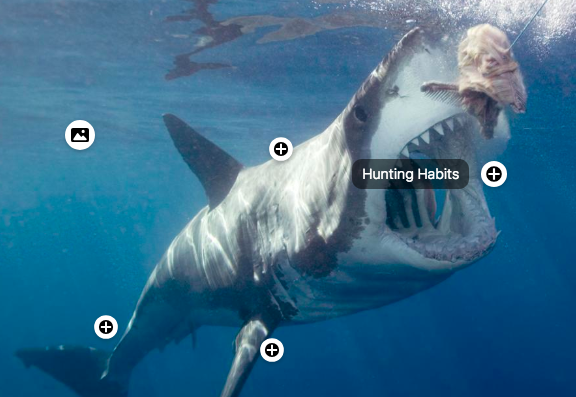 ThingLink Tip: Use GIFs to bring your images to life!
Animated GIFs provide an easy way to bring tags to life and add that extra "wow factor" to your interactive images and 360 images.  GIFs are also an effective way to communicate information, or show a product or feature in action without relying on video content.  Not sure how to make GIFs?  You can easily create your own gifs with services like Quicktime Screen Recorder &  Makeagif.com.  Continue reading to see four use cases of GIFs being used in ThingLinks. 
1) Meet the Great White Shark:  GIFs in this interactive image features the shark in it's natural habitat 
2) Interactive 360 product marketing:  each hotspot reveals a GIF of this complex machine in action 
3) Interactive data visualization: each tag features the results of a research report through GIFs
4) Interactive Infographic: the base image of this ThingLink is a GIF
---

Want to learn more?
 Click to schedule a 20min screen share demo with me at a time of your choice to learn how to use GIFs in creating interactive ThingLinks. Or, email me directly 
andrew@thinglink.com
. 
{{cta('f3903730-8051-4ca2-8c48-4716245ce78e','justifycenter')}}