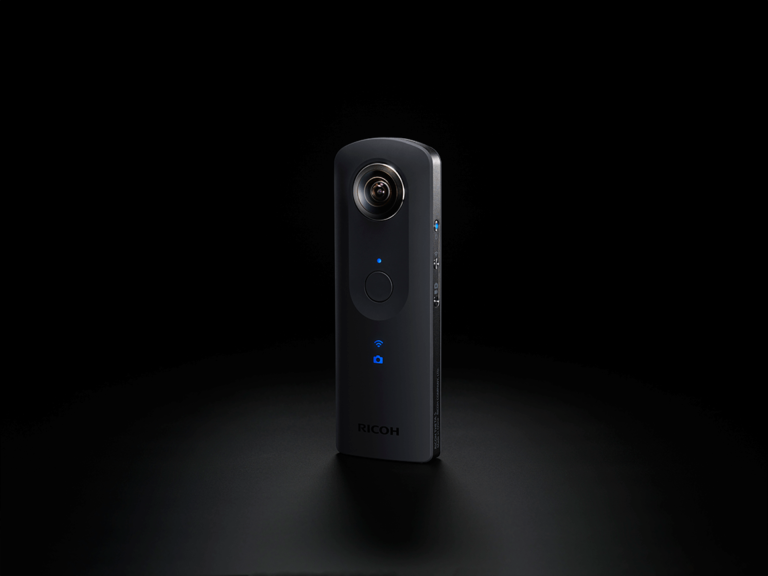 How To: Ricoh Theta S 360° Camera & ThingLink
360° photography does not require stitching software, photoshop, and a thousand dollar rig. Many ThingLink users prefer to use the Ricoh Theta S to easily create their own high quality 360° images.  Learn how to go from photoshoot to finished product with the Ricoh Theta S and these three steps. 
Step 1: Taking the Photo
Make sure your camera is on with the 1st button on the side of the camera. Use the third button to select camera mode; the camera on the front will light up blue.
Using either your hand or a Theta selfie stick, hold up the camera as high as you can and press the center button to take your picture.  
via digitalcameraHQ
If you need help capturing the image there are many videos on YouTube for tips/best practices for using this camera. 
Step 2: Transferring the Photo from Camera to ThingLink
Transfer via Cable
Transferring photos with your Ricoh Theta S is very similar to any other camera. Connect your camera and computer with the provided USB cable. On a Mac, open up Photos and import your images there. On a PC, select "open device to view files."
Now it's time to head to ThingLink. Log in to your Premium level account and select the Create tab in the top navigation bar. Click the Upload Panoramic Image 360° button and select the 360° image file from the browser.
Transfer via Smartphone
Can't find your cord? Use your smart phone instead. On your camera, press the middle wireless button to turn the wireless function on. On your device, head to the wi-fi settings and select your camera. When the phone and camera are connected the wireless icon will be blue on the camera.
Open the Ricoh Theta S app and select 'Camera', then 'Select.' Choose the images you'd like to transfer, then tap 'Transfer.' The selected images will be saved in your camera role. You can now transfer them to your computer as email attachments. 
Step 3: Tagging the Photo
You'll be taken straight to the editor where you can begin adding tags! Click and drag to view your whole image in the editor. Use the add tag button to add image, video, embed, and transition tags. Watch this 1:30 minute video for an overview of the tagging and sharing process. 
---
With the Ricoh Theta S and ThingLink, creating interactive, immersive 360 experiences is as easy as pressing a button. Learn more about our Premium plans that include 360° and how to get started creating your own.
{{cta('d0955c0f-2c25-4c44-b765-27286bb9b0b3')}}
---