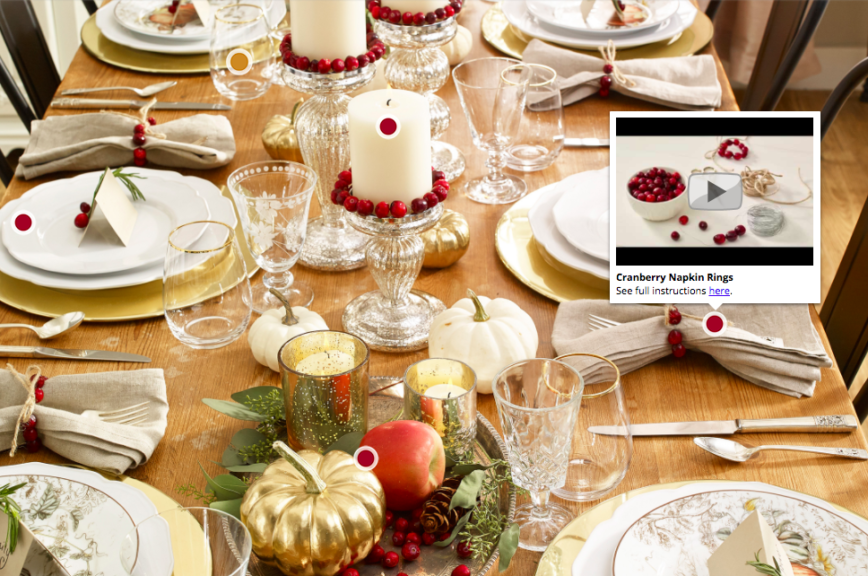 5 Engaging Holiday Campaign Ideas from ThingLink
With Thanksgiving and Christmas right around the corner I want to provide you with five unique and engaging ways to incorporate interactive media into holiday marketing campaigns. These five use cases will include images, video and 360/VR images and click the links to view them embedded live. 
1) Thanksgiving table spread from Ocean Spray: This Thanksgiving Ocean Spray's goal was to provide their customers with an interactive experience that details the three pivotal aspects of hosting a Thanksgiving dinner 1) Setting the scene 2) Mastering the menu and 3) First time host essentials. Click to explore on Ocean Spray. 
2) Interactive holiday map of Madrid from Marriott Spain: Using this interactive map guests of the hotel can view a guided tour of festive locations to visit throughout Madrid during the holidays.  Hover over the festive light hotspots to reveal pictures of these locations. Click to explore on Marriott. 
3) 360/VR Holiday greeting card: 
Use our 360/VR editor to provide your viewers with a fun holiday card or virtual tour.  ThingLink 360 images can be viewed in any mobile VR headset so it is a great way to market to your tech-savvy viewers.  Click to explore live. 
4) Shoppable unboxing video from University of Michigan: 
Last Christmas University of Michigan used ThingLink to create a shoppable unboxing video where fans can purchase the various products that are observed in the video. Clicking on the hotspots will take fans to the products landing page.  Click to explore live. 
5) Interactive holiday timeline from Coca-Cola: 
Across generations, Coca-Cola has been synonymous with the holiday season. Find out more about this rich history with the interactive timeline creating with ThingLink below. From the iconic Coca-Cola Christmas truck to the much-loved Coca-Cola Santa Claus and polar bear adverts, hover over the hotspots to unlock interesting articles, videos and fun facts. Click to explore on Coca-Cola.
---

Want to learn more? Click to schedule a 20min screen share demo with me at a time of your choice to learn how to create interactive content for the Holiday season this year. Or, email me directly andrew@thinglink.com. 
{{cta('f3903730-8051-4ca2-8c48-4716245ce78e','justifycenter')}}