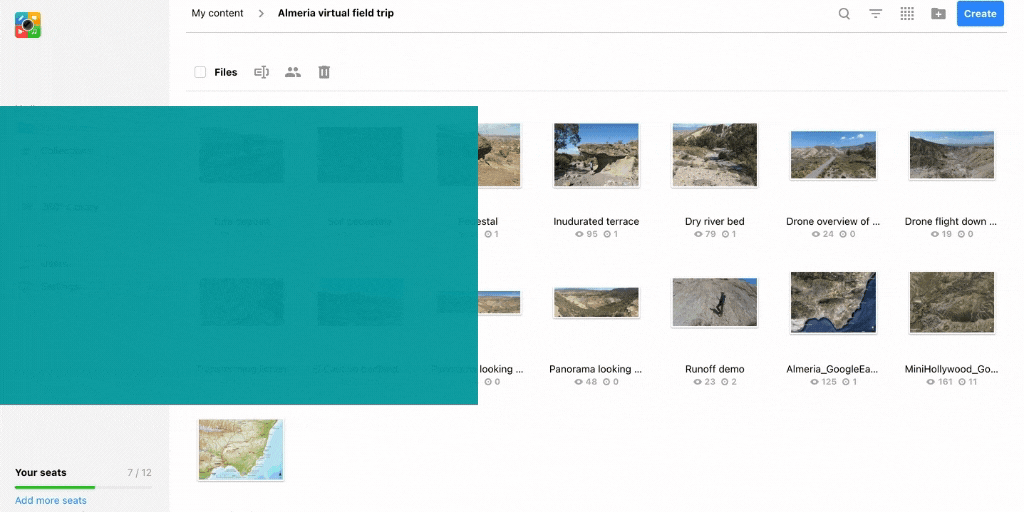 NEW! ThingLink Saimaa – a next level user interface for streamlined content management of interactive media (updated 2021)
February 22, 2021 – ThingLink Saimaa Interface Update In 2021 people are adopting new solutions for online learning and publishing at a faster rate than ever. At ThingLink, the increased demand shows up as a 50% increase in new monthly signups.  Over 100,000 new users login to ThingLink every month to create engaging visual experiences for their students, employees or customers. For many, ThingLink has become a home for hundreds, even thousands of interactive media. Our new interface offers them improved options for arranging and managing this content.
Save time and simplify your interactive media with ThingLink Saimaa
The ThingLink Saimaa interface has been designed to support the creation and management of large amounts of interactive media. It introduces several features that simplify routine tasks, saving time and effort in the creation process. These include:
A Stunning 360° Image Library

Streamlined upload and Content management

Improved folders

Improved user management

Reworked groups

New School account features: Forms & Modules.

To learn more about the School account, contact us here. 
1) New Expeditions: ThingLink Releases a Stunning 360° Image Library
Now available in ThingLink Saimaa – our 360° Image Library is a curated collection of professional 360° images from culturally relevant natural and historic sites. You can use the images to build immersive learning experiences and to travel virtually across the world.  Watch the video below or view this blog post to learn more!
2) Streamlined upload and content management of interactive media
The first functional change is a reworked uploading process, which we've striven to make as easy and as fast as possible. It features:
a) Microsoft One Drive and Google Drive upload options:  link up your cloud storage to ThingLink for easier uploading or when content doesn't live on your hard drive.   We are working on integrations to offer free images (Unsplash) and design options before adding hotspots (Canva).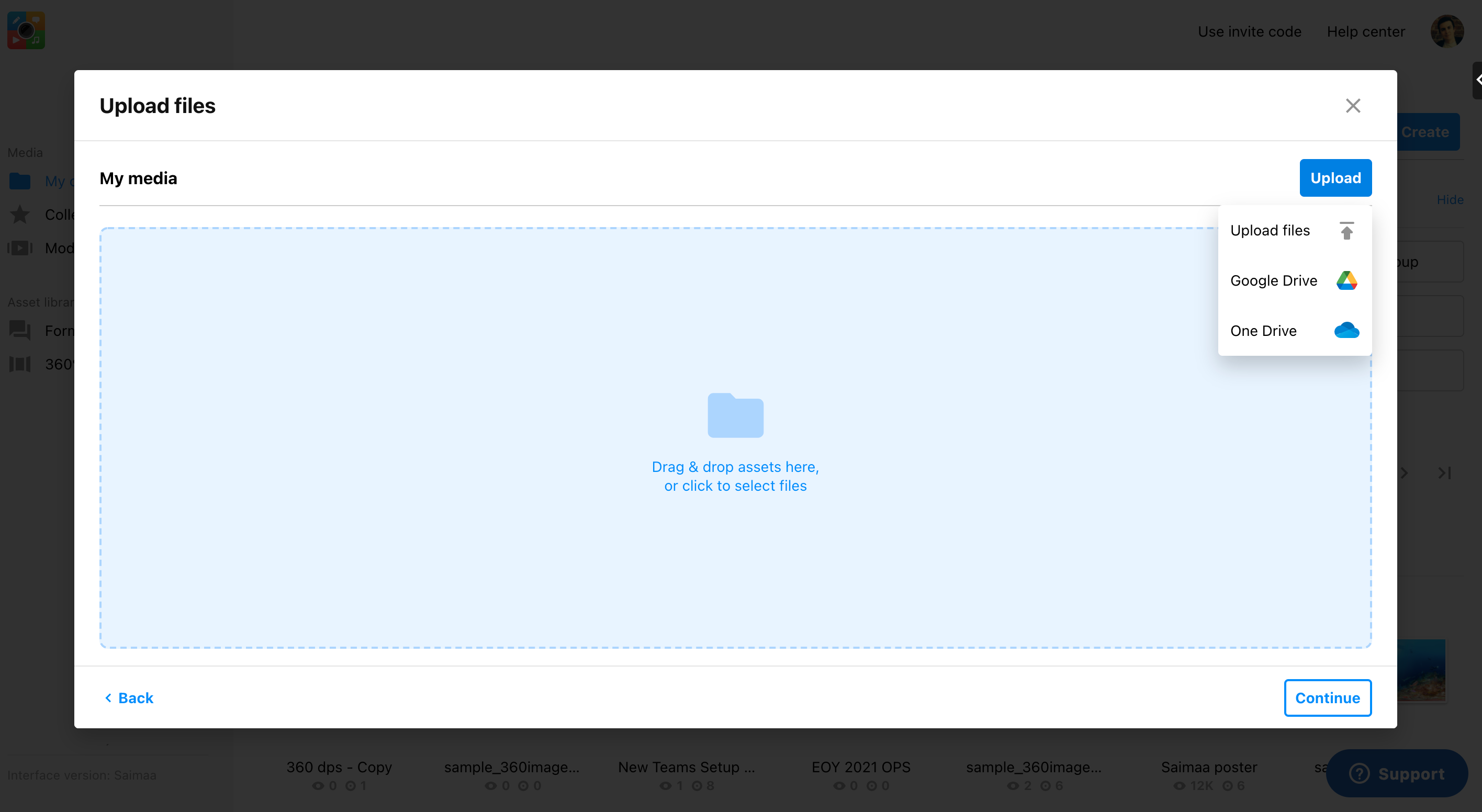 b)  Bulk upload: You can now upload multiple items at the same time. Simply click 'Upload file' and select all files you'd like to upload: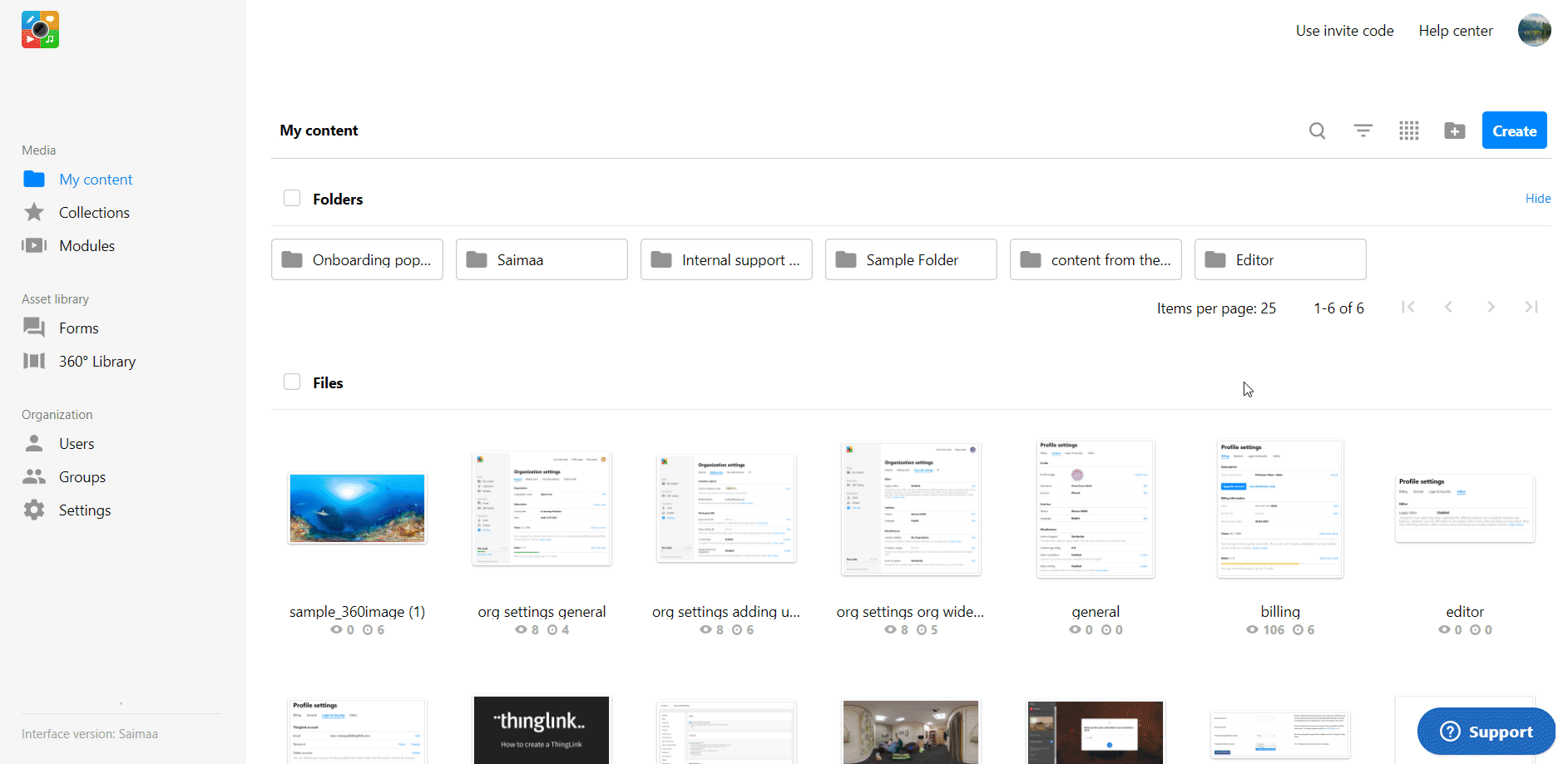 c)  Automatic media type detection: Once you've selected your files, we will determine media type automatically based on your upload specifications.  You no longer need to choose the media type prior to uploading.
d) Upload files directly into folders: It's now possible to upload files directly into a folder.
e) Other bulk actions: The previous improvements go hand-in-hand with another major update; you are now able to select multiple files (or all files within a folder) and carry out bulk actions, such as changing privacy settings, deleting your media or moving it into a folder.  We expect these changes to save you a lot of time, especially if you are using ThingLink for creating virtual tours, courses or other projects that include large amounts of images and videos.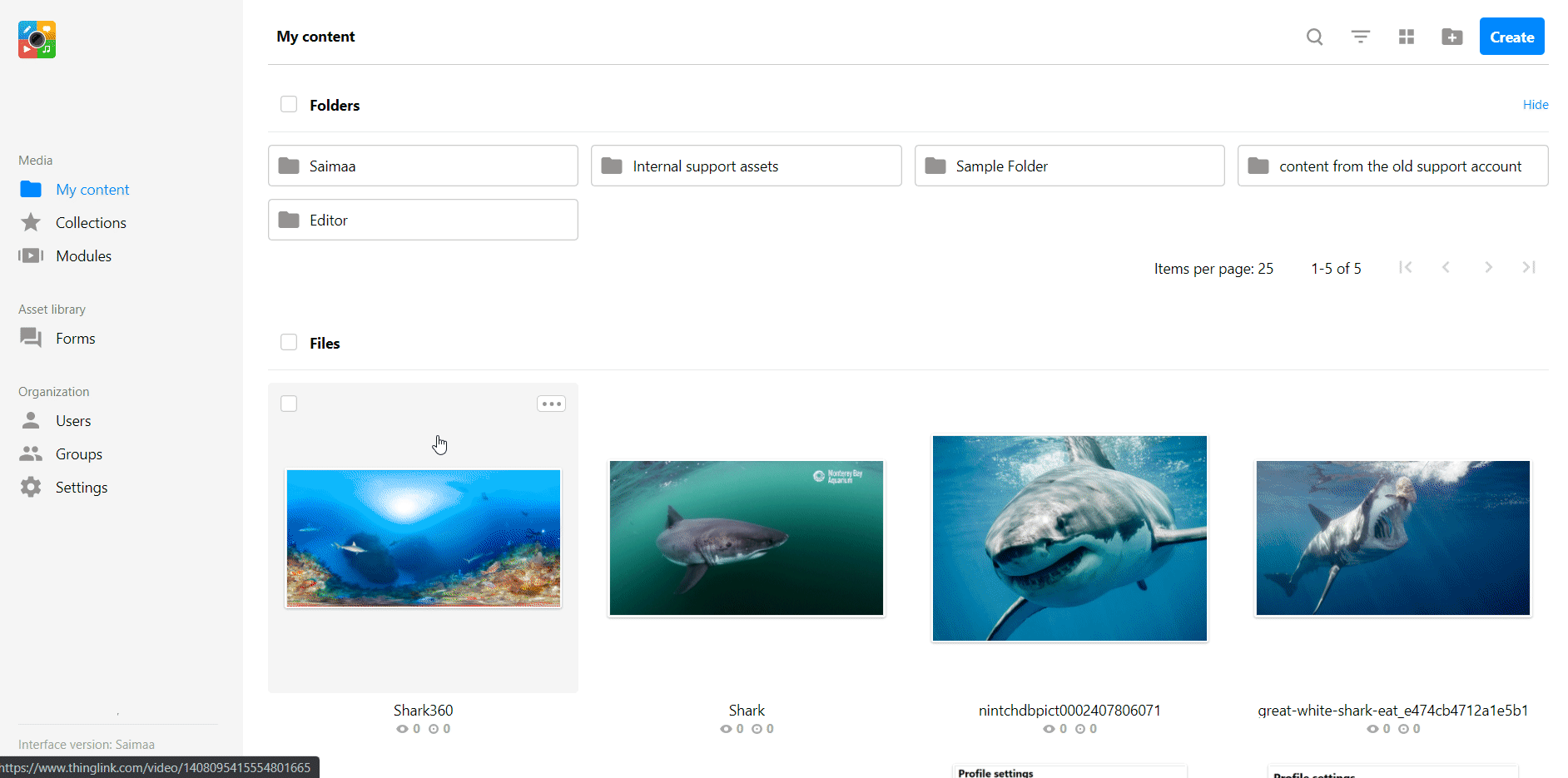 f)  QR code sharing: A small update introducing a new quick way to share interactive experiences instead of sharing an image link or URL. Automatic QR code generation in the sharing dialog also makes it faster to create interactive media tours in physical locations such as factories, schools, museums and galleries!

3) Improved folders for your interactive media
Over the last year we saw a major increase in folder usage and addressed the feedback in this release.  Saimaa brings four key updates to those who use folders for collaborating with colleagues, students and peers:
a)  Simplified access settings: All settings related to accessing folders are now displayed within one menu.  From here, you can share the folder with selected individuals, the whole organization, or specific groups – more on that below.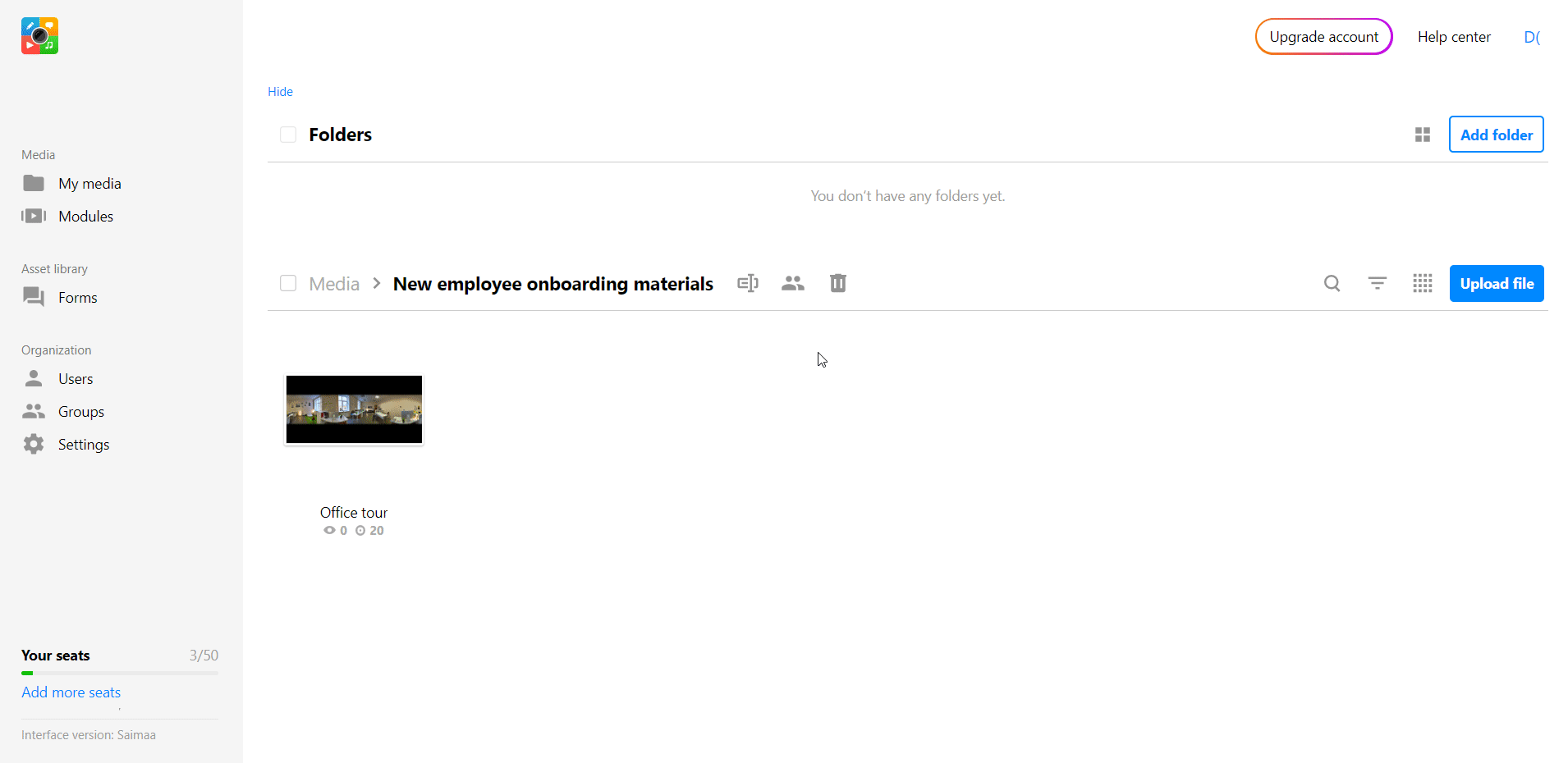 b)  View-only access: You can now permit users in your organization to view a folder and all its content without giving editing rights.
c)  Subfolders: You can create folders within folders. This makes it easy to organize images into sets and manage collaboration with colleagues throughout the creation process.
d) Improved sharing options for Classroom and School accounts : All plans that include shared folders will now be able to share them with specific users or groups. This means that the feature is also available on Premium Classroom and Premium team accounts.
4) Updated user management 
With more large organisations using ThingLink to create interactive media, we are introducing two important updates for account owners and administrators.
a) Bulk user management: You can now select multiple users and perform bulk actions, such as deleting multiple student accounts at once (e.g. if you need to remove all students from last year). In addition, we added a few filters to help you find the users you need.  Email invitations for Marketing & Editorial and eLearning accounts have been simplified and improved. Furthermore, both account types have access to new ways to add users. You can now assign or revoke admin rights with a single action.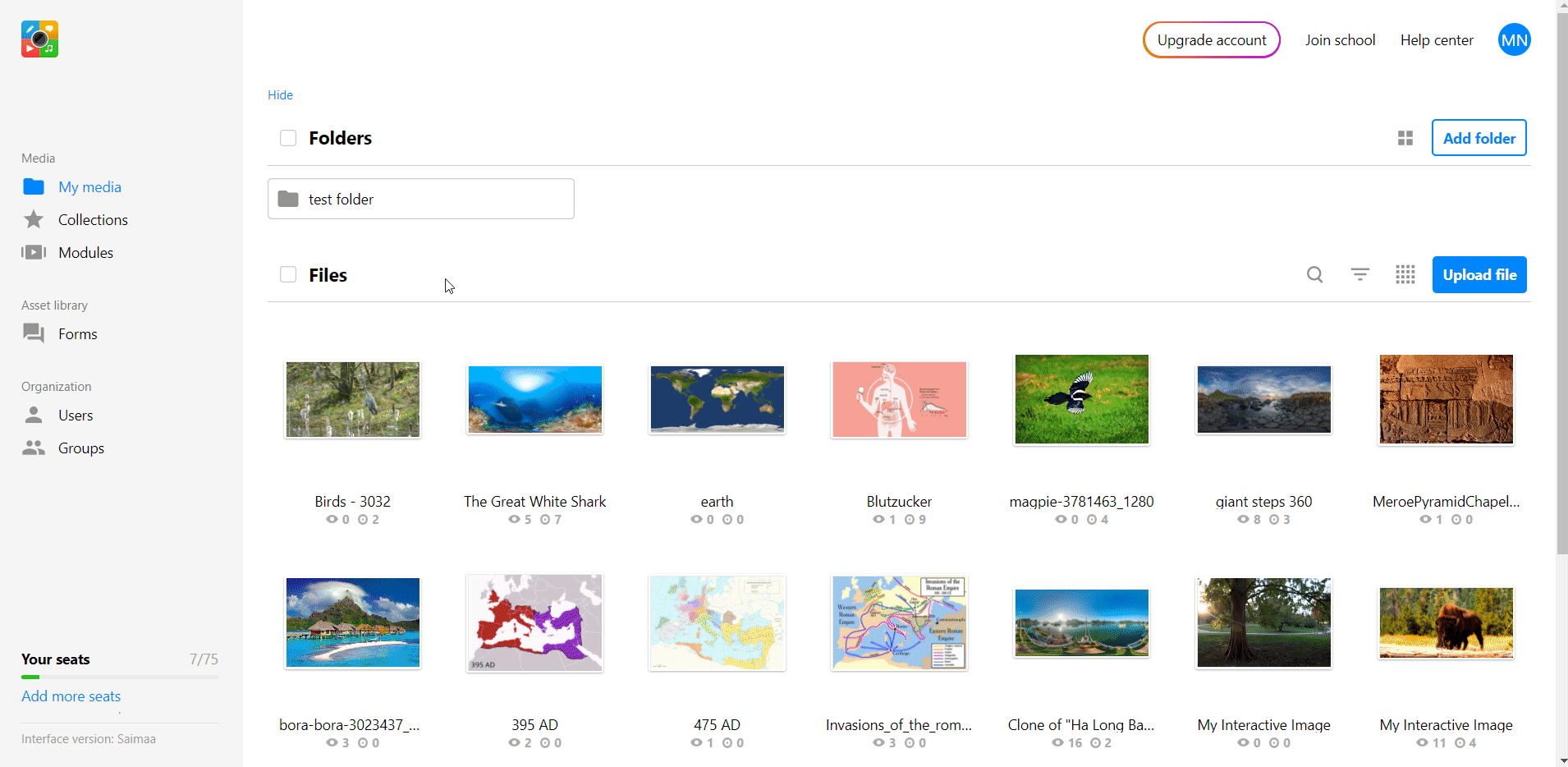 b)  New organization settings: We reworked organization settings to make sure that they are easier to navigate. Furthermore, there are two new organization-level settings: "Editor version" and  "Default editor language".
5

) Reworked groups
In addition to improving user management, we also made it easier to manage Groups. These feature updates include the ability to:
a)  Assign a group-level access permission to  folders: You are now able to give access rights to folders for all members of a group.
b)  Easier controls for adding existing users to groups: There is now a simpler way for adding existing users to groups. This works similarly to how you would add users to folders in the current interface: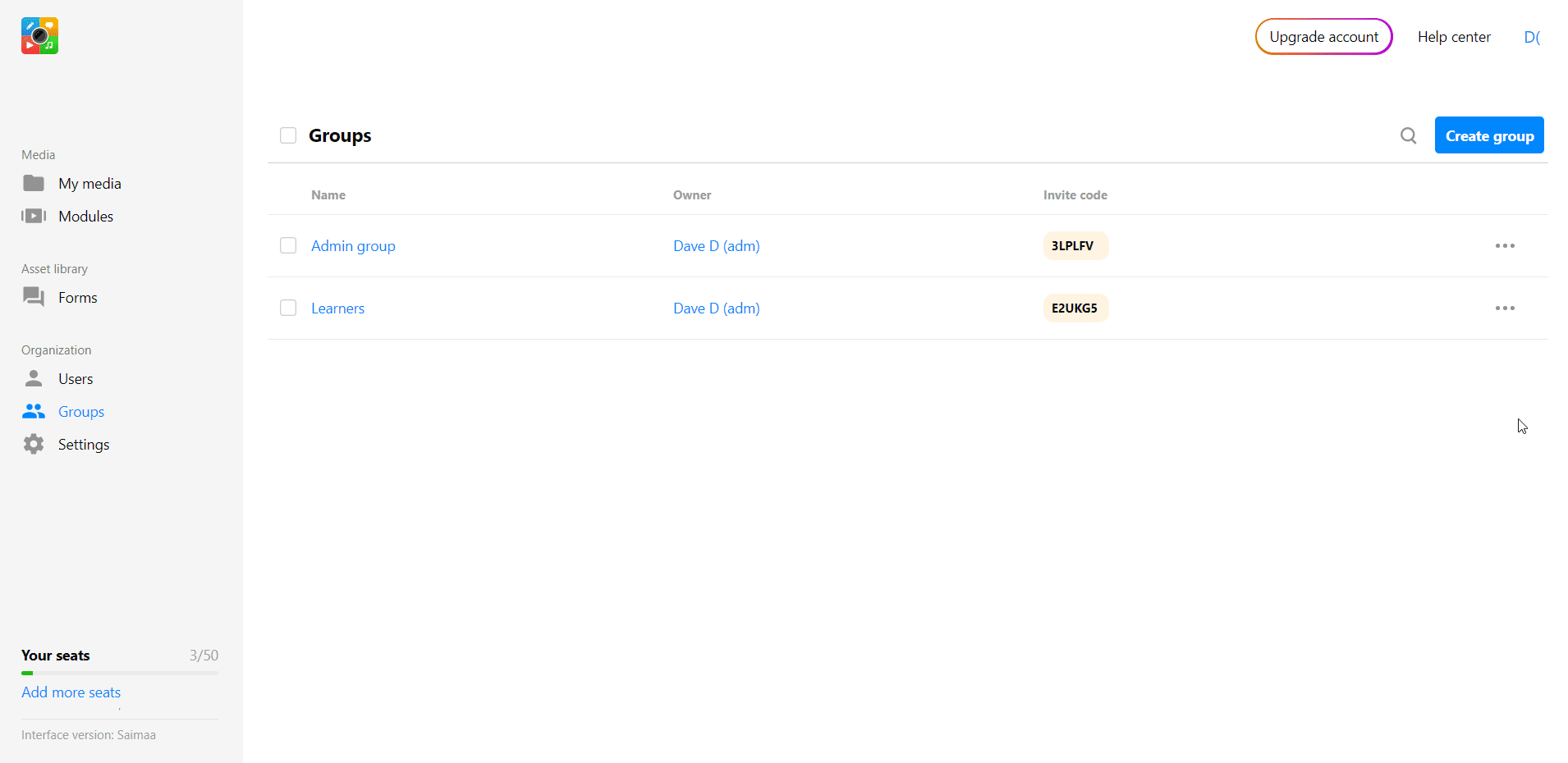 c)  Easier way to join organizations with existing accounts: The prompt to join an organization (or a group) is now permanently visible on the top navigation bar of Saimaa.
! DEPRECATED FEATURES !
Features that are no longer supported in the new interface:
Courses and Projects on Classroom accounts
Collections
Going forward, we will focus on supporting deeper integrations with LMS so that ThingLink images, videos and modules can be directly embedded to courses on 3rd party platforms. Note however that if you have created courses and projects on ThingLink, they will remain accessible in the old interface. Also existing collections will remain accessible, but you won't be able to create new collections.
What happens to the previous interface?  It's good to remember the ThingLink Saimaa interface does not impact the core editing experience on ThingLink. Most feature updates concern user and content management. There are no immediate plans to deprecate the interface you are currently using, and we will  keep you updated on the schedule for permanently transitioning to the new interface. Both interfaces will continue to have documentation in our support center.  
---
Our team hopes you enjoy using ThingLink Saimaa! If you have any questions about the new features or account types, please get in touch here or email support@thinglink.com