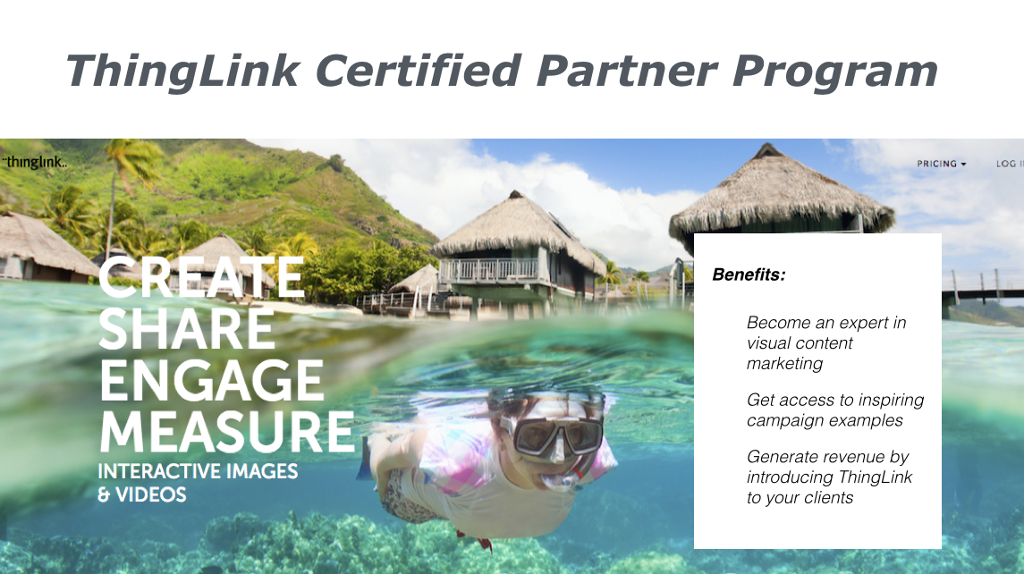 ThingLink Launches Certified Partner Program for Marketing Professionals
We are excited to announce a globally available Certified Partner Program targeted to marketing professionals in the digital media space. Our Certified Partner program offers training for consultants and agencies in visual content marketing using interactive images and video. The program features a commission structure that offers Certified Partners up to 20 percent commission for new client revenue.
After launching our self-service accounts, we have had numerous requests from potential resellers who would like to use or promote ThingLink to their clients. Marketers from all over the world have expressed interest in learning more about the possibilities of interactive media and how it can help them improve performing visual marketing for clients.
ThingLink's Certified Partner Program answers to this request. It serves consultants and agencies working in
– social media
– graphic design
– product marketing and education
– affiliate marketing
– video advertising
– PR
Once a prospect has signed up to become a ThingLink Certified Partner,  they get a personal promo code that can be used by Certified Partner's clients as they register to ThingLink. Each new partner will receive a dedicated product training, access to a large pool of interactive campaign examples, as well as support for campaign planning and third party integrations.
In order to promote ThingLink's business subscriptions to clients, a Certified Partner must hold ThingLink's Whitelabel, Premium, or Corporate account.  These subscriptions equip media professionals from freelancers and designers to marketing managers and assistants to independently create custom visuals with several actionable links that travel with the image/video content across the web.
ThingLink's Certified Partner Program rewards consultants and agencies for signing up their clients to paid accounts. A Certified Partner can receive up to 20% commission for new client revenue. The partner agreement is evaluated and renewed yearly.
Key features of ThingLink's Certified Partner Program include:
1) Dedicated training: ThingLink's on-demand partner training grows Certified Partners' expertise in visual content marketing. 
2) Resources and inspiration: Access to a large pool of campaign examples, case studies and webinars on optimizing online presence with interactive media. 
3) Generous commissions:
Partners can earn up to 20% on new client revenue for new clients revenue they will bring in. 
Press inquiries: press@thinglink.com
###
About ThingLink
Founded in 2010, ThingLink brings a new dimension to visual media by enabling digital content creators to annotate and track images and videos with actionable web links. Nearly two million publishers, brands, bloggers, and educators in 190 countries use ThingLink to optimize their online performance with interactive images and video. For more information visit ThingLink.com.