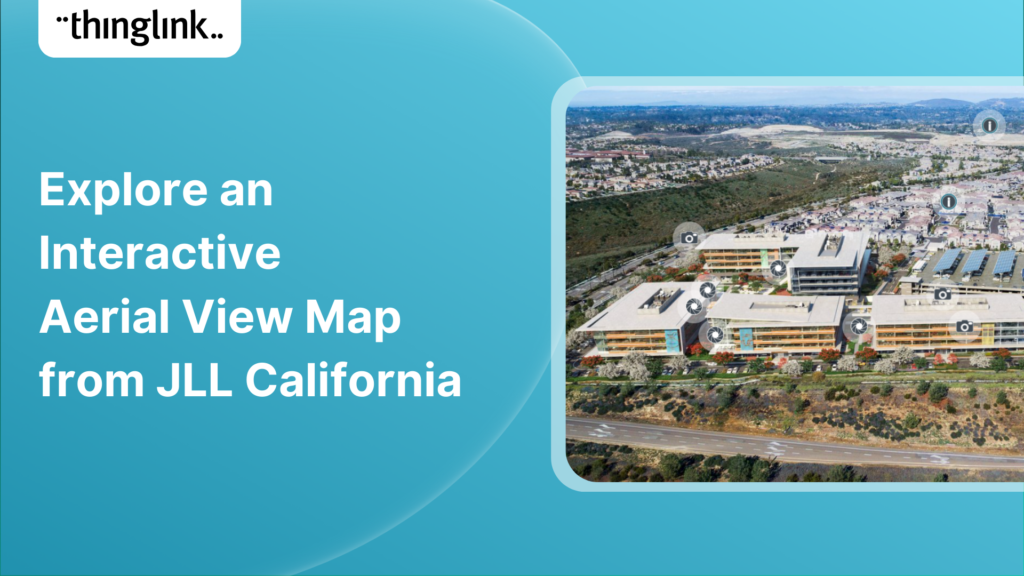 Explore an Interactive Aerial View Map from JLL California
Making maps and aerial views actionable with interactive hotspots is one of the top use cases amongst all ThingLink user segments. Maps are especially conducive to interactive elements because they require you to label or explain specific geographical locations with information that would be challenging to implement into the map design.
JLL
JLL is a global real estate services company, founded in the United Kingdom with offices in 80 countries. They are ranked 190 on the Fortune 500.
Using icons and ThingLink hotspots, JLL California elegantly provides an interactive tour of their office campus and surrounding area without disrupting the visual nature of the map.  Using interactive content provides a more visual and engaging experience on landing pages that will keep your viewers spending time on the page longer. 
Meet a product expert
If you'd like to learn more about what ThingLink can offer to your company, you can schedule an online meeting with one of our product experts below.
In the first example, embed tags contain 360 images showing the proposed design of the buildings and areas. The middle and bottom examples show two different approaches to aerial maps used by JLL to provide more detail on specific buildings.
Aperture Del Mar Office Campus
Custom Icons
Custom icons are a popular feature amongst ThingLink users because they allow the author to give visual prompts to their viewers in an intuitive manor. JLL California uses custom icons to preview the tag content:
1) info icons: open tags that contain pictures, text and a call to action button.
2) camera icon: open tags that include primarily pictures.
3) camera shutter icon: open tags that contain 360° scenes previewing the outdoor courtyards.
4) Route 56 icon: labels a prominent highway appearing in the map.
Text Label Tags to annotate your map
If you don't need images or a lot of text included in your tag, use the text label layout to create a simple text label that appears on hover, as in the middle and bottom maps. This can be used for labeling maps, infographics, breaking down complex objects, or key points of information you can use to tell viewers what is happening within your image.
Further reading and ideas
Join our active groups and communities on social media for more inspiration:
Or follow our YouTube channel for tutorials!
Start creating today!
To start creating your own interactive maps, infographics, images and other content, start a free ThingLink trial today!