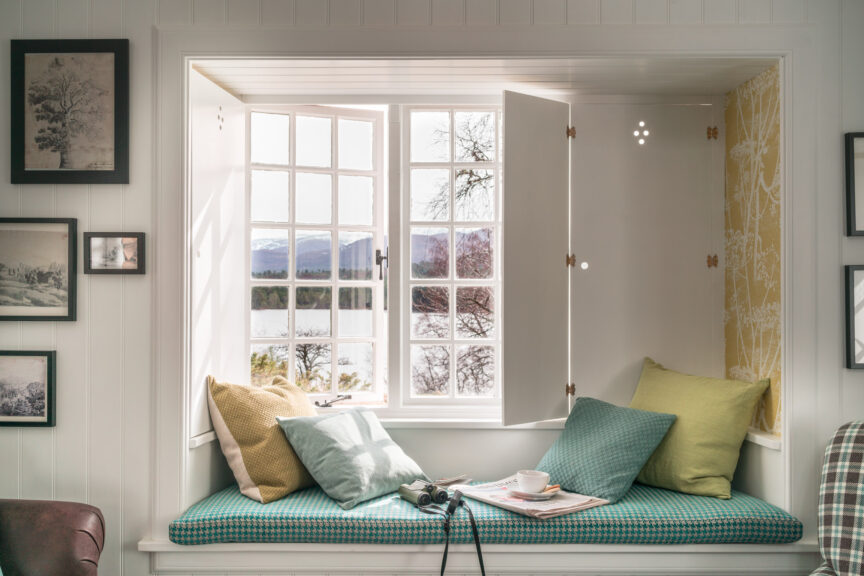 Case study: Virtual tours help hospitality industry to train staff and provide a better guest experience
Luxury holiday accommodation brand Hidden Highland Retreats used ThingLink to create 360 tours to improve their website and service experience as well as train their staff. A virtual introduction of the property has improved communication with customers, saved time,  cut down on errors, and helped cross-sell their services across properties.
Hidden Highland Retreats are a small team who manage a portfolio of luxury heritage properties on one of the most well-known estates in the Scottish Highlands, Rothiemurchus. The ancient estate encompasses forest, mountains, rivers and lochs (lakes), working farmland and a number of outdoor activities including clay shooting, horse riding, tennis, archery, fishing and a high ropes course. There is a cafe and farm shop on site which stocks meat from the farm and much more. In 2016 the first self-catered property, Loch an Eilein Cottage, was renovated and was an instant success. Hidden Highland Retreats have restored one property a year since – each a luxury refurbishment of a heritage building with a rich history.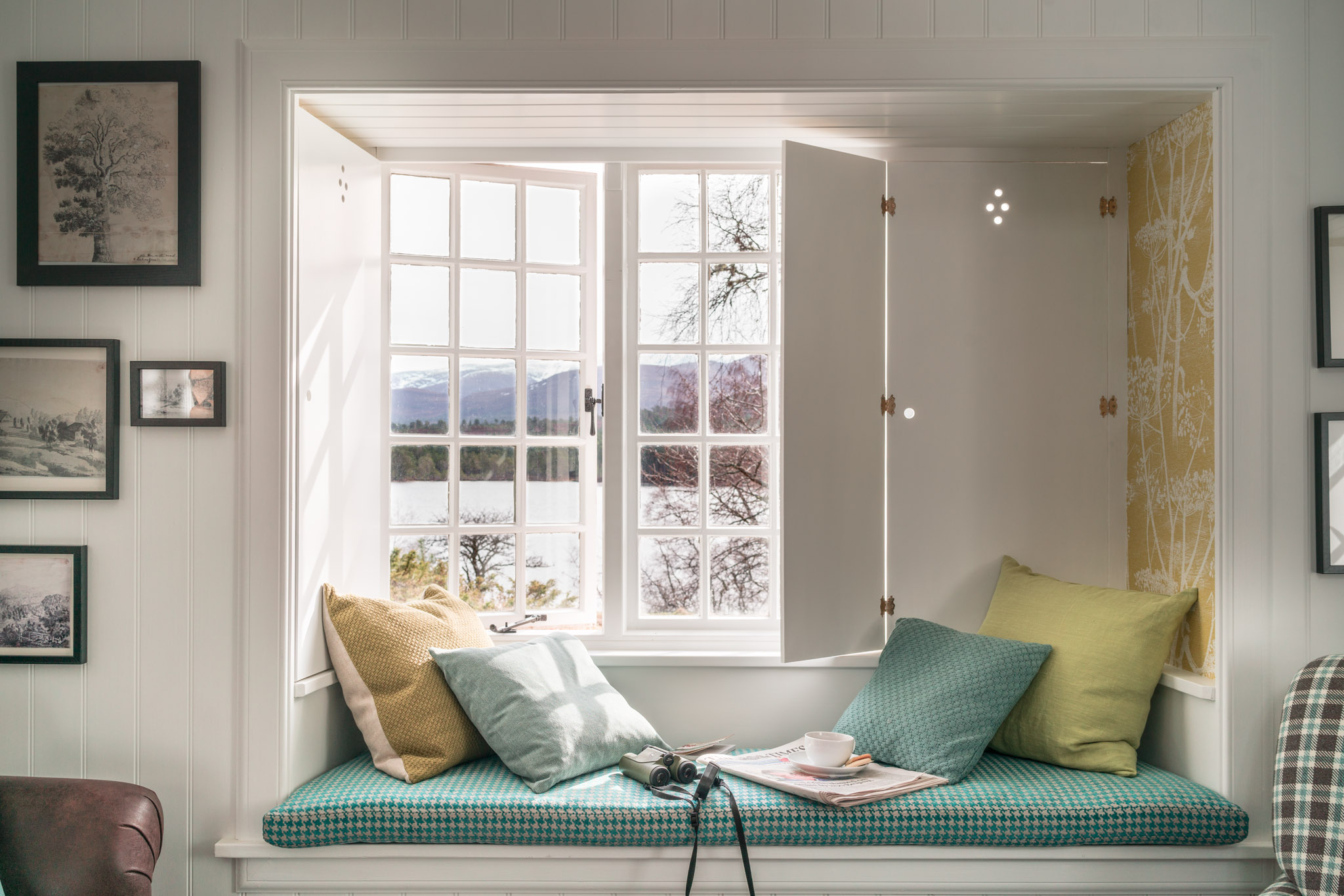 Step one: Improving the website experience
The website features professional photography of each property, as well as detailed descriptions and floor plans. But the team found that some potential guests still found it difficult to visualise layouts, and appreciated an immersive tour to give them a feel of staying at each unique property.  Also embedded in the tags are some inspiring videos promoting the estate and the Cairngorms National Park to visitors from all over the world, including drone footage of the 14th century castle which sits on its own island in the middle of the lake – which can only otherwise be accessed by swimming or canoe! On a more practical note, tags in the ThingLinks contain lists of what is provided at each property. The tours are embedded in the home page. 
Adding cross selling opportunities
The team also wanted to be able to use the tours to cross-sell the activities on the estate,  and items featured in the properties that are available to buy from the Farm Shop. So the bathroom scenes for example contain text and media tags detailing the bath and shower products with a link to the Farm Shop web page. There are also tags which link to the activity booking page where guests can directly book a fly fishing lesson or pony trekking for their children, without having to leave the ThingLink or the properties website.
The team wanted to be able to provide guests with an easy way to navigate their way between properties, so they simply designed a "front page" to their ThingLink in Canva, which serves a double purpose in a very straightforward way. Firstly it provides a map of the estate, with each property and each of the main activities on site. Secondly, it provides clear and concise instructions in one sentence on how to navigate the ThingLink, in case a user is unfamiliar with the interface.
Step two: Creating additional resources for staff and guests with clever cloning 
The team realized that they could provide even more detailed content in two additional versions of the tour, by cloning the original scenes. One tour is used for staff training and another for guests who have booked. 
Staff: Smooth learning processes
The original ThingLinks of each property show each room laid out ready for a guest's arrival. So the team cloned each ThingLink and adapted it to contain tags with information for cleaning and maintenance staff, with how-to's included. For example, the fire is shown as it should always be laid ready for arrival, and reminders are provided in text and media tags to refill consumables, including optimal quantities, such as tea, coffee, sugar and bathroom products.
"As our portfolio grows, we are taking on more housekeeping staff, each of whom needs to learn quickly how we expect the house to be prepared for our guests, to a very high standard. Using ThingLink to provide an introduction and overview of the property before their first visit has saved us so much time. It has also cut down on errors and items being missed as housekeeping staff can check the 360s of the rooms." Hidden Highland Retreats
Guests: Better service experience at arrival
Guests appreciate knowing where to find things and how to operate them as soon as they arrive. To provide a stress-free arrival process for guests and to save time, the ops team have now created a third private ThingLink tour (accessed with a password) which contains useful information such as log-ins and instructions for all appliances. Previously, the team found that many guests were not reading the information folders (provided in hard copy in each property) before phoning for assistance – which was time-consuming and frustrating for all concerned. 
Providing a "virtual key box" for imminent arrivals means that guests can familiarise themselves with the locations and operation of various aspects of the houses, giving them more time to enjoy their holiday from the get-go, and an overall more relaxing and positive experience.
Example of virtual key box for guests (password is loch)
"Having trialled the "virtual key box" for a number of guests in some of our properties, we've received really positive feedback. Guests tell us they liked being able to double check things before packing their bags and setting off. We now plan to roll it out to all of the properties by the end of this summer," they say.
"The stats also show that guests are opening the tags that contain all the information they will need and which answer some of the most common questions we receive. They know that we are at the end of the phone if they need us, It's just an additional way of making our guests feel more comfortable and well-prepared for their holiday. A comfortable guest is a happy one – and more likely to make a repeat booking!"
If you want your content to fulfil multiple purposes across marketing, operations and guest services – ThingLink it!
Want to create content like this? Hidden Highland Retreats have a Premium Team Plan (Marketing and Communications), in which three content creators can create and edit content.
Facebook ThingLink Education | Finland | Italia | Espana | Israel | India 
Twitter ThingLink | ThingLink Education 
Please don't hesitate to get in touch with us at info@thinglink.com 
Want to keep a copy? A PDF Version of this Case Study can be found here.