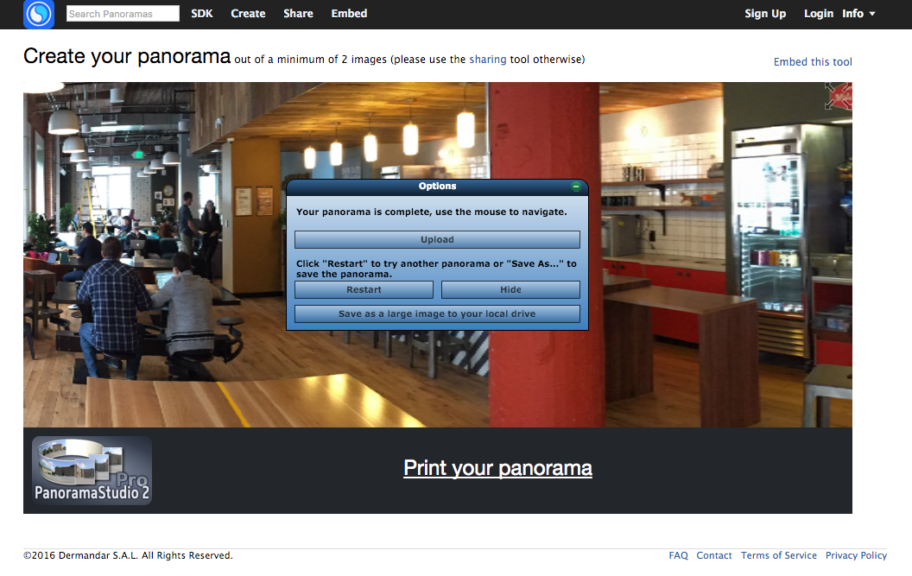 ThingLink tags now support 360° panorama images – how to create an interactive floor plan in 15 minutes
We are happy to announce that ThingLink rich media tags now support 360° panorama images. Check out this cool example created by Studio3D in Sweden:
The new tag type was built by Dermandar, a Lebanese company specialized in digital image technologies. Here's how you can use it for creating an interactive floor plan with embedded immersive experiences of each room.
Step 1: Create panorama images for free on Dermandar.com
Go to Dermandar.com and log in. On the create page, select at least 2 images from your computer and upload them to Dermandar for free. Dermandar stitches the images together all on it's own and in a couple of seconds, they've created a 360° virtual tour for you. Use the options button to upload your panorama to your account.
Step 2: Create an interactive image on ThingLink.com
Dermandar will provide you with a link that looks something like this: http://pnr.ma/aupvah Replace "pnr.ma" with "www.dermandar.com/p" to make it www.dermandar.com/p/aupvah. On ThingLink, upload your background floorplan and use this link in the ThingLink editor to annotate.
Check out the tour we made of the WeWork office space in San Francisco:
image credit: San Francisco Business Times

With 15 minutes, an iPhone, Dermandar, and ThingLink, this interactive virtual tour came together easily. Finish up by sharing your creation with the provided embed code. 
What's in it for real estate agents?
In 2016, there is no shortage of online real estate listings. Buyers expect not only the basic stats but to get the full experience of your listing without leaving their seat. New 360° tags distinguish your listings by letting potential buyers explore the property as if they were there. (Try using the fullscreen option within the tag to look even closer.)
By combining a 3D floor plan and 360° panoramas, a real estate professional can take control of the experience by combining the necessary facts of a floor plan with the immersive experience of the 360° tour.
The most exciting aspect of using ThingLink and Dermandar together is that creating an interactive floor plan with 360° images is now very fast and requires no advanced photo editing skills or hardware.  Though for professional use, we'd recommend a nicer camera, but for quick productions, iPhone works just fine too.
---
Want to learn more about incorporating 360° panoramas into your tags? 
{{cta('563d44a4-7424-4b73-a8fe-6185c7cc3ccc')}}