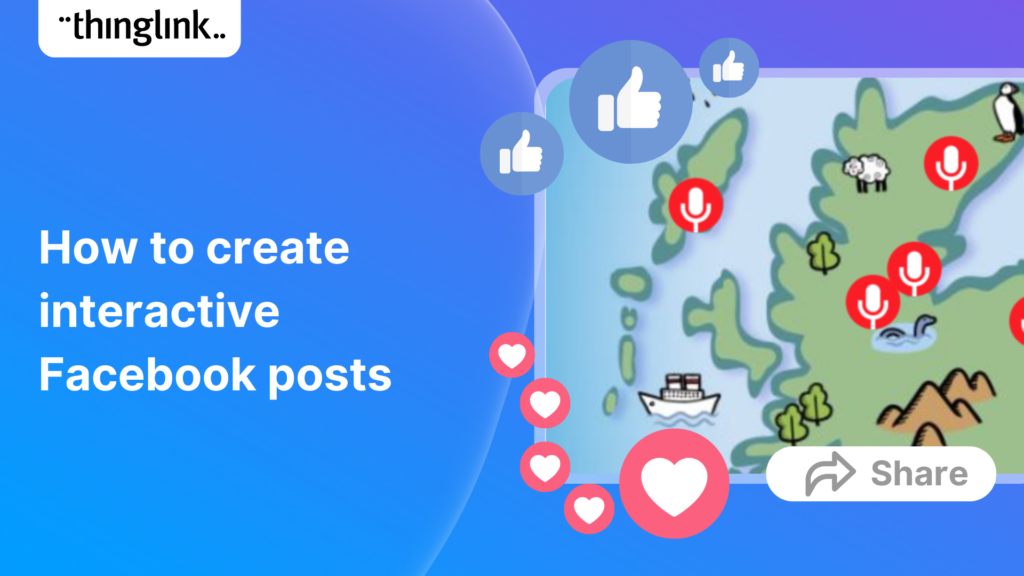 How to Create Interactive Facebook Posts for Businesses
As a business owner who is already using a digital marketing strategy, you'll know that social media is an excellent way to reach new customers and grow your brand. Despite a growing number of rival platforms, Facebook remains ones of the most popular social media channels across the board. For this reason it really should form a part of your social media strategy – which in turn should be just one part of your wider content strategy. But what's the best way to stand out with Facebook marketing, where users are constantly scrolling through their newsfeeds?
One effective way to grab attention and keep people engaged on any of the social media platforms is by creating interactive social media posts for your business page or facebook group. Whether it's a poll, quiz, or contest, these types of posts encourage users to stop and take notice of your content. And when done right, they can be a fun and easy way to learn more about your target audience.
Book a free consultation
If you'd like to learn more about how your company can save resources and effectively support employees with impactful training and interactive marketing content, schedule a free call with one of our transformation consultants.
So how do you create an interactive post that will actually get results and boost engagement? Keep reading for our tips on crafting facebook posts that will engage your fans, optimize your facebook content and help grow your business.
1. What makes an interactive post successful on Facebook
Running a successful Facebook page or group requires more than just posting social media content regularly. An interactive post can increase engagement and, ultimately, lead to better metrics for your page. So, what makes an interactive post successful on Facebook? First, it's important to consider the platform itself. Facebook allows for multiple types of interaction, from liking and sharing to commenting and tagging friends. The core of an interactive post, then, is creating something that prompts users to take one or more of these actions.
This could be a call-to-action in the post itself, such as asking followers to share their own experiences related to the topic, or including shareable visuals like images and videos. Another component in creating successful interactive posts is understanding your audience's interests and preferences. Tailoring content specifically for them will encourage greater levels of engagement and participation. Ultimately, an interactive Facebook post stands out from others by prompting user interaction and being specifically tailored towards the interests of your audience. By following these guidelines, you can improve the success of your posts and see positive results in your page's metrics.
---
Case Study: When a Facebook post goes viral thanks to interactive content
Create links in your posts to interactive content that your users will want to explore and share, like this interactive map created in ThingLink, below by a regional newspaper. Embedded in the interactive map are audio clips of people speaking in the various regional Scottish dialects and accent The content was so engaging that the post went viral and was seen by 130,000 people in the first 10 weeks. The post performed well each of the 4 times it was shared. The most recent share on Facebook performed 26x better than the Press and Journal's average Facebook post for likes, shares and comments. Read the full case study of how this was created and the incredible viral results here!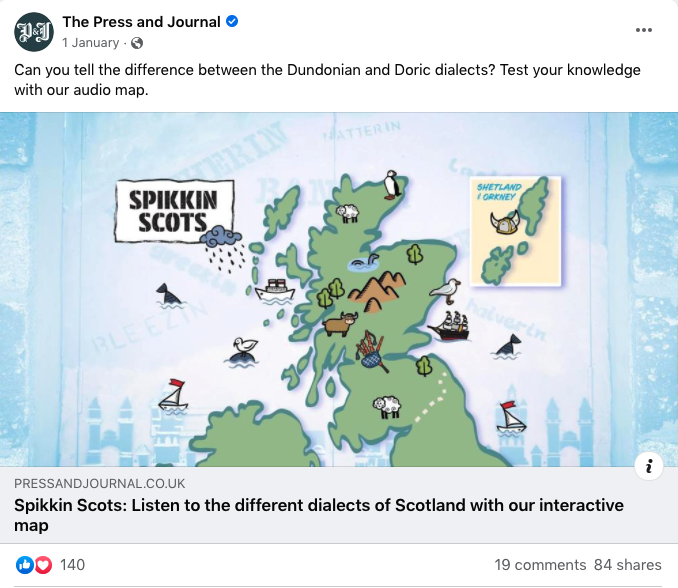 ---
2. Types of content that work best for interactivity
In the world of social media marketing, Facebook engagement is a highly sought-after goal. When it comes to driving interaction on the platform, certain types of content tend to perform better than others. Engaging posts, such as questions or polls, are great for encouraging comments and sparking discussion. Additionally, visually-appealing and interactive content, like live video content and 360 photos, can grab the attention of users scrolling through their newsfeeds. Of course, every audience is different and it's important to experiment with various types of content to see what resonates best with your followers. Ultimately, finding unique ways to engage your audience on Facebook can help drive interactions and strengthen your social media presence.
What about the algorithm?
As most users are aware, Facebook's algorithm determines which posts appear in a person's news feed. While the algorithm is constantly being updated, its main goal is to show users content that is relevant and engaging to them. This means that the more a user interacts with a certain type of post (e.g. liking and commenting on friends' photos), the more likely they are to see similar content in their feed. Understanding how this algorithm works can be helpful for businesses and individuals looking to increase their visibility on the platform. For example, using popular keywords or hashtags in a post can boost its reach, as can utilizing video or live streaming features. However, it's important to remember that ultimately, creating engaging and relevant content is key to getting your posts seen by your target audience on Facebook.
3. How to design an interactive post
When crafting a facebook post, it's important to keep in mind that interactive content tends to perform better. This can mean including kind of content such as infographics or user-generated content in the form of testimonials. It's also helpful to include eye-catching visuals and connect to trending topics, as these will help draw attention to your post. Keep in mind that social media users have short attention spans, so aim for posts that are engaging and easily digestible. By putting in the effort to design an interactive facebook post, you can increase the chances of driving engagement and achieving your desired outcome.
Ideally you want to create a post that will be shared, so why not create interactive content that will really wow your audience?
4. Tips for creating engaging and compelling questions
As everyone knows, questions can be a great way to encourage social media engagement on Facebook or indeed any social network. However, not all questions are created equal. To ensure your page stands out and attracts attention, it's important to craft high quality, compelling questions. Here are some interactive Facebook post ideas.
Consider asking about new products or offerings to get followers excited about what you have to offer.
Offering a giveaway or discount for those who answer can also increase engagement.
Asking your audience which option they prefer helps build brand loyalty by making your audience feel they are a valued customer and their opinion matters. Plus it helps build a real time picture of what your audience thinks.
Questions such as "fill in the blank" are always popular and also give you an insight into your audience
Additionally, timing is key – aim to post questions during best times for peak Facebook usage for the best chance of getting responses from your followers.
Consider boosting your Facebook content, a very cost-effective way of reaching your target audience considering the relatively low pricing in comparison to other types of paid-for marketing.
By following these tips, you can create engaging and compelling questions that will increase social media engagement on your page, and help build brand awareness.
Join the conversation!
Follow us or join our groups and communities on social media
For FAQs and advice from our experts, go to our helpful Support pages.