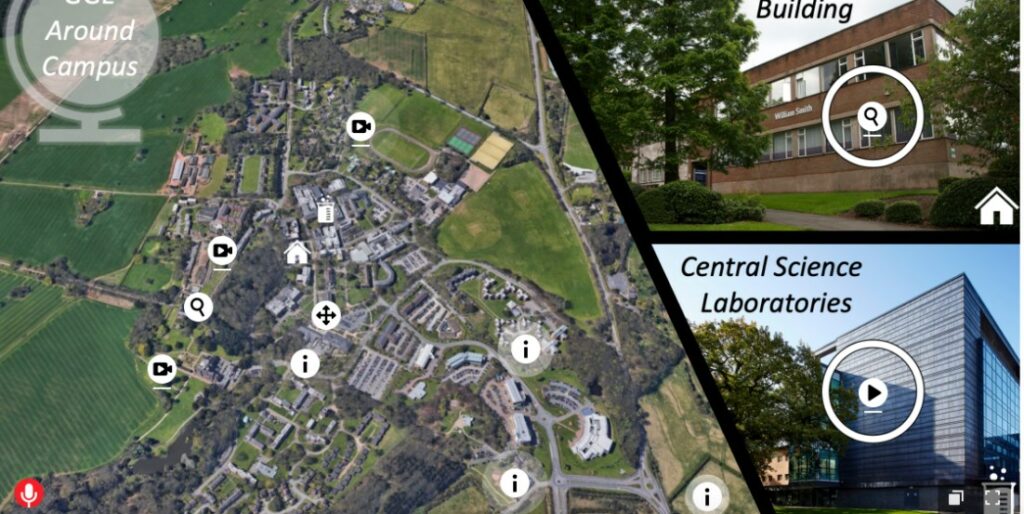 Keele University uses ThingLink to ensure new students can still visit, tour and explore the campus
New ThingLink Spotlights!
We recently shared with you a blog post detailing ways colleges and universities are creating virtual tours and field trips overcoming current challenges. We wished to dive into this topic a little further and share with you some of our recent favourites and show how you can begin to recreate these yourself (and be a little bit playful with our format!) In this ThingLink Spotlight hear directly from Luke Hobson and how he creatively tackled some of the challenges all education establishments are finding at the moment.
University of Keele
The University of Keele is a public research university in Keele, approximately 3 miles from Newcastle-under-Lyme, Staffordshire, England. The Coronavirus crisis created the need for the University to enable students to visit the University virtually for education transition and course delivery. This was an essential challenge to overcome and project for the University led by Luke Hobson, Technician. 
EXPLORE THE SCHOOL OF GEOGRAPHY, GEOLOGY AND THE ENVIRONMENT INTERACTIVE GUIDED TOUR
ThingLink Spotlight Video ThingLink!
Using ThingLink Luke created the informative interactive map of the School of Geography, Geology, and Environment campus with audio introductions bringing a personal touch. The map uses an aerial photo of the campus that connects to multiple points of information as well as 360-degree videos from different parts of the campus area.  Also, included in the map are example reports from international field trips. See the ThingLink 'in situ' here on their website.
Watch our Interview with Luke and also our 'How to' to help inspire your own ThingLink creations.
We would love to hear your feedback on this format and also if you have any examples to share with us too! For a full 'How to' check our 'How to Create a ThingLink'. 
Get started today by heading over to thinglink.com/edu and signing up for your free teacher account. 
For more information please contact: 
Louise Jones, Director Education Community & Partnerships